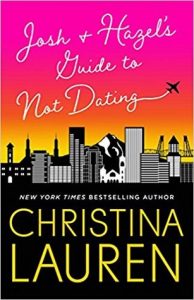 Josh and Hazel's Guide to Not Dating
by
Christina Lauren
Purchase on:
Amazon
, 
iBooks
Add to:
Goodreads
Synopsis:

Hazel Camille Bradford knows she's a lot to take—and frankly, most men aren't up to the challenge. If her army of pets and thrill for the absurd don't send them running, her lack of filter means she'll say exactly the wrong thing in a delicate moment. Their loss. She's a good soul in search of honest fun.

Josh Im has known Hazel since college, where her zany playfulness proved completely incompatible with his mellow restraint. From the first night they met—when she gracelessly threw up on his shoes—to when she sent him an unintelligible email while in a post-surgical haze, Josh has always thought of Hazel more as a spectacle than a peer. But now, ten years later, after a cheating girlfriend has turned his life upside down, going out with Hazel is a breath of fresh air.

Not that Josh and Hazel date. At least, not each other. Because setting each other up on progressively terrible double blind dates means there's nothing between them...right?
"I know I'm like Pig-Pen in Charlie Brown, and I have chaos around me, but it's like he doesn't even care. He doesn't need me to change or pretend to be someone else. He's my person. He's my best friend."
I always love the possibility of a new favorite book, a new favorite author. It's like, how did I never pick up a book by this person (these people), thank GOD I finally have found them and now it will save me from the spiral of depression that comes when you finish all the books your favorite authors write. And, while this was addicting, to say the least, it didn't enrapture me like I had hoped.
Mom drops another piece of muffin.
"Knock it off, you're ruining her."
"She's named Winnie the Poodle," Mom reminds me. "Already ruined."
I mean, sure, it was so cute. And it was so funny. And Hazel-Hazel is literally my best friend. She's quirky, kind, she gets excited and attached wayyyy too easily (Ummm…this is me. I meet someone and then I'm like…maybe we'll be besties?), and she doesn't have a judgmental bone in her body. For once, and I'm shocked to say this, it's not about the male lead. I loved this book because of them as a whole, but I OBSESSED about Hazel.
The way Emily describes it: when I meet someone I love, I become an octopus and wind my tentacles around their heart, tighter and tighter until they can't deny they love me just the same.
This hasn't happened in…like…forever? I liked Josh. I really did. But he never tipped the scale for me. Not completely. Wait, okay, this is coming out all wrong because Josh was a precious cinnamon roll. No, he just-maybe I'm not obsessing over him as much because Hazel was just so awesome. And maybe, just maybe, I didn't love the pre-Josh and Hazel. Her utter loyalty and single-handed dedication to him, her idolization, adoration, and tendency to deem him perfect, and him seeing her as a quirky hippie sort that he could never date (And never in a mean way did he say this). I don't know? He was never mean, nor cruel, to her. But I guess it made me sad. And I think that theme lasted a little longer than I wanted it to.
"I think we're going to be best friends." At my bewildered silence, she reaches up and ruffles my hair. "I live in Portland, you live in Portland. You have a girlfriend and I have a huge assortment of Netflix series backlogged. We both hate the word 'glans.' I know and love your sister. She loves me. This is the perfect setup for boy-girl bestship: I've already been unbearable near you, which makes it impossible to scare you away."
Quickly swallowing a sip of water, I protest, "I'm afraid you're going to try."
***
I don't know what feels more incongruous: the mental image of Hazel using a computer, or the idea that she used it to look me up. "You Googled me?"
She huffs out a little breath. "Don't get an ego. I Googled you sometime between Googling beef Wellington and chicken coops."
And, for instance, I didn't love that they kept doing double date after double date. It was odd. But then…I also liked it?! IT'S THE DAMNDEST THING! I loved that it brought a sense of urgency and jealousy, of course, but then it lacked a fiery passion behind it that I sort of wanted to ignite. And I'm not one to read other reviews lately, and I especially didn't for this one, but I DID, however, see that people didn't like the trope at the end. I disagree. And you damn well know I'm going to say my piece, so settle down and get ready-I loved it. And here's why: Too often this is a trope used at the beginning of a story to add unnecessary drama and, frankly, I find it either makes or breaks chemistry between the two MCs…more often than not, it's not good. That's how I feel, at least. But I can see how the end in this story could be used to further cement something between two characters and make it something more. For me? It was a win, and it didn't deter me like it does when the trope is used early on.
Dinner parties at my apartment consist of paper plates, boxed wine, and the last three minutes before serving featuring me running around like a maniac because I burned the lasagna, insisting I DON'T NEED ANY HELP JUST SIT DOWN AND RELAX.
Though, I will say, I wanted more time with these two together. I do feel as though I wasn't as satisfied as I tend to be when it's a late get-together. Most times I don't care, but here, I wanted and needed more.
JEEZ SHUT UP, CHELSEA. I swear I really enjoyed this book, borderline loved it! So I really need to be nicer lol. Okay. Here we go. Hm. I'm in a really good mood, yet I feel like being sour? I'll list my favorite things then, since my brain won't be nice (I'm so tired, guys. This move. UGH):
-Their adorable friendship. Like…adorable
-The way he ALWAYS defended her to other guys and those who looked down on her
-Their banter
-His AND her protectiveness and loyalty-it was through the roof
-Um, okay, the WAY SHE NAMED HER PETS AND PICKED THEM OUT LIKE ARE WE LONG LOST SISTERS? I am always weirding out the Petco people lol

"I can try to help?" "I'm deciding between a betta fish and a guinea pig."
"I mean, that's kind of a big difference?"
-The way Hazel never let anyone make her feel like she wasn't enough, because she was
I'll get a bit personal here. I think this hit home for me. I love my husband, I really do, but I feel this way ALL THE TIME-like, I am enough…but then sometimes I wonder. It takes me down a dark road I don't want to explore, because we definitely have our issues and it breaks my heart to think that sometimes we maybe should have taken different paths. This is a dark moment thought, when I'm at my worst, but I'm thinking maybe this was one of my detachments from the book.
When I looked up at her, I'd expected her to be shattered by what he'd said. But instead, she looked at him pityingly, like she wanted to console him but knew it would be a wasted effort. Dad missed out on so much by not enjoying every second he had with her, and in the end, she was terribly disappointed that he was so dull. I learned a very important thing that day: my mom would never try to change for a man, and I wouldn't, either.
I didn't like thinking things about myself and comparing how I should be. So…yeah. I think maybe this largely effected the story and why I got so enraged on her behalf-I've been known to be messy and have my head in the clouds-and it was precious to see a Type-A accepting a messy, eccentric type.
-How Josh never wanted her to change, even at her quirkiest
-Josh's jellyness!
-The, ahem, intimate scenes
Wow, these were through the roof sexy. They really resonated with me where most sex scenes in books don't even make my heart or butterflies go crazy-but Josh, how he slowly began to fall in love with Hazel…and his vulnerable, but confident, advances. They stole my heart completely.
Yeah, so, those intimate scenes might be my favorite in the whole book, lol! Just sayin'…and I never feel that way.
Mom reaches up, running a muddy thumb along my jaw. "I get it, honey. I just want you to have the world. And if your world is Josh, then I want you to be brave and go after it."
"Because you're my mama."
She nods. "Someday you'll understand."
So, if you're an avid fan of this author, I think you're in for a win. One of my besties said this was her best yet (a true fan, she is) and we're about to read our ARC COPIES OF MY FAVORITE HALF NIGHT STAND by said author this weekend-so I'm hoping I join the obsessed train, because who doesn't love finding new authors to be all obsessive about?!
******
I reallllly liked this book…but I LOVED My Favorite Half-Night Stand ARC better.
RTC!!!
Related Posts