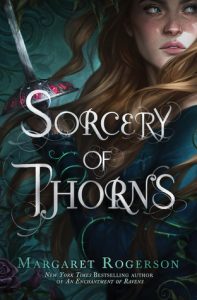 Sorcery of Thorns
by
Margaret Rogerson
Purchase on:
Amazon
, 
iBooks
Add to:
Goodreads
Synopsis:

From the New York Times bestselling author of An Enchantment of Ravens comes an imaginative fantasy about an apprentice at a magical library who must battle a powerful sorcerer to save her kingdom.

All sorcerers are evil. Elisabeth has known that as long as she has known anything. Raised as a foundling in one of Austermeer's Great Libraries, Elisabeth has grown up among the tools of sorcery—magical grimoires that whisper on shelves and rattle beneath iron chains. If provoked, they transform into grotesque monsters of ink and leather. She hopes to become a warden, charged with protecting the kingdom from their power.

Then an act of sabotage releases the library's most dangerous grimoire. Elisabeth's desperate intervention implicates her in the crime, and she is torn from her home to face justice in the capital. With no one to turn to but her sworn enemy, the sorcerer Nathaniel Thorn, and his mysterious demonic servant, she finds herself entangled in a centuries-old conspiracy. Not only could the Great Libraries go up in flames, but the world along with them.

As her alliance with Nathaniel grows stronger, Elisabeth starts to question everything she's been taught—about sorcerers, about the libraries she loves, even about herself. For Elisabeth has a power she has never guessed, and a future she could never have imagined.
**ARC provided by Publisher-I have SO MANY QUOTES I WANT TO SHARE-but I love getting ARCs more. SO hopefully I'll have the time to come back and add quotes in the future when it releases! 😊 **
You have no idea-no idea-what it means to me to have received this ARC. An Enchantment of Ravens was my favorite book of 2017 after Rook stole my heart completely and Isobel fought her way through my crusty exterior, as well. It would belittle my love for this author to say her writing and stories are anything less than extraordinary as she has proved not once, but twice, that she is an amazingly fierce story-teller. No, it wasn't just a fluke, her first book-It's clear she has much to say and will continue to do so with her hauntingly beautiful YA fantasies.
I'll admit that the first bit of this book scared me a little because it didn't start out in a way that appealed to me as quickly as her first work did…but those apprehensive thoughts were quickly shattered when the first grimoire burst onto the scene and put our MC into an absolutely irredeemable situation. And perhaps the most charming thing about this book is the vulnerability and innocence of our main character-bound by duty, but without the slightest clue as to what she was up against-and the unbending will she has to remain loyal, even as everything is spiraling into madness around her.
She knows what she saw, but what she doesn't know is who to trust. She has a deadly secret, one that may get her killed, or worse, forgotten-sent to an insane asylum where no one ever remembers the inhabitants that reside there. But there is someone who seems to at least care about her well-being a teensy bit, for the most part, and that's the sorcerer (sorcerers-with which she grew up being told not to trust) who she met when he visited the library before an unlikely chain of events made her the most wanted girl by the most powerful man.
And this is where I just…fell in love. Yes, the danger-of course-but the bond between Silas and Nathaniel, and then with Nathaniel and Elisabeth. And, even, Silas with Elisabeth. I think, in some part, Silas is what makes this book possible. You'll see what I mean if you read, naturally, but it shows from the beginning just how powerful his bond is with Nathaniel, what he'd do to make him happy, how he helps unflinchingly when most other demon servants don't care one way or another what happens to their masters. And I understand that this sounds like dribble if you haven't read the book, but just know that Nathaniel trusts Silas while no one else trusts the demons in their household…because Silas cared for him when there was no one else.
It might come as shocking, as well, that Nathaniel is actually a supremely tortured hero-during the day he's witty, funny, snarky, protective, and he keeps Eliasabeth at arm's length, though we have no clue why. Being naïve, she REALLY has no idea-we as readers know he's just trying to protect her. But, besides the imminent danger she's in, from what is he protecting her from? And this is a layer in the story that truly seized my soul, because we all know I love a hero who hides scars beneath, who has a story we don't know or understand that makes them feel inadequate or dangerous. I love these story-lines, and adding Silas's snark on the matter only adds more heart to the story.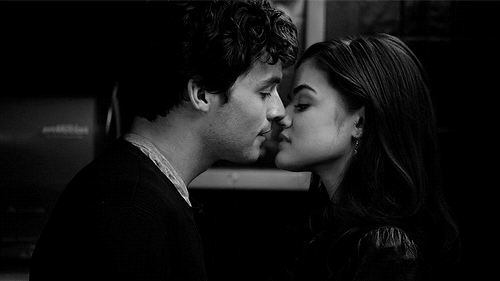 And, naturally, this is a wonderfully addictive slow-burn romance, though it never once took the spotlight in the story. The author warned that, while AEOR was a Fairy-Tale Fantasy, this would only be a YA fantasy, with a-wait for it-smidgen of romance.
Yes…just. Yes. And, even with all of that warning, I still felt like the romance soared onto the pages like a raging inferno…and straight into my heart. That's TWICE this author has written a romance that knocked me on my feels out of nowhere, and, it's a gift, really, a talent. I love romance, I really do, but I truly only fall for the fantasies that have a spattering of it in the story, hidden behind a compelling plot and dangerous, high-stakes moments. Which, obviously, that was the case here, so I need not look any further.
And, even more than that…this book made me sob, at the end. I really don't cry often in books, even though I always seem like an emotional mess, it's truly not the case. I rarely cry. But, for some reason (just GUESS, UGH, Shoot me in my HEART already), the end hit me harder than I thought possible. The friendship between these three, the loyalty, the unrequited love (so they think) between Nathaniel and Elisabeth, the vulnerability, the humor, and the sense of a girl (and, really, a boy) never quite being able to find a home or a place they feel like they belong, misfits of a sort, until they found each other-it all just built up into a crashing crescendo of feels and the end finally knocked me out. I was depleted. I was hopeful. My soul was pieced together then ripped apart violently…and then there was hope. Again.
I can't even begin to explain all the feelings I experienced while reading this coveted ARC, but I can try. And I hope that this review shed a positive light on how wonderful this book made me feel after becoming depleted and depressed after a totally random appendix ER situation (which, in turn, is why this review is JUST NOW being written) where I wasn't able to do anything I normally do, rendering me lazy, without exercise, and somewhat helpless and at other's will…so, yes. This book was a saving grace, and I will abso-lutely be pre-ordering the hardback so it can sit next to my other favorite, featuring a stubborn fae and another fierce and inspiring heroine. I just cannot wait until I can read it again. I hope you'll read it, too.
*************************
My God did this book make me bawl like a baby-I was an utter mess. That hasn't happened in FOREVER!
RTC.
***
MY LIFE IS MADE. I will be starting this, oh, immediately!!!! Who needs an appendix when you get early Christmas presents like these! *heart eyes emoji*
Related Posts