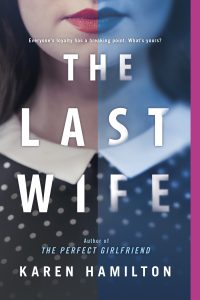 The Last Wife
by
Karen Hamilton
Purchase on:
Amazon
, 
iBooks
, 
Book Depository
Add to:
Goodreads
Synopsis:

Two women. A dying wish. And a web of lies that will bring their world crashing down.

Nina and Marie were best friends—until Nina was diagnosed with a terminal illness. Before she died, Nina asked Marie to fulfill her final wishes.

But her mistake was in thinking Marie was someone she could trust.

What Nina didn't know was that Marie always wanted her beautiful life, and that Marie has an agenda of her own. She'll do anything to get what she wants.

Marie thinks she can keep her promise to her friend's family on her own terms. But what she doesn't know is that Nina was hiding explosive secrets of her own…
Thank you to Harper Collins for an advanced copy in exchange for an honest review.
Review:
I promised Nina I'd look out for her family. No matter what, I'm here to stay. I'm becoming more convinced that it's what Nina would've wanted, even if some people won't see it that way.
This was my second Karen Hamilton book and while I didn't love it as much as her first one, I still enjoyed it. I'd call it more of a mystery/family drama than a thriller, which seems to be a trend right now, for better or for worse.
Being here no longer feels solely about survival and loyalty; it's about entitlement.
The story is told from the perspective of Marie, who is a very interesting character. We learn a lot about her childhood and the struggles she has gone through over the years. Some of it was out of her control and other parts are of her own doing. She has attachment issues, especially around her best friend Nina.
As with most mysteries/thrillers these days, we jump around a timeline. There's essentially the present (which is post-Nina, as she has passed away from cancer at a young age) and the past (mostly around a certain accident and the years that followed). We learn that Marie's ex-boyfriend died in a tragic accident and that Nina and Camilla may know more than they ever let on. We also learn that even though Nina and Marie drifted apart as Nina began to have children and Marie struggled with her own infertility, Nina asked Marie to watch out for her family after she was gone. And how Marie took that literally.
"This is going to come back and haunt you, Marie. Everyone know what happens when you play with fire."
I struggled with if I should call Marie an unlikable narrator. She is manipulative, selfish and has boundary issues. But I also feel for her at times, even when she makes the wrong decision. It does seem like her heart is in the right place sometimes, but she doesn't know how to act like a "normal" person would.
As I mentioned before, there's a lot of family drama and a little mystery regarding the big accident from Marie's past. It was a fairly quick-paced story and it kept my attention, but I could see how others could be turned off by the lack of intrigue and mystery. The ending does land a bit of a punch, but it takes a while to get there.
I'm entitled to something of my own. This is my story now.
About the author:
Karen Hamilton spent her childhood in Angola, Zimbabwe, Belgium and Italy and worked as a flight attendant for many years. Karen is a recent graduate of the Faber Academy and, having now put down roots in Hampshire to raise her young family with her husband, she satisfies her wanderlust by exploring the world through her writing. She is also the author of the international bestseller The Perfect Girlfriend.
Keep up with Karen:
Website | Twitter | Instagram | Facebook | Goodreads
Related Posts