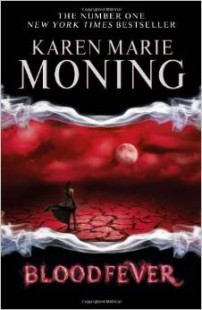 Bloodfever
(
Fever #2
)
by
Karen Marie Moning
Purchase on:
Amazon
, 
iBooks
, 
Book Depository
Add to:
Goodreads
Synopsis:

I used to be your average, everyday girl but all that changed one night in Dublin when I saw my first Fae, and got dragged into a world of deadly immortals and ancient secrets. . . .

In her fight to stay alive, MacKayla must find the Sinsar Dubh—a million-year-old book of the blackest magic imaginable, which holds the key to power over the worlds of both the Fae and Man. Pursued by assassins, surrounded by mysterious figures she knows she can't trust, Mac finds herself torn between two deadly and powerful men: V'lane, the immortal Fae Prince, and Jericho Barrons, a man as irresistible as he is dangerous.

For centuries the shadowy realm of the Fae has coexisted with that of humans. Now the walls between the two are coming down, and Mac is the only thing that stands between them.
Review:
*spoilers for Darkfever (Fever #1)*
Bloodfever slowly morphed into a phenomenal second installment in the Fever Series, and I can't wait to see where it goes!  I was reading along, enjoying the ride and somewhere past the 50% mark I transitioned from like to love!  Bloodfever sunk it's claws deep into me.  It stole my breath, it was impossible to put down, the tension and unknowns were through the roof and the peril was fantastic.  When I reached the final page I screamed NO at my kindle because I knew I would take a little break to write out my thoughts.  I am counting the minutes until I can start the third book in the series, Faefever.
In one short month I've managed to piss off virtually every being with magical power in this city.  Half of those I've encountered want me dead; the other half want to use me to find the deadly, coveted Sinsar Dubh.
I could run home, I suppose.  Try to forget.  Try to hide.
Then I think of Alina, and how she died.
Mac finally has a face and a name to whom she believed killed her sister.  Retribution has to be hers!  Well, that is once she heals.  After barely surviving a battle with the Lord Master and his minions, Mac is recuperating back at the bookstore.  And she has Barrons to thank for saving her life. With the target in mind, Mac is even more determined to acquire the Sinsur Debar and finish what her sister had tried to start!
I wanted to stab every one of them with my spear as I walked by, but I refrained.  I'm not in this for the little battles.  I'm here for the war.
After being put through an endless supply of trials and tribulations, Mac is officially kick-ass in my eyes!  I love her!  She threatens others who try to destroy her, she puts up phenomenal fights, and she's not afraid to take calculated risks.  It is almost as though she has slowly been gathering all of Barrons good qualities and making them her own!  Barrons and good qualities in the same sentence together?  I know, shoot me now, but I kind of like him.
For a moment there he hadn't looked dark, forbidding, and cold, but dark, forbidding, and …. warm.  In fact, when he'd laughed he'd looked … well … kind of hot. I grimaced.  Obviously I'd eaten something bad for lunch.
I feel guilty for liking Barrons!  Is he controlling?  Yes!  Is he manipulative?  Yes!  Does he keep Mac in the dark and still use her as his personal OOP sniffer?  Yes again.  But we seem to be getting some glimpses beneath that exterior of his, and not only is he hot, but he does have a heart after all!  Who would have thought?!  The tenderness he displayed to Mac for 2.2 seconds at the end of Darkfever could not be forgotten.  He cares for Mac.  He values her safety and life.  Or maybe I'm just reading into it too much?  I don't know and I don't care because I need to have a little bit of romance and stolen touches and moments here and there in my books.  It's a weakness.  But I think there may just be a future for Mac and Barrons in the upcoming books!  Fingers crossed!
He brushed a curl from my forehead and I shivered.  Barrons had strong hands with long, beautiful fingers, and I think he carries some kind of electrical charge because every time he touches me it shoots an unwelcome thrill through my body, I took the keys from his hand, being careful not to make contact with skin.  If he noticed, he let it pass unremarked.
Bloodfever was a fun and fast paced read!  I love who Mac and Barrons are turning into and the direction the story is taking.  I love how my questions are slowly being answered……although not the main ones I'm desperately seeking answers for!  And I'm looking forward to following Mac's adventure and slowly taking on the world with her one puzzle piece at a time!
Save
Related Posts