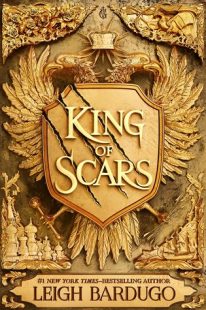 King of Scars
(
Nikolai Duology #1
)
by
Leigh Bardugo
Purchase on:
Amazon
, 
iBooks
, 
Book Depository
Add to:
Goodreads
Synopsis:

Nikolai Lantsov has always had a gift for the impossible. No one knows what he endured in his country's bloody civil war—and he intends to keep it that way. Now, as enemies gather at his weakened borders, the young king must find a way to refill Ravka's coffers, forge new alliances, and stop a rising threat to the once-great Grisha Army.

Yet with every day a dark magic within him grows stronger, threatening to destroy all he has built. With the help of a young monk and a legendary Grisha Squaller, Nikolai will journey to the places in Ravka where the deepest magic survives to vanquish the terrible legacy inside him. He will risk everything to save his country and himself. But some secrets aren't meant to stay buried—and some wounds aren't meant to heal.
"Drüsje," Birgir hissed. Witch. 
"I don't like that word," Nina said, advancing. "Call me Grisha. Call me zowa. Call me death, if you like."
I literally have no idea how I'm going to review this. There I said it. This book was in my top five for new releases that I was DYING to get my hands on. I actually finished last night and honestly I'm a little torn on what to think. If I'm being completely honest, I'd say that I am even a tad ..disappointed(?) and that this book isn't exactly what I thought it would be.
War hadn't done it. Captivity. Torture. But loss was something different, because she saw no end to it, only the far horizon, stretching on and on.
I'm not saying that's a bad thing though! No, not at all. The main reason this is different than expected is because instead of this book being entirely about Nikolai, we have a whole side plot featuring Nina on a mission in Fjerda. I actually really enjoyed those chapters for the first half of the book…maybe even a little more than Nikolai's which seems like a sin which I type it lol. I love Nina so much and I sobbed during *that* particular scene. View Spoiler »though is it super dark of me to wish she would have talked to Matthias in her head longer? I missed that big brute's thoughts. Also, TRASSEL!! « Hide Spoiler. I am very sure that her journey and mission will end up tying into Nikolai's in the next book in a very big way, but overall for this one I was left confused as to why she had such a big and separate part when the book is literally called King of Scars. Again, I did enjoy her chapters and OBVIOUSLY her in general, just a little confused.
Because Zoya was not kind and she was not easy. But she was already a queen.
Side note before I continue on: I really think you need to read/ re-read all of her previous books before getting into this one. I haven't read the Grisha series in a LONG time and there were a few things and characters that I had questions about because it had been so long. Like Zoya….all I really had remembered about her was that she and Alina didn't get along at first and that she was very intense and could be harsh with her words. I actually really loved her arc in this book. Seriously. We got to learn a LOT more about her like her past, why she is the way that she is and it did not disappoint in any way. Also…thoughts on her with Nikolai? By the end I think I want them together…maybe???? Yes.
On the other hand with Nikolai…..who I felt like we didn't get nearly enough of *sobs*. We did get his usual loveable/ dramatic/ dashing/ quippy self but..just not enough. I loved the scene at the end View Spoiler »when he was trying to banish the demon and he just came to accept that no he wasn't perfect and no he wasn't always good but as long as kept working at being a good king, a king that Ravka deserves, that it's all right to be a little imperfect, a little dark « Hide Spoiler.
Finally, speaking of that ending twist/reveal…………………..lol. I did not see that coming. VERY interested to see how that all plays out and I bet there are either going to be some very happy or very unhappy people after reading it. WE SHALL SEE. Overall, this was a good start to the series, but not a great one. I'm expecting great things for book two and I'm sure Bardugo will deliver.
Each spine had been an open doorway whispering, Come in, come in. Here is a land you've never seen before. Here is a place to hide when you're frightened, to play when you're bored, to rest when the world seems unkind.
Related Posts