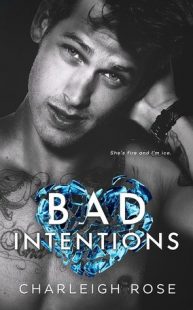 Bad Intentions
(
Bad Love #2
)
by
Charleigh Rose
Purchase on:
Amazon
Add to:
Goodreads
Synopsis:

Lo
Moving to River's Edge was supposed to be a fresh start.
Away from chaos.
Away from bad influences and worse relationships.
All I wanted was to give my little brother more of a chance than I ever had.
It should've been simple.
I didn't count on my transgressions following me.
And I definitely didn't count on meeting Dare.
Tall, tortured, and tattooed.
A Lost Boy through and through.
Falling for someone like him was asking for heartache.
But I was a sucker for punishment.

Dare
I had a routine.
Eat, work, sleep, repeat, only ever doing the bare minimum to keep up appearances.
I kept my circle small and my guard high.
I spent years making sure I didn't repeat the mistakes of my past, forming an impenetrable layer of ice around my heart.
Then Logan showed up in my town, in my tattoo shop, testing my patience along with my self-control.
She was fire and I was ice.
I should've stayed away.
But I had been cold for far too long.
Review:
Bad Intentions is my second Charleigh Rose book and I am beyond addicted.  She writes emotional, sexy stories that come to life off of the pages. The characters pull me in quickly and I keep finding myself with tears in my eyes, while I watch them try their hardest to find happiness, hope, and love.  This book was smile inducing, crazy seductive, emotional and I can't recommend Bad Intentions enough!  While this book can easily be read as a standalone, I highly recommend starting with Bad Habit.  It's about Dare's friend, Asher, who you have to meet!  You can read my review of that book here. 

"Aren't small-town folk supposed to be welcoming, and I don't know, nice? You don't have to be a dick about it."
"Okay."
"Okay?" Who the hell responds with okay? His lackadaisical response only frustrates me further.
"Okay," he repeats. "I'm a dick. You're an asshole who can't take no for an answer. Glad we've established that. Nice to meet you. Now, if you'll excuse me…"
It's always just been Logan, aka Lo, and her younger brother, who is a senior in high school.  Their father abandoned them and their mother was an addict.  Lo and her brother, Jesse, just had each other.  And I loved how deep their love ran for one another.  It was one of the countless gems in this book!  In desperate need of a fresh start, Lo tracked down their father and moved her and her brother to the mountains to live with him.  
We're all flawed, selfish humans doing what it takes in order to survive. Myself included. – Lo
I loved Lo's voice and it felt like she spoke right to me, she was brutally honest and a realist.  Even though life could be rough for her, she continually pulled herself together to take care of her brother.  Lo had a heart of gold and was beyond resilient.  I had so much respect for her.  Even though it looked like life was finally starting to turn around, shadows from her past hung in the background.  And we got to see exactly how tough she was when it all hit the fan.
Don't ask her if she's okay. Don't ask her if she's okay.
"You okay?"
Smooth

.
While out searching for a job, Lo ran into Dare, who owned the local tattoo shop.  To say he turned her down for a job would be an understatement ha.  It quickly became obvious how tiny this new town was because no matter what happened, they kept finding themselves near each other.  And what started out as a rough meeting, lead the way into Lo and Dare messing with the other.  They made me laugh so hard because it was playful, but at the same time it was also seductive.  While they toyed with each other, it was obvious that there was a carnal attraction that ran between them.  But as time passed, they slowly started to become intertwined into each other's lives and whatever was between them turned something else.  Lust.  Friendship.  Feelings.  And more.  It all swirled together and was insanely addicting and hot as hell.
I decide that even though I don't deserve her, I'm too fucking self-serving not to take the only thing that offers me peace. The only thing that allows me to feel warmth when I've been cold all my life.
I was obsessed with Dare.  He came across as a closed off jerk, and you know how much I love those guys.  But we eventually got to see all the different sides of him and he had such a beautiful heart.  That heart caused me to have tears in my eyes a few different times.  You see, he became protective of Lo.  He stood up for her. He helped her out.  He was such an amazing man.  Yet while he was thoughtful for others, he was his own worst enemy at times.  His past haunted him.  Just like Lo's did too.  Unfortunately, not everything stays buried forever.  No matter how hard you wish it would.
This girl is a part of me. The one part of me I love. – Dare
This was such an emotional book.  Countless times I had tears in my eyes.  But I loved how it was extremely sexual too.  So I felt like we got the best of both worlds in this story.  Now I want to go binge read her next two books, they're so addicting!  If you're a fan of NA romance that is seductive, hilarious and will pull at your heart then definitely pick this one up!
I had so many countless favorite quotes….so here are a few more I loved:
[scroll-box]
Dare. That's not a name. That's a warning. And I've been with enough bad boys to heed the warning. I think.
Well, that was one hell of a first kiss. And I didn't even make it to her mouth.
"It's gorgeous," she breathes.
"Sure the fuck is," I say, but I'm not talking about the drawing. She looks at it, but I'm looking at her.
"Lo. Stop." I hold her shoulders, trying to get her to meet my eyes. "I'm just…fuck, I'm concerned for you, okay?"
"I can take care of myself," she insists, her voice still full of steel.
"I see that. I know that," I agree. "But it doesn't mean no one else can give a shit."
She's been here for a couple of weeks, and she's bringing shit out of me that I thought had died long ago. Conflicted doesn't even fucking begin to cover it.
[/scroll-box]
Related Posts