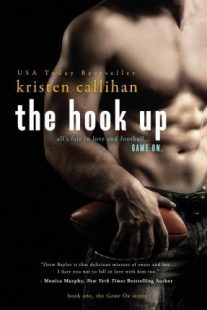 The Hook Up
(
Game On #1
)
by
Kristen Callihan
Purchase on:
Amazon
Add to:
Goodreads
Synopsis:

The rules: no kissing on the mouth, no staying the night, no telling anyone, and above all… No falling in love.

Anna Jones just wants to finish college and figure out her life. Falling for star quarterback Drew Baylor is certainly not on her to do list. Confident and charming, he lives in the limelight and is way too gorgeous for his own good. If only she could ignore his heated stares and stop thinking about doing hot and dirty things with him. Easy right?

Too bad he's committed to making her break every rule…

Football has been good to Drew. It's given him recognition, two National Championships, and the Heisman. But what he really craves is sexy yet prickly Anna Jones. Her cutting humor and blatant disregard for his fame turns him on like nothing else. But there's one problem: she's shut him down. Completely.

That is until a chance encounter leads to the hottest sex of their lives, along with the possibility of something great. Unfortunately, Anna wants it to remain a hook up. Now it's up to Drew to tempt her with more: more sex, more satisfaction, more time with him. Until she's truly hooked. It's a good thing Drew knows all about winning.

All's fair in love and football…Game on.
What I liked
● Drew was surprisingly decent and kinda cute? Can I have a Fuck Yeah?
● The sex scenes were pretty hot, I'll admit ;
● The characters finally got some layers during the second half ;
● Compared to most new adult novels, the writing was pretty good – not that it's saying much, because eh, there's a lot of crap out there.
What I didn't like
● I'm just gonna warn you that the first 20% are filled with insta-love/lust of epic proportions – prepare yourself to roll your eyes something FIERCE ;
● I've read too many romances to stand another Let's fight and break up for absolutely no reason drama feast – we didn't go into Anna's self-esteem issues in depth so it made it very hard to understand her attitude?
● I'm sorry, but Iris and Anna were terrible friends in my opinion, and I never got the impression that they even cared about each other ;
● There was a distinct Not Like Other Girls fuckery going on and I just can't stand that shit, okay? Anna did say that most women were awesome, though, hence why I didn't rage ;
● I've said that the sex-scenes were hot but unfortunately they were also very repetitive and I might have stifled a yawn several times ;
● This is probably on me and my propensity to read romance novels lately but the you are my home felt so cheesy to me, I couldn't help but laugh ;
● The plot was really long-winded, so much that I had to check the percentages and frown on a hourly basis?
● I'll probably forget the whole thing very soon ;
● Actually I think I'll have a hard time to remember it tomorrow ;
● What am I even talking about right now? Is that a book review?
► Bleh. Go on with your life, you're not missing anything without The Hook Up. Now I need to read great books because my average rating is a bitch.
Related Posts