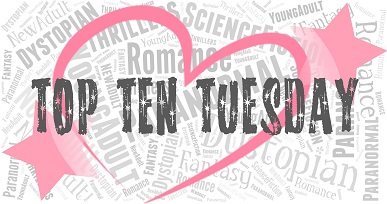 Top Ten Tuesday is a weekly meme hosted by That Artsy Reader Girl
Today we're sharing some of our Favorite Couples In Books.  There's no way we could each narrow it down three choices!  So to help us out, we are each listing three of our favorite couples from the books we read in 2018.  So they are…..
1. In Harmony by Emma Scott
Amazon * Book Depository * Goodreads
Willow & Isaac  – I absolutely adored the story of Willow & Isaac. From their first encounter to the very last page (and everything in between), I was swept away by their love story. Willow and Isaac, while both strong and independent, were even better together. Life threw a lot at them (well, 380 pages worth of life), but it only made them a better couple in the end.
2. 9 Days and 9 Nights (99 Days #2) by Katie Cotugno
Amazon * Book Depository * Goodreads
Molly & Gabe – After the events of 99 Days, it was so incredibly wonderful to dive back into the complicated relationship of Molly and Gabe. As they travel across Europe with their current significant others, it was fascinating to see how much they grew up after everything that had happened in the past. Both Molly and Gabe were funny, sarcastic and the tension between them could be cut with a knife. I smiled so much reading this book and love this duology so much.
| | |
| --- | --- |
| (Cassie's Choice) | (Chelsea's Choice – Review) |
3. To Kill a Kingdom by Alexandra Christo
Amazon * Book Depository * Goodreads
Elian & Lira  – We've talked about this book (and Elian!) a lot on this blog, and there's a good reason for it. This book is SO good. But what makes it amazing is the dynamic and relationship between Lira and Elian. If you are looking for humor, action, peril and smoldering tension, mixed with pirates and non-Disney mermaids, then this is the perfect book. I honestly couldn't love the relationship between Lira and Elian more, and am sad this was only a standalone and not a series.
4. The Cruel Prince (The Folk of the Air #1) by Holly Black
Amazon * Book Depository * Goodreads
Cardan and Jude DUH – I know these two might not count as a couple-but no other COUPLE makes my heart beat as fast, slow, and all inbetween causing a frenzy of nerves, butterflies, and epic feels and romantic pining than these two do.  I want them to kiss until they are sick of it *smirk*.
5. Outlander (Outlander #1) by Diana Gabaldon
Amazon * Book Depository * Goodreads
Jamie and Claire Frasier – I cant even believe it took me so long to find these two darling babies because Claire is hilarious and Jamie is…Jamie is…Jamie is beyond words loyal, passionate, and loving and so devoted to Claire I can't even breathe when I think of him.
6. The Diviners (The Diviners #1) by Libba Bray
Amazon * Book Depository * Goodreads
Sam and Evie – Again, do these two count??? I DON'T CARE ALRIGHT THEY ARE MY DAHHHLLIINNGGGGSSSSS AND I MUST PUT THEM BECAUSE SAM IS EVERYTHING and so in love with Evie I can't even DEAL and Evie is pos-i-tute-ly the berries and I am obsessed with them BOTH. I need them to both me happy and SAFE, OKAY?!
7. The Prophecy (Titan #4) by Jennifer L. Armentrout
Amazon * Book Depository * Goodreads
Seth and Josie – There is something so powerful about love conquering all.  And what Josie and Seth had was definitely true love. It not only conquered all, but it gave them strength.  Strength with each other and it also helped them find strength within themselves. But they definitely didn't have an easy path.  They had so many obstacles in their way. Yet they persevered. And their love grew stronger because of everything they faced. I loved that by the end, Seth and Josie truly felt like a power couple.
8. The Darkest Star (Origin #1) by Jennifer L. Armentrout
Amazon * Book Depository * Goodreads
Luc and Evie – Yes I chose another book by JLA, she writes couples that capture my heart!  I can't talk much about Luc and Evie because of huge spoilers but just know that sacrifice, love and devotion were everything in this book. 
9. Glitter and Sparkle (Glitter and Sparkle #1) by Shari L. Tapscott
Amazon * Book Depository * Goodreads
Lauren and Harrison – Not only is Harrison her older brother's best friend, but there was a huge hate to love vibe between them.  So as I watched them grow, they found a forever place in my heart.  I think about them often and this is one of my favorite books ever.
10. Tangled Like Us (Like Us #4) by Krista Ritchie & Becca Ritchie
Amazon * Book Depository * Goodreads
Jane and Thatcher~ Tangled Like Us:  I honestly don't know what to say about these two without just a lot of crazy gesticulating hand movements and muttering.  They are one of my top favorite couples of ALL TIME.  Their relationship was so sweet and straightforward and there was never any miscommunications or big conflicts.  Their chemistry was off the freakin charts and so sexy I can barely handle it
11. Three Dark Crowns (Three Dark Crowns #1) by Kendare Blake
Amazon * Book Depository * Goodreads
Billy and Arsinoe – I was a little late to this series, but better late than never!  I loved that these two started out with a tentative, almost wary friendship that slowly blossomed into more.  Even after it was clear to me that they caught feelings, I enjoyed seeing them both deny it and continue to basically just heckle each other.  Billy is a 100% a cinnamon roll, too pure for this earth.
12. Josh and Hazel's Guide to Not Dating by Christina Lauren
Amazon * Book Depository * Goodreads
Josh and Hazel – Omg these two were too much for my heart to handle.  From TA and student, to friends, to friends who shared a drunken sexy time, to TWO PEOPLE MADLY IN LOVE, I loved every second of their togetherness.  The best part may have been Josh never wanting Hazel to change her crazy ways (and I say that with love), always wanting her to be the person she was, no matter what!
So these are our Favorite Couples In Books from 2018. Have you read any of these books yet? Or are they on your tbr? If not, then which books had your favorite couples in them last year?
Related Posts