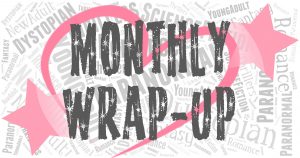 During our Monthly Wrap-Up, we'll take a look at what has happened around here in the last month. That'll include what's happened in my life, what the four of us have read, any other posts we may have had, giveaways still going on, our most popular Instagram posts, and books that I've added to my ever-growing TBR.
*We linked this post to the February Monthly Wrap-Up Round-Up Link-Up at Feed Your Fiction Addiction*
♥ Enjoy!
Jen's Life:
Some of my highlights from February were:
✮ The area I live by has had SO much snow!  As of February 22nd, when I typed up this post, Lake Tahoe had received almost 250 inches of snow.  That is just for the month of February.  Here are some of my snow pictures throughout the month….picture 1,  picture 2  and  picture 3.
✮ I went to the #sfggae19 last month, which is a book signing in San Francisco.  I had SO much fun and met some of my favorite authors!  I'm working on a wrap up post right now, but I almost didn't think I was going to be able to attend.  We were hit with the worst storm ever. We got 41 inches of snow in under 8 hours, and of course it was when I was driving there Friday.  The weekend totaled almost 9 feet of snow, so it was fun trying to come home too lol.  Here's a picture of me trying to get back home here.
✮ My kiddos had ski week off from school, so we worked on learning how to snowboard.  Their enthusiasm was so much fun and I was so proud of how far they came!
✮✩✮✩✮✩✮✩✮
What Arielle, Cassie, Chelsea & Jen Read:
5 Stars:
✮ Soul in Darkness by Wendy Higgins
✮ Fuel the Fire (Calloway Sisters #3) by Krista and Becca Ritchie
✮ Bad Intentions (Bad Love #2) by Charleigh Rose
✮ The Kiss Thief by L.J. Shen
✮ Darker Water (Once and Forever #1) by Lauren Stewart
✮ The Risk (Briar U #2) by Elle Kennedy
✮ The Hot Shot (Game On #4) by Kristen Callihan
✮ Sky in the Deep by Adrienne Young

4.5 Stars:
✮ The Girl in the Tower (Winternight #2) by Katherine Arden

4 Stars:
✮ King of Scars (Nikolai Duology #1) by Leigh Bardugo
✮ The Boyfriend Whisperer 2.0 (The Boyfriend Whisperer #2) by Linda Budzinski
✮ The Winter of the Witch (Winternight Trilogy #3) by Katherine Arden
✮ The Lost Sisters (The Folk of the Air #1.5) by Holly Black

3.5 Stars:
✮ To Dream Is To Die (Dead Dreamer #1) by Sarah Lampkin

3 Stars:
✮ Fireblood (Frostblood Saga #2) by Elly Blake

2 Stars:
✮ The Bear and the Nightingale (Winternight #1) by Katherine Arden
✩✮✩✮✩✮✩✮✩✮
Our Favorite Books of the Month: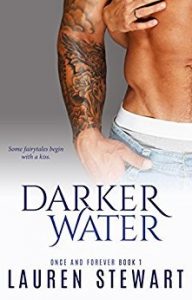 Darker Water (Once and Forever #1) by Lauren Stewart (Jen's Choice)
Darker Water was a steamy, heart-felt story that constantly had me smiling.  Just within those first few pages, I was already laughing and obsessed with our two main characters.  It all flowed so seamlessly and I devoured it in no time at all. Darker Water became an instant favorite and I'm kicking myself that I didn't pick it up sooner.  Especially since I bought this book four years ago.

✩✮✩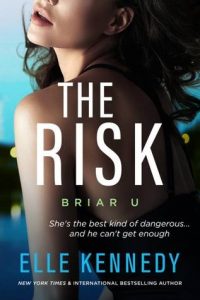 The Risk (Briar U #2) by Elle Kennedy (Arielle's Choice)
This was everything I wanted it to be AND MORE. Guys. At this point I could literally read Elle Kennedy's grocery list and probably fall in love with it. She is the queen of hilarious banter and steam and I am all here for it.
✩✮✩
Related Posts