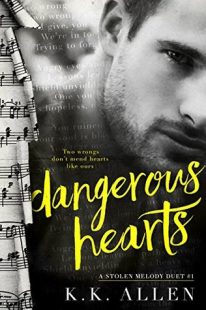 Dangerous Hearts
(
A Stolen Melody Duet #1
)
by
K.K. Allen
Purchase on:
Amazon
Add to:
Goodreads
Synopsis:

His heart beats for the music. She's his favorite song.

Lyric Cassidy knows a thing or two about bad boy rock stars with raspy vocals. In fact, her heart was just played by one. So when she takes an assignment as road manager for the world famous rock star, Wolf, she's prepared to take him on, full suit of heart-armor intact.

Wolf is the sexy lead singer for the hottest rock band around with a line-up of guaranteed one night stands. Lyric Cassidy isn't one of them. That's fine with him. Women like Lyric come with fairytale expectations, so it should be easy to stay away. Too bad she's hot as sin with a fiery temper and a mouth that drives him wild.

She's also got something to hide. Something he discovers. Something he wants ...

Sharing a tour bus, neither of them are prepared for the miles of road ahead and the fierce attraction they feel toward one another--a dangerous combination.
Review:
Dangerous Hearts was an emotionally packed story that quickly grabbed a hold of my heart.  If you love rocker romances, then you're in for a treat with this duology.  It was witty, fun and charming while also being sexy and seductive.  I devoured these books way too fast and I can't wait to pick up another book by KK Allen.
Music is my everything. It's the air I breathe. The beat I walk to. The blood in my veins. It's what lulls me to sleep at night. What carries me through the storms of my life … like the one that just passed. – Lyric
Lyric Cassidy was the daughter of a pop goddess and a rock star.  After having her heart-broken by a bad boy rocker, Lyric was determined she wouldn't fall for Wolf Chapman's charms.  He was the lead singer of the world-famous band she was going to manage and go on tour with.  Not only was he another bad boy, but he was a serious player.  Sure he was beyond gorgeous and crazy talented, but his reputation had Lyric's walls up high.  Her heart would not be broken again.
My hand shoots out and smacks his chest. He laughs, but catches my hand. "Don't be an asshole. I was just starting to like you."
"Really?" His brows shoot up and I immediately regret my statement. When I try to pull away he tugs me closer and wraps his hand around mine.
His nose runs a line from my ear down my neck, and then he presses his lips into the soft spot at its base. I try to ignore the shiver that ripples through me, laughing instead as I try to push him away.
I liked Lyric right from the start.  She was strong-willed, a hard worker, kind and amazingly talented.  Lyric wrote songs that were beautifully breathtaking and they spoke deep into my soul.  Yet that talent was just one of the many secrets that she kept hidden.  And she didn't just guard her secrets, but her heart too.  After being hurt by people, I got why she was standoffish when she met Wolf.  She had already been there and didn't want to go down that road again.  But Wolf was hard to ignore. And even harder to resist.
I want Lyric beneath me, wrapped around me, slipping and sliding with me until her moans turn to screams. I fucking want her. And I want her words, too. Her angry lyrics, her vulnerable confessions. I want it all. – Wolf
Wolf was cocky, seductive, charming and the world was his oyster.  One night stands, alcohol and music was what filled his life.  He didn't date and he definitely didn't fall in love.  But the more I got to see who he truly was, oh wow, I fell hard.  I absolutely loved Wolf.  He was caring, sweet, thoughtful and so much more than he portrayed to the world.  And I loved that he was brutally honest with us, we got to hear all of his thoughts.  But with Lyric in the picture now, his world was slowly going to start to change.
If anything can illuminate the darkness, it's the feelings I have for this woman right here.
His words seep into my cracked exterior and soak my heart, turning it to mush.
Once the tour started, it was obvious that he wanted her and she wanted him.  And as they started to work together and get to know each other, a tentative friendship was formed.  But Lyric and Wolf had both been damaged from their pasts, so every step forward was touching to watch.  Their journey was extremely emotional, especially since they both had so much to learn.  But Lyric had more to learn and she frustrated me a few times.  We learn why she is the way she is in the next book and I was thankful that I got to understand her a lot better.
He leans in closer so I can feel his cheek just barely scrape mine. "I'm not who you want me to be." His tone is gentle now, apologetic. "I'm not what you need."
I reach out, gripping his waist as another tear falls.
With a stuttered breath, I take his words and accept them, pull away from his warmth, and walk away without looking back.
"I know," I whisper.
So yes, I definitely recommend this duology!  There was friendship, romance, rock n roll, the excitement of the concerts and we got to see everything that happened backstage, on the bus and in the hotels eeps.  On top of all of that, this book had some of the most scorching hot scenes.  It was all so perfectly drawn out and beyond seductive *fans face*.  So definitely pick this one up if you adore romance and rocker stories, you don't want to miss out!
Related Posts