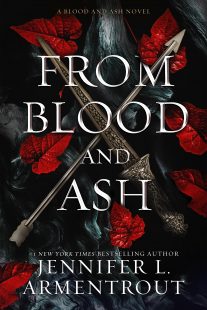 From Blood and Ash
(
Blood and Ash #1
)
by
Jennifer L. Armentrout
Purchase on:
Amazon
, 
iBooks
Add to:
Goodreads
Synopsis:

A Maiden…

Chosen from birth to usher in a new era, Poppy's life has never been her own. The life of the Maiden is solitary. Never to be touched. Never to be looked upon. Never to be spoken to. Never to experience pleasure. Waiting for the day of her Ascension, she would rather be with the guards, fighting back the evil that took her family, than preparing to be found worthy by the gods. But the choice has never been hers.

A Duty…

The entire kingdom's future rests on Poppy's shoulders, something she's not even quite sure she wants for herself. Because a Maiden has a heart. And a soul. And longing. And when Hawke, a golden-eyed guard honor bound to ensure her Ascension, enters her life, destiny and duty become tangled with desire and need. He incites her anger, makes her question everything she believes in, and tempts her with the forbidden.

A Kingdom…

Forsaken by the gods and feared by mortals, a fallen kingdom is rising once more, determined to take back what they believe is theirs through violence and vengeance. And as the shadow of those cursed draws closer, the line between what is forbidden and what is right becomes blurred. Poppy is not only on the verge of losing her heart and being found unworthy by the gods, but also her life when every blood-soaked thread that holds her world together begins to unravel.
Review:
From Blood and Ash is my favorite book ever! The story was layered and the twists and turns were breathtaking. The sexual tension was absolutely perfect and the characters are forever etched into my heart. The storyline enchanted me and the action kept me glued to the pages. This book refused to be put down! If you love fantasy and romance, you definitely need to add this one to your tbr!
"You're such a bad influence," I murmured as I placed my hand in his.
Hawke curled his fingers around mine. The weight and warmth of his hand was a pleasant shock. "Only the bad can be influenced, Princess."
The story started off racy, but the world they lived in could be so harsh. We were brought into a land with castles, Kings, Queens, Lords, Ladies, commoners and I was obsessed learning about it all. The Ascended ruled the land, and were given gifts from the Gods. They had fought a war hundreds of years ago, but were still plagued by the Atlantians who believed Prince Casteel should be the rightful ruler. He was said to be the reason behind most of the death that was brought to their land. And the threat of creatures that were made out of nightmares always felt a breath away. While Poppy had a past with them, she wouldn't let fear rule her present or future!
"We're going to walk out of here," he said. "You're not going to make a sound, and you're not going to give me any trouble, are you, Maiden?"
My fingers closed around the smooth, cool handle of the dagger. I shook my head no.
Penellaphe, aka Poppy, is my favorite heroine! She was chosen by the Gods to be the Maiden. She spent her life being veiled and protected at all costs. She wasn't allowed to socialize, besides with her maid Tawny, who I loved! And she wasn't to be spoken to or even touched. Her life felt so lonely at times. But underneath what everyone else saw, was a girl who could easily hold her own. Poppy was fierce, brave, a fighter, and extremely brave! And I loved listening to her thoughts. She was so easy to click with and feel her emotions, especially when it came to Hawke!
"You're an absolutely stunning, murderous little creature."
I have betrayed all of my other book boyfriends because of Hawke Flynn. He felt like a mix between Aiden and Roth, yet he was even sexier and more forward. So Hawke was honor, respect, completely addictive and absolutely beautiful. Of course I was obsessed with him. Hawke was a guard and his interactions with Poppy had me smiling, sighing and laughing out loud. I loved that he could be seductive and sexy, and then in the next moment he was protective and thoughtful. Plus he had this ability to be sarcastic and also put people in their place, it made me love him that much harder. I didn't care that I knew so very little about him, all I cared about is how he made me feel.
I couldn't help but shiver when his eyes finally met mine.
"You're so damn beautiful," he whispered, his voice thick. "And so damn unexpected."
When Poppy and Hawke were around each other, their antics and sexual tension had me over the moon happy. They messed with each other, and I loved how Hawke called her Princess. But neither could deny that there was a strong attraction between them. It almost felt like it was something more, especially since the friendship was so easy between them. But as the story progressed, moments between them were erotic and scorching hot! Their chemistry was steamy, even when they didn't have the easiest path.
I knew what the consequences could be. I knew what I was, and what was expected of me, and I knew I could no longer be that. It wasn't what I wanted in life. It had never been my choice.
But this…this I wanted.
Hawke was who I wanted.
This was my choice.
As the story unfolded, we got to see how layered it truly was. There were twists and turns. And while I saw some coming, others completely shocked me to my core. And that didn't even include the deaths. Some I cheered at the top of my lungs for and others my sobs were inconsolable. I stared in shock at the pages, never once thinking that things would play out how they did. It felt like it twisted in the wrong way. But just wait, because by the end of From Blood and Ash I was screaming with happiness. I loved how things ended up and it made so much sense for how the story played out. So hold on, because it was an extremely emotional road and I loved every single tear, smile and sigh it pulled from me. This story was truly brilliant!
"When you listen to me, I think the stars will fall." He followed me down so he spoke just above my ear. "I wish I could capture this moment somehow."
From Blood and Ash is my favorite Jennifer L. Armentrout book! I loved how there was lightness and darkness mixed together in this story. I loved how I would go from laughing and sighing to crying my eyes out. I loved every single moment in this book, even the ones that gutted me. I can't recommend this book enough!
My other favorite quotes:
Hawke's gaze remained fastened on mine as he stepped forward. "Both halves are as beautiful as the whole."
My lips parted on a sharp inhale. I couldn't even look to see what the Duke's reaction was, though I was sure it was nothing short of cataclysmic.
Hawke sensed my move and shifted, blocking my knee with his thigh. "You're so incredibly violent." He paused. "I think I like it."
"Let me go!" I seethed.
"And be kicked or stabbed?" He shoved his leg between mine, preventing any future kicks. "We've already covered that, Princess. More than once."
"I will kill them," he whispered. "I will fucking kill them all."
I didn't think he was talking about the old scars.
Then I wasn't thinking at all.
"Promise me," he said, seeming to not hear me as he lifted his head. His gaze snagged with mine. "Promise me you won't forget this, Poppy. That no matter what happens tomorrow, the next day, next week, you won't forget this—forget that this was real."
I couldn't look away. "I promise. I won't forget."
He lifted his chin, kissing my forehead. He leaned back, sliding his thumb along my jaw. "You deserve so much more than what awaits you."
*I voluntarily read and reviewed an advanced copy of this book, provided by the author. All thoughts and opinions are my own.*
Reading Order & Links:
Amazon (click on covers) & iBooks (click on titles)
Related Posts