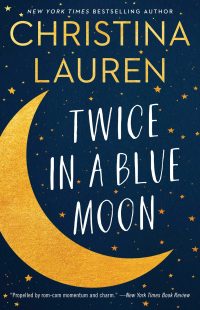 Twice in a Blue Moon
by
Christina Lauren
Purchase on:
Amazon
, 
iBooks
, 
Book Depository
Add to:
Goodreads
Synopsis:

From the New York Times and USA TODAY bestselling duo behind The Unhoneymooners and the "delectable, moving" (Entertainment Weekly) My Favorite Half-Night Stand comes a poignant romance that follows two people who fall in love during a life-changing overseas vacation—only for the truth to change everything once they return home.

As an adventurous send-off to her childhood, eighteen-year-old Tate Jones travels with her grandmother from their small town in Northern California to London. But the vacation of a lifetime is wonderfully derailed by the appearance of two charming Vermont farmers: grandfather Luther and his handsome grandson Sam.

Sam and Tate fall hard and fast. For two glorious weeks, the couple share their hopes, dreams, and secrets. Sam admits he suspects his grandfather is dying and that this could be the last trip they take together, and Tate reveals that she is the hidden daughter of one of the biggest film stars in the world—a secret she's never told anyone before.

But when Tate is exposed by a crush of cameras and reporters, she knows she's been betrayed by the one person she thought she could trust. She is forced to decide whether she will return to her quiet life or embrace being in the public eye. So when Sam reappears in her world more than a decade later, can Tate forgive the past and rekindle the passion they shared on their magical trip abroad? And does she even want to?

With Christina Lauren's signature "beautifully written and remarkably compelling" (Sarah J. Maas, New York Times bestselling author) prose, Twice in a Blue Moon is an unforgettable and moving novel of young love and second chances.
Review:
The range of what these two can write about and make me love, somehow still surprises me every time I open up one of their new books. Their more erotic stuff (Wild Seasons and Beautiful series), their romantic comedies (Josh and Hazel, Half-Night Stand, etc.), and their more…poignant (?) novels (Love and Other Words and now this one) have all stuck out to me as being some of my favorite romances of all time for different reasons. While there were a few parts of this one that didn't make me feel a 100% full-on, typical Arielle obsession, there is no doubt that I felt these words deep in my bones. There are (as always) quite a few quotes that I highlighted the crap out of because I know even just reading those few specific lines over again will have my heart racing.
I'll been that there will be some people that will say that the romance between Sam and Tate during their brief time in London at the beginning of the book wasn't believable and I will strongly disagree. I am and always have and will be a die-hard romantic. I'd like to think that I do, in fact, believe in a variation of love at first sight. I think that it's entirely possible to meet someone for the very first time and have a ~sense~ about them that tells you that they are special. It can be a bone deep connection that you can't shake..a feeling that your entire life as you know it has changed by this chance meeting. That's how I feel about how Tate and Sam met. They saw each other, spent time together, talking, and they indeed felt that pull to one another that only happens between certain people. I personally loved that first part and it reminded me a lot of Gayle Foreman's Just One Day duology.
The story ten fast forwards to about 15 years after their week in London. After the press is alerted to who Tate really is, in a whirlwind of events she is now an actress, just as famous as her father. The two are starring in their very first movie together and they are filming on a beautiful farm in northern California. In an….interesting….turn of events, the screen writer for this film that Tate has grown to love so dearly is, yeah you guessed it, Sam. They have not seen nor heard from one another in FIFTEEN YEARS so it's a pretty big shock to Tate to say the least. Obviously the rest of the book is about the two of them trying to wade through the ocean of feelings and hurt that lay between them.
The one thing I didn't like about this book, kind of spoiler alert, was that they didn't get back together until very near the end of the book. I mean….in real life it's obviously super realistic for them to have taken a long amount of time to heal their respective wounds before they could reconnect but damn…I selfishly just wanted more time with them actually together as an actual couple lol. It just slightly dimmed the story and knocked off a star for me but that still doesn't mean I didn't like the book. I mean when they got back together that first time the writing gave me goosebumps and took my breath away. It was incredible.
So yes, overall, I would definitely recommend this one. As always. Just know it's not like the last few light-hearted ones they have written!
Huge thanks to NetGalley and Gallery Books for an eARC in exchange for my honest opinion! ♥
Related Posts