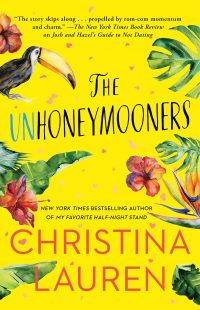 The Unhoneymooners
by
Christina Lauren
Purchase on:
Amazon
, 
iBooks
Add to:
Goodreads
Synopsis:

Olive Torres is used to being the unlucky twin: from inexplicable mishaps to a recent layoff, her life seems to be almost comically jinxed. By contrast, her sister Ami is an eternal champion...she even managed to finance her entire wedding by winning a slew of contests. Unfortunately for Olive, the only thing worse than constant bad luck is having to spend the wedding day with the best man (and her nemesis), Ethan Thomas.

Olive braces herself for wedding hell, determined to put on a brave face, but when the entire wedding party gets food poisoning, the only people who aren't affected are Olive and Ethan. Suddenly there's a free honeymoon up for grabs, and Olive will be damned if Ethan gets to enjoy paradise solo.

Agreeing to a temporary truce, the pair head for Maui. After all, ten days of bliss is worth having to assume the role of loving newlyweds, right? But the weird thing is...Olive doesn't mind playing pretend. In fact, the more she pretends to be the luckiest woman alive, the more it feels like she might be.
Review:
The Unhoneymooners was a fun enemy to lovers that was so easy to binge.  It was laugh worthy, smile worthy and the majority of the story took place in a beautiful tropical destination.  This book would make the perfect beach read!
Ethan slides his gaze to me, clearly unconvinced. "I'm not going to kiss you again, just in case that's what you were thinking this would lead to."
Whowhatnow? The jackass. Gaping at him, I whisper-hiss, "I would honestly rather lick the bottom of my shoe than have your mouth on mine again."
Olive constantly believed she had bad luck.  Yet all of that changed on her twin's wedding day.  Olive and her nemesis, who was her future brother-in-law's brother, were the only ones who weren't violently ill from the wedding buffet.  With an all-expense paid vacation to Maui, Ethan and Olive found themselves jetting off on their sibling's honeymoon.  Together.
"Look." I nod to the horizon. "We aren't lost at sea."
He lets out a quiet "Wow." And there, for a single breath, we give in to a really lovely moment of enjoying something together. Until Ethan decides to ruin it: "I hope you don't drown out there."
I smile down at him. "If I do, the husband is always a suspect."
I have to talk about Ethan, because I was obsessed with him! Yes even Olive could acknowledge he was gorgeous.  But there had always been this hate vibe going on between the two of them.  It started from the first moment they met.  Yet from the moment he pretended they were married on their vacation and kissed her forehead…. swoon.  So when extenuating circumstances led them to continue the charade, I loved every minute of it.  Pretending that they didn't hate each other?!  Yes please!  Olive herself couldn't even stop from swooning when Ethan turned on the charm.   And in those moments, my heart was so happy when they would click at times. Especially since we would get to see how well he paid attention to her.  But behind closed doors….ohhhh their bickering was addictive!  They could be so hilarious without even trying!
"I can hear you thinking about that one word and reading more into it than I intended. You look great." Once inside, he presses the button for the lobby and adds, "You always do."
These three final words bound around my cranium before they absorb. I always look great? To who?  Ethan?
I loved watching Olive go from hating Ethan to second guessing him, when they got along. Their relationship progressed in a way that left the reader more than invested and having to know what happened next. We got this story in just Olive's voice and I loved watching her change from the beginning of the story to the end. She always seemed to think the worst of everything and I loved how distance from her life, the vacation and even Ethan allowed her to grow and made me so proud of her! Olive had a lot of obstacles on her way to happiness, but I loved how she became her biggest champion and her large family always had her back every step of the way.
Squinting, he says, "You're a real seductress."
"I hear that a lot."
He coughs, and I swear I see Ethan Thomas battling a genuine smile.
And I  get it. As much as I hate him… I think I'm starting to like us.
With paintball fights, sexy massages, boat trips, and the beautiful scenery, The Unhoneymooners was a blast and absolutely hilarious!  Between their charade, banter and deals made, I constantly found myself laughing every few pages.  It was a book that will put a smile on your face, while also having deeper, emotional moments too.  But the emotional side of it, ugh it wrecked me.  So while this was easily five stars for the majority of the book, I struggled deeply with the conflict. It's a personal preference and I have an extremely hard time when it happens within books. So hence the four star rating.  But I loved the ending! With a grand gesture and an epilogue that gave us a look into the future, this book ended wonderfully.
Ethan and I are starting to build more of these good moments than bad;  it sends the balance swinging into an unfamiliar direction.
And I think I really like it.
Which makes me incredibly uneasy.
"I still hate you," I  tell him, pushing a dark curl of hair off his forehead.
He nods. "I  know you do." 
Related Posts