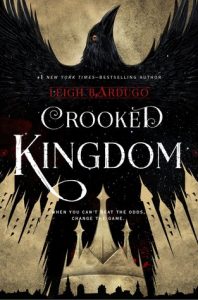 Crooked Kingdom
(
Six of Crows #2
)
by
Leigh Bardugo
Purchase on:
Amazon
, 
iBooks
Add to:
Goodreads
Synopsis:

Kaz Brekker and his crew have just pulled off a heist so daring even they didn't think they'd survive. But instead of divvying up a fat reward, they're right back to fighting for their lives. Double-crossed and left crippled by the kidnapping of a valuable team member, the crew is low on resources, allies, and hope. As powerful forces from around the world descend on Ketterdam to root out the secrets of the dangerous drug known as jurda parem, old rivals and new enemies emerge to challenge Kaz's cunning and test the team's fragile loyalties. A war will be waged on the city's dark and twisting streets―a battle for revenge and redemption that will decide the fate of magic in the Grisha world.
"I would come for you," he said, and when he saw the wary look she shot him, he said it again. "I would come for you. And if I couldn't walk, I'd crawl to you, and no matter how broken we were, we'd fight our way out together—knives drawn, pistols blazing. Because that's what we do. We never stop fighting."
It's been so long since I've really sat down and wrote a review about a book that really mattered to me. Since I've had all this (all day)(endless) morning sickness, I've been pretty bleak about my outlook on reading and if I'd ever want to again-I know, right? Ridiculous. As if I'd ever give up my one true passion. But it's been a long road…and when I saw Kaz on the horizon, I knew it was my time to reintroduce myself into the book community.
"Well, I'll be a son of a bitch, Brekker. You have to be the craziest bastard I ever met."
"I'll take that as a compliment."
As everyone knows, Six of Crows has been my favorite read this year (yes I was late to the party). No, I haven't had the longest, most prosperous reading year of my life (that was last year, boo), but when a book truly stands out, you simply don't forget it. And so here was my baby boy, his final book coming up at the speed of light…and I knew I wouldn't miss it for the world. But with that comes a lot of expectations.
Kaz had tapped his crow's head cane on the flagstones of the tomb floor. "Do you know what Van Eck's problem is?" 
"No honor?" said Matthias.
"Rotten parenting skills?" said Nina.
"Receding hairline?" offered Jesper.
"No," said Kaz. "Too much to lose. And he gave us a map to what to steal first."
For one….this is Kaz. You fuck up Kaz? I fuck YOU up. So…this author had a lot of hype to live up to in my pathetic world of nausea and the occasional regurgitation of Blue Raspberry Mr. Misty Floats from Dairy Queen. And not only did I have that larger than life hype in my head, but this was the FIRST BOOK to bring me out of my endless woes of re-reading and missing out on countless new releases. To say I was nervous would be an understatement.
Jesper tapped his fingers restlessly on his thighs. "Has anyone noticed this whole city is looking for us, mad at us, or wants to kill us?" "So?" said Kaz.
"Well, usually it's just half the city."
So. Was it worth the hype? Was it everything I ever dreamed of and wished it would be? Was everything as perfect as the first? No. I'm sorry, but the answer is an absolute no. And I keep asking myself, if you didn't love it as much as the first, if you have qualms about the integrity of the novel and all of the characters…why the 4.5 stars? Are you rating this so highly because you love Kaz more than you love the air you breathe? Or is it simply out of loyalty to your love of the first-Possibly your favorite book of all time under Hunger Games? And the truth of the matter is, I can't answer that question. I really can't. But what I can answer is this: No matter whether I believe this wasn't what it could have been or whether it was and I just missed the party…I always, always rate with my gut. And my gut won't let me rate lower than 4.5.
Kaz had rescued her from that hopelessness, and their lives had been a series of rescues ever since, a string of debts that they never tallied as they saved each other again and again. Lying in the dark, she realized that for all her doubts, she'd believed he would rescue her once more, that he would put aside his greed and his demons and come for her. Now she wasn't so sure.
And every single one of my best friends, ask any of them (Harriet, Anna, Jenny, Jen, etc.) will tell you I do NOT lie on my ratings. They come from deep in my heart and I wouldn't be able to stand it if I rated something less/more than what it deserved. So, I think I made it clear that, while I'm a tad confused on what made this click for me, I am set in my rating. If anyone is even still around I guess I'll get to my thoughts on the book now.
"If you don't care about money, Nina dear, call it by its other names."
"Kruge? Scrub? Kaz's one true love?"
"Freedom, security, retribution."
"You can't put a price on those things."
"No? I bet Jesper can. It's the price of the lien on his father's farm." The sharpshooter looked at the toes of his boots. "What about you, Wylan? Can you put a price on the chance to walk away from Ketterdam and live your own life? And Nina, I suspect you and your Fjerdan may want something more to subsist on than patriotism and longing glances. Inej might have a number in mind too. It's the price of a future, and it's Van Eck's turn to pay."
This book…..this book was not what I expected-both good and bad. Because, really, what did I even expect? I knew the first was out of this world creative, that nothing could compare….yet I longed for it to. Second books and third books are almost never my favorite…but I yearned for something better. And, while I didn't get that, I did get a lot of things I was missing in the first. They weren't as beautiful, far-fetched, as magnanimous as I had hoped, but they were there, and they were flawed…and how can I complain when I got my (cough) sweet Kaz to show his barest emotions, his most broken self to the only one left in the world he loved. I mean….Jesus. My heart couldn't take any more. No, I didn't get a full page proclamation of love-sorry to disappoint those who wanted that-but we did get the Kaz flair, the Kaz way of showing how much he cares, how loyal he is. And, frankly, despite what I had thought before…it was more than enough for me. This book was flawed. The crew was flawed. And Kaz was flawed….and I wouldn't change that for the world.
Around Pekka, he lost the shape of who he was—no, he lost the shape of who he'd fought to become. He wasn't Dirtyhands or Kaz Brekker or even the toughest lieutenant in the Dregs. He was just a boy fueled by a white flame of rage, one that threatened to burn the pretense of the hard-won civility he maintained to ash.
The beginning started out just as I'd hoped it would-right where it left off, give or take a week. They have very little time to get to Inej and free her from that bastard Van Eck, and Kaz (just a warning, this review is centered around Kaz so….yeah, sorry) is a man on a mission-A deadly mission. Everyone is battered and bruised, dedicated to the cause of getting their Wraith back, no matter what happens. After all, she has saved their lives countless times.
But, here lies my largest issue: The POVs at the beginning. I'm sorry, but why do we have to wait one billion chapters to get into Kaz's twisted head??? That pissed me off-No, the story wasn't bad without it, but, for me, this felt odd. In the first book, he and Inej were the main POVs and I, quite frankly, liked it that way. In this one, it was all Wylan, Jesper, Nina, Matthias, etc..and THEN Kaz. And THEN Inej. I didn't like that and it immediately put a sour taste in my mouth-NOW, I will just say this…it didn't effect that much, I just was a pissy pink elephant about the whole thing. And, frankly, I thought the pairings at the beginning of the book were odd. I can't explain it…it just didn't feel right. Everyone was around, but I definitely was missing something. (TO HARRIET-Don't worry, Kazzy bestie, he was not missing from the story, don't misunderstand me).
"My mother is Ketterdam. She birthed me in the harbor. And my father is profit. I honor him daily. Be back by nightfall or don't come back at all. Either of you. I need crew, not sentimental nubs."
Now, while it didn't effect the story…I do think it effected the intensity of Kaz's character. This is why I LOVE him, okay? So when he is stifled by A) too much action (am I really stating this as a problem?) and B) No time in his mind I definitely noticed it. Which I guess brings me to the negatives, since this seems like the appropriate timing of both my review and the book: The middle. So many books effect me this way, even some of my absolute favorites, and I guess I just hoped that since book one had literally no slow parts, for me, that it would be the same here. But it was almost an opposite effect: There was literally so much going on at one point, that my mind couldn't take it. Anna said it best: We missed the strategizing, the camaraderie, the banter, the scheming, and there was literally no time to do that. The weakest point for me, and where I lost interest for about 7%, was part three: Brick by Brick. This happens in many books, like I mentioned before, but I was hoping it wouldn't here. And it ended quickly-it won me back almost right away-but it took a minute, and that scared me. I will say, though…it had one of my top three favorite Kaz quotes in the whole book-EEPS. That has to count for something!!
So, with that doubt in my mind, which saddened me greatly that I had to consider that gap at all, I was suddenly more apprehensive of the rest of the story. Would it even out? Would I get my big declaration? Would I get the Kaz I had loved from story one? Well…not everything was what I'd expected, but there were some parts that were more, and that excited me so much I could barely contain my giddy glee. There are literally so many moments I could touch on, so many scenes I'll never forget…Brutality, courage, loyalty, respect, love, betrayal [by the author] (sorry lady, but you definitely tried to pull a fast one on me I don't know if I'll ever agree with-at least how it happened).
He reached out and took Nina's hand. Wylan suddenly felt he was intruding on something private. "I am grateful you're alive," he said. "I am grateful you're beside me. I am grateful that you're eating."
She rested her head on his shoulder. "You're better than waffles, Matthias Helvar."
A small smile curled the Fjerdan's lips. "Let's not say things we don't mean, my love."
You think you have it all figured out, that everything is finally going to go as you had hoped from the very beginning, and then out of nowhere there's yet another curveball thrown your way. And while that worked extremely well for the last half of the book, I must say it was sometimes a misfire in the beginning parts of the book. Like I said, I LOVE this series, but it wasn't without it's flaws and I feel the need to talk it out on this page. Yes, I'm rambling, but it's how I've always done reviews so…
His eyes scanned her face as they always had, closely, hungrily, snatching at the details of her like the thief he was—the even set of her dark brows, the rich brown of her eyes, the upward tilt of her lips. He didn't deserve peace and he didn't deserve forgiveness, but if he was going to die today, maybe the one thing he'd earned was the memory of her—brighter than anything he would ever have a right to—to take with him to the other side.
Okay, forget it, I'm just going to touch on what I care about most and then I'll end the suffering that is this repetitive review: Kaz. Kaz Kaz Kaz Kaz Kaz Kaz KAZ. How do you like me now, computer??? I swear, it keeps putting that damn red squiggly line under his name and, since I've mentioned him like 100 times, my screen is completely reddish-IT'S A NAME, DAMN IT. LEAVE ME ALONE. Anyway, I digress. Kaz has stolen my heart completely with his brutal truths, cutthroat way of life, ABSOLUTE LOYALTY, his cunning, his scheming face, his cane, his gloves, the phobia he was stuck with because of his unfortunate circumstances…..the list goes literally on and on. And that's why I was so angry that he was such a small part, I felt, in the beginning. Wasn't he the main character? He and Inej, mostly? Wasn't he the reason they even existed, this crew? Well, I didn't care about them, any of them, like I did him, so that was hard for me to swallow. So when he got back to normal (and his chapters came more frequently), perhaps even more brutal than before…it was like coming home.
The silence between them was dark water. He could not cross it. He couldn't walk the line between the decency she deserved and the violence this path demanded. If he tried, it might get them both killed. He could only be who he truly was—a boy who had no comfort to offer. So he would give her what he could. "I'm going to open Van Eck up," he said quietly. "I'm going to give him a wound that can't be sewn shut, that he'll never recover from. The kind that can't be healed."
"The kind you endured?"
"Yes." It was a promise. It was an admission.
It's true that most of my expectations centered around Kaz, Kaz and Inej, and him getting everything his poor heart deserved (revenge included), but I still know what a good, COMPLETE story is so shhh. I am happy with his chapter closing the way it did, with more to come for him and his eventual (I hope) complete happiness…and I do believe Bardugo finished his story in a way that was completely believable. I did want bigger, grander things for him-But the story ended in the way I think it was meant to, mostly. There's plenty more I could wish for and plenty more I could say…but I'm happy leaving his story here. I love him. I adore him. No one compares to him. End of story.
Inej thought of Kaz's pale trickster hands, the shiny rope of scar tissue that ran atop his right knuckle. Van Eck could break every finger and both of Kaz's legs and he'd never say a word, but if his men stripped away Kaz's gloves? Inej still didn't understand why he needed them or why he'd fainted in the prison wagon on the way into the Ice Court, but she knew Kaz couldn't bear the touch of skin on skin. How much of this weakness could he hide? How quickly would Van Eck located his vulnerability, exploit it? How long until Kaz came undone? She couldn't bear it. She was glad she didn't know where Kuwei was. She would break before Kaz did.
This book was far from perfect…but it made me happy. It had pain and torture and brutal moments that any sick bastard like me would lap up happily in each and EVERY story….but it also had its moments I wish were better. It's a fine line between obsession and sanity, loving a book and its characters too much for my own good. So I will take this as a win-I just know it could have been even better. Less plots upon plots, a little less confusion around the middle because so much was going on (not always a good thing), and the fact that all this made me care less about certain things…these are the issues I had that I wish didn't exist. But the fact remains: Bardugo rules. Her characters will stay in my heart forever. Kaz can literally get out of ANY situation….and I am at peace with where this story went. I could be happier….but at least this isn't one of my final book Chelsea fails that happen so frequently. No Mourners. No Funerals.
***************
Buddy Read with my LOVELY SNAKE-YAY!! We're BACK! Well…at least for Kaz 😛
Related Posts