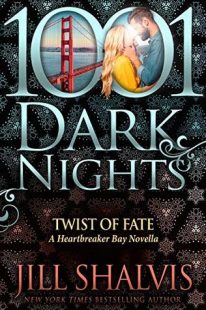 Twist of Fate
(
Heartbreaker Bay #8.5
)
by
Jill Shalvis
Purchase on:
Amazon
Add to:
Goodreads
Synopsis:

From New York Times and USA Today bestselling author Jill Shalvis comes a new story in her Heartbreaker Bay series…

When the one you want …

Daisy doesn't believe love is ever-lasting, so it's ironic as hell that she parlayed a business degree into a wedding planning business. More ironic still is her latest job bringing her back into contact with the man who'd taught her that love can't last.

Is the one you can't have…

To say Diego has been taught the hard way to bury emotions is an understatement. But when he's called home to help the brother he hasn't seen or spoken to in years, that's one thing. It's another entirely to also come face to face with the first woman he ever loved. First and only…

Can love conquer all?

Daisy's learned to depend only on herself, and Diego is and always has been an island of one. And yet when they're together, even when they're bickering, still wary and haunted by memories of what was … it's magic. The question is, how to find their way back to each other…?

**Every 1001 Dark Nights novella is a standalone story. For new readers, it's an introduction to an author's world. And for fans, it's a bonus book in the author's series. We hope you'll enjoy each one as much as we do.**
Review:
Twist of Fate was a second chance romance that was sweet and sexy. But this book was also a second chance for brothers, which warmed my heart even further. Add in the fact that this can easily be read as a standalone, and this book was such a huge win. So if you're a fan of Jill Shalvis, second chance romance and books with family, then you're in for a treat!
When she opened up, she expected a smile at her appearance. Or some smartass remark.
Instead, Diego met her gaze. "What happened to us?"he asked quietly.
The sentence shocked her and gave her heart an odd kick.
Diego Stone came back into town for his brother's wedding. And if you read Playing for Keeps, then you're going to remember and love his brother, Rocco. He owned the local tattoo shop and was a good friend to the main heroine from that book, Katie. Even though Diego and Rocco had a falling out over the years, he still came back to town to help his brother out with his wedding. But he didn't even expect to run into Daisy Evans, his high school sweetheart and first love.
Their gazes met and locked, and in his eyes, she saw the things that hopes and dreams were made of.
Daisy was the wedding planner for Rocco's wedding, so Diego couldn't escape her. It had been ten years since they saw each other. And they had a falling out too. Diego tried his hardest to keep his emotions buried again, but between Daisy and his brother, it became impossible to do.
"Miss this," he murmured against her ear, the words escaping without conscious thought.
"San Francisco?"
"You."


She stared up at him with those big eyes.
We alternated between Daisy and Diego, so we got to see the depths of their hurt. But regardless of the pain from their past, their spark was still there. And even though it had been ten years, it was like no time had passed at all. When they touched or laughed, it felt like they picked up right where they left off. Especially with memories of their past everywhere. Daisy and Diego were both sweet and caring, so of course I was rooting for their hea! Especially with Deigo going to the lengths he did, he was by far my favorite in this story! So if you love second chance romance stories, that you can devour in one sitting, definitely pick this one up!
*I voluntarily read and reviewed an advanced copy of this book, provided by the publisher. All thoughts and opinions are my own.*
Purchase your copy of TWIST OF FATE today!
Amazon US | Amazon UK | Amazon CA | Amazon AU
Add TWIST OF FATE to your Goodreads TBR here!

Book Trailer:

---
About Jill Shalvis

New York Times and USA Today bestselling author Jill Shalvis lives in a small town in the Sierras full of quirky characters. Any resemblance to the quirky characters in her books is, um, mostly coincidental. Look for Jill's bestselling, award-winning books wherever romances are sold and visit her website for a complete book list and daily blog detailing her city-girl-living-in-the-mountains adventures.
Connect With Her:
Website | Facebook | Goodreads | Twitter | Bookbub | Instagram
Related Posts
I loved being back in another Jill Shalvis book! TWIST OF FATE is part of her Heartbreaker Bay Series (which I'm obsessed with!) and it released as part of 1001 Dark Nights, so it can easily be read as a standalone. So check out my review and the book trailer below. Enjoy!