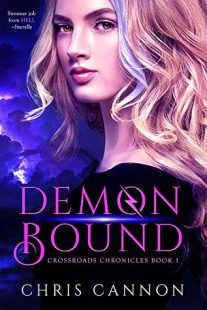 Demon Bound
by
Chris Cannon
Purchase on:
Amazon
, 
iBooks
Add to:
Goodreads
Synopsis:

When a summoning goes awry, suddenly booknerd Meena's summer job becomes something drastically different. Instead of cleaning eccentric Carol's house, she's bound to a demon as his soul-collector. Soon Meena discovers that the boring, pageant-obsessed, bonfire-loving town that she's never fit in to is a hotbed for soul-sucking demons, demon-hunting witches, and vampires who just wanna have fun… And then she comes into her own powers.

Could things get any stranger? Good thing she meets new guy Jake—who gets her and still hangs around.

When Jake's mom sends him off to his Aunt Zelda's for the summer, he thought he'd be bored. But nothing is what it seems in this town. His aunt isn't just odd, she's a witch who fights demons and tries to maintain the magical balance of the town. Jake should get the hell out of there and, he would leave, except for bad-ass newbie witch Meena, who looks at him like he matters.

He never counted on sticking around, but Meena's bound to a demon who wants to destroy her soul—and Jake's finally found someone worth fighting for.
Review:
Demon Bound was a paranormal story that was cute and unique.  Witches, demons, vampires and even spirits were in this story and it all felt like a fresh take on them.  I was fascinated learning the rules for the magic and the creatures were oh so interesting!  Unfortunately, I wasn't able to connect to Meena or Jake.  But if you adore paranormal stories, definitely check this one out!
I'd love to say that I'm a sparkly unicorn, but I'm more like my cats Marshmallow and Pumpkin… I'd rather eat, take naps, and ignore the world.
This story alternated between Jake and Meena, and I liked both of them right away.  Meena's thoughts made me laugh and Jake seemed like he had all the potential to be a book boyfriend.  But right from the start, they were lost, just like me.  We met Carol, Meena's new boss, and Carol's friend Zelda, who was kind of like a distant Aunt to Jake.  Carol and Zelda's comments and words were so over the top and matter of fact that it was hard not to laugh.  And with a séance gone wrong, we quickly dived into the magical world around them.  It was definitely a magical ride.
I had a vague memory of when my life had been normal. When no one threw knives at me and people answered questions without strange fetishy requests.
I missed that time.
Unfortunately, I wasn't ever to connect to Jake and Meena.  No matter how much I liked them.  But I enjoyed watching them learn about each other and how fast their friendship was formed.  It had an insta-love feel to it, but being introduced to the paranormal world can definitely do that to some!  And I liked how protective Jake was of Meena.  Especially when it came to Bane.  Bane was a powerful demon who wreaked havoc on the town they lived in.  But I saw him as a weirdo who was beyond creepy.  Bane had a hair fetish that made me want to teach him about boundaries.  So I kept hoping that someone in this story would take him down!  For good.
"This town might be infested with demons." I leaned down and brushed my lips across hers. "But it has its perks." And then I kissed her for real.
Demon Bound was a fluffy paranormal book that made me smile and laugh.  I enjoyed that this story never made me nervous, that I just got to sit back and enjoy the story.  Even if it hit some more serious topics throughout this story.  The ending stopped at the perfect spot to give us a happily for now.  Yet there's still so many different paths this story could take in the future.  I hope you have a lot of fun discovering this book too!
*I voluntarily read and reviewed an advanced copy of this book, provided by the publisher. All thoughts and opinions are my own.*
Related Posts