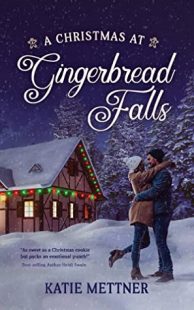 A Christmas at Gingerbread Falls
by
Katie Mettner
Purchase on:
Amazon
, 
iBooks
Add to:
Goodreads
Synopsis:

Actress Carrie Murray's films are a Christmas lover's delight. Filled with twinkling lights, festive carols, and happy endings, they're the perfect escape from reality—for her and the audience. Then Tinseltown calls.

Braxton Timothy is Hollywood's biggest action star. Handsome and talented but decidedly on the naughty list, no one can fathom his sudden desire to produce a feel-good Christmas movie—least of all, his no-name co-star.

Alternating between scenes reminiscent of everyone's favorite made-for-TV movies and unexpected, off-screen chemistry, Gingerbread Falls has surprises in store this holiday season. The question is, will there be enough Christmas magic to convince two imperfect people that they're perfect for each other?
Review:
A Christmas at Gingerbread Falls was an adorable and emotion filled Christmas story. With snow falling, a Christmas town setting, and filming a Hallmarkish movie there was a lot of heart in the pages. If you enjoy Christmas stories, then you may want to put this one on your tbr list!
"I do enough of these movies, I should be overflowing with the stuff," she huffed, her breath puffing frosty white rings into the air.
"Overflowing with what stuff?" a voice asked.
Carrie whirled around and slipped on a patch of snow, falling right into the waiting arms of Braxton.
He grinned down at her cheekily. "This is getting to be a habit."
This was unlike any other Christmas story I have read, it was truly unique! Carrie Murray and Braxton Timothy were filming a movie that screamed Hallmark Christmas movie. And we not only alternated between Carrie and Braxton, but also between their real lives and the scenes they filmed in the movie too. The scenes they were filming were heartwarming, delightful and the perfect amount of cheesiness! But while they were filming, it was hard to keep their real lives from bleeding into their characters' lives and vice versa. There was heat between them and quite possibly more!
While the crew worked around them, neither Brax nor Carrie moved away from the front of the tree. Carrie felt him lean into her ear and held her breath, wondering what he was about to say. "That was one of the best Christmas memories I've ever made."
"That wasn't real, Brax," Carrie answered with her gaze fixed on the tree lights.
"It felt real to me," he promised, his breath warm on her cheek.
But Carrie and Braxton in real life? They were sexier and way more heart broken and jaded then their Hallmark counterparts. While they were attracted to one another, Braxton had a playboy past and Carrie was the queen at keeping those around her at arms lengths away. As the story unfolded, we get to see that they were both haunted by their tragic pasts. And both of their pasts were extremely heavy, very dark and intense on the heart. So I kept hoping they could help one another heal, they both needed that. With some light hearted humor, some sexier moments, and heart wrenching back stories, this book thankfully sailed us into a happily ever after!
"CUT!" Simpson yelled, whipping the earphones off his head . "What the hell, Brax? This movie is for The Christmas Channel! You can't kiss her until the very end!"
Brax finally tore his gaze from Carrie's to address the director. "What happens if I don't wait?"
A Christmas at Gingerbread Falls was a fun Christmas tale! But unfortunately for me, I was never able to connect to either of the characters. For me to love and enjoy a story with my whole heart, I desperately need that connection. And I wasn't able to find that click with either Carrie or Braxton. So if you pick this one up, fingers crossed you click and I can't wait to hear all of your thoughts and your emotions while reading this story!
*I voluntarily read and reviewed an advanced copy of this book, provided by the publisher. All thoughts and opinions are my own.*
Goodreads / Amazon / Barnes & Noble
About Katie Mettner:

Katie Mettner writes small-town romantic tales filled with epic love stories and happily-ever-afters. She proudly wears the title of, 'the only person to lose her leg after falling down the bunny hill,' and loves decorating her prosthetic with the latest fashion trends. She lives in Northern Wisconsin with her own happily-ever-after and three mini-mes. Katie has a massive addiction to coffee and Twitter, and a lessening aversion to Pinterest — now that she's quit trying to make the things she pins.
Giveaway:
Grand prize 1:
Grand prize 2:
Hosted by:

Related Posts