Looking back through Goodreads, I somehow forgot to post this review back in March, whoops! So here we go.....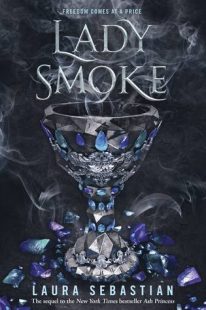 Lady Smoke
(
Ash Princess #2
)
by
Laura Sebastian
Purchase on:
Amazon
, 
iBooks
Add to:
Goodreads
Synopsis:

The Kaiser murdered Theodosia's mother, the Fire Queen, when Theo was only six. He took Theo's country and kept her prisoner, crowning her Ash Princess--a pet to toy with and humiliate for ten long years. That era has ended. The Kaiser thought his prisoner weak and defenseless. He didn't realize that a sharp mind is the deadliest weapon.

Theo no longer wears a crown of ashes. She has taken back her rightful title, and a hostage--Prinz Soren. But her people remain enslaved under the Kaiser's rule, and now she is thousands of miles away from them and her throne.

To get them back, she will need an army. Only, securing an army means she must trust her aunt, the dreaded pirate Dragonsbane. And according to Dragonsbane, an army can only be produced if Theo takes a husband. Something an Astrean Queen has never done.

Theo knows that freedom comes at a price, but she is determined to find a way to save her country without losing herself
Review:
Looking back, Lady Smoke was my favorite book in this trilogy. There was lots of action and I loved how the characters worked together and grew. With sweaty palms and my heart in my throat, some of the moments were definitely intense. The games and strategies they set in place were so much fun to watch unfold. It added to the unknown feel, made the story more emotional and I loved every minute of it. With the reappearance of some old faces, this book had it all. Lady Smoke was definitely my favorite in the Ash Princess Trilogy.
"You want something," he says quietly, trying to sit up straighter. Heron didn't do a thorough job of healing him, and he still winces in pain. Bruised ribs, maybe.
"I didn't realize it was like this," I tell him. "I had no idea."
Søren looks at me incredulously before his gaze softens. "It's war," he says. "This is how it goes. Your friend is right. We both know I've done worse things."

Artemisia
"We must also bring them hope," she said, as if it were a physical thing we could deliver in a basket tied with ribbon. As if it were easy to share with others when it's hard enough to keep my own hope from dying.
When I say as much to Artemisia, she shakes her head. "Hope is contagious," she says. "When you have enough, it spreads naturally."
Artemisia became one of my favorites. She was such an unknown in Ash Princess. And she came across as cold. But in this book, I started to absolutely love her. Artemisia was complicated and the more we learned about her, it explained all of her complexities. One of my favorite things was watching how Theo and her interacted. I loved watching their dynamics play out. Watching them learn to trust and work together was one of my favorite things in this story. I could easily read a spin-off series about Artemisia!
Søren
The last time I saw him, I had betrayed him and he had told me he loved me anyway. He doesn't. He can't love me.
Yes Søren had done horrific things, and had gone along with some of his father's wishes, but it didn't matter me to. When I looked at him, I didn't just see all the blood on his hands and soul. That was partly because he was raised by a monster. So when he was finally free, I loved the choice he made. He had so much redemption in him and I was his biggest champion. I loved how smart he was and how quick he was in situations. He was a true warrior and survivor. And I loved how Søren was Theo's biggest supporter.
Theodosia
I did what I had to do, I tell myself again, and though that might be the truth, it doesn't ease the guilt that's worked its way under my skin.
I love that Theo was smart and who she chose to trust. But most of all, I loved that she couldn't control how she felt. No matter how hard she tried. She was fierce, brave, yet she still had a heart. In my eyes she had everything that would someday make her a great ruler! Especially when she stood up for what she believed in.
I know him and he knows me and the darkest parts of our souls match.
The plans that came together were exciting and the way the politics played into this story was fascinating! If you're a fan of the first book or fantasy, then this book is for you! Lady Smoke set the stage for the final book, and I was so excited to see how it was all going to end!
Related Posts