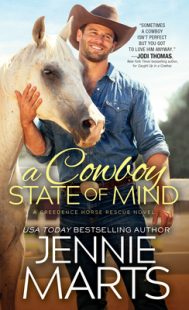 A Cowboy State of Mind
(
Creedence Horse Rescue #1
)
by
Jennie Marts
Purchase on:
Amazon
, 
iBooks
, 
Book Depository
Add to:
Goodreads
Synopsis:

Scarred and battered loner Zane Taylor has a gift with animals, particularly horses, but he's at a total loss when it comes to knowing how to handle women. Even though he's sworn off love, he can't seem to stay away from Bryn Callahan. He's known for being a horse whisperer, but can't seem to find his voice at all where Bryn is concerned.

Bryn Callahan has a heart for strays, but she is through trying to save damaged men. She vows to only date nice guys, which is a category that does not include Zane Taylor. Too bad he's the only one who sets her pulse racing every time she's around him.

Starting a horse rescue ranch wasn't in Bryn's plan, but try telling that to the assembly of abandoned animals that have found their way to her doorstep. And when a chance encounter with a horse headed for slaughter brings Zane and Bryn together, they find themselves given a chance to save not just the horse, but maybe each other...
Review:
With small town charm, characters that were easy to love and a story line that melted my heart, A Cowboy State of Mind had it all!  I laughed, cried and swooned hard.  So if you love cowboys and romance, then you definitely need to look at adding this one to your tbr!
"It was nothing."
It hadn't been nothing to her. It had been everything.
I had already fallen hard for Zane Taylor in Wish Upon a Cowboy.  He was quiet and loyal.  And I loved that he stepped up and helped when needed.  He was such a good person.  Plus I adored his border collie, that he claimed wasn't his, but he still let her sleep in his bed at night ha!  But my heart bled for Zane.  Other judged him by his scar.  And his upbringing and current situation with his dad made my heart hurt for him.  Thankfully, there was lots of brightness in his life.  Especially anytime he was around Bryn.
She was done saving others. She wanted security and stability. Safety. And when it came to being around Zane Taylor, her heart was anything but safe.
Zane was already head over heels in lust with Bryn, and I couldn't blame him.  I adored her too!    Bryn Callahan was a kind hearted, quirky, lovable woman who I instantly connected with.  She truly had the biggest heart ever and took in strays without a second thought.  When she saved a horse's life, that brought Zane back into her life.  And while you could tell that they both liked each other, Bryn tried her best not to get attached.  Zane was supposed to leave the state for work.  But the heart wants what the heart wants.
He didn't know what to say, how to put into words what her words meant to him. All he could do was show her. He pressed his lips to hers and kissed her with everything in him.
Their love of animals brought Zane and Bryn together again and again.  And I loved that we got to hear both of their thoughts!  Their romance was sweet and slow, but the sexier moments were oh so hot!  But they had a lot of obstacles in their way, besides Zane leaving town.  Like Bryn's past, her family to Zane not having the best faith in himself.  I just wanted to take all of the distractions away and push them together.  Because anytime they were around the other, it was fabulous!
"That's the thing about love. We don't ask for it, but sometimes we get it anyway."
A Cowboy State of Mind should have easily been a 4.5/5 Star rating for me.  But I struggled with this book.  I'm overly sensitive to animals being in dangerous situations or hurt.  And don't worry, spoiler alert, all the animals ended up perfectly fine.  But my little girl dog had been sick for months.  So I struggled greatly reading about hurt animals while she was snuggled up next to me extremely sick.  I truly couldn't handle the animal parts at all, and would put this book down for days to even weeks at a time.  Many, many times.  I'm sure I'm an anomaly, but I wanted to explain why my heart couldn't fully be in this story.
He brushed her hair back from her forehead, his gaze intense and deep as he stared into her eyes. "The fallin' is easy, darlin '. It's the jumpin' that takes the strength of will."
She swallowed, emotion suddenly thickening her throat, as if her body knew that he wasn't just talking about the ledge. She was already falling, and falling hard, for Zane Taylor, but was she really ready to jump headlong into this thing with him?
He dipped his head and kissed the side of her neck, the scruff of his whiskered chin scraping the delicate skin. She tipped her head back and sighed as she fell.
A Cowboy State of Mind had a happy ending for all, four and three legged animals included.  And I adored Zane and Bryn.  If you love romances that have sexy cowboys in them, heartwarming characters and animals and a story line that will make you root for HEAs, then definitely check this one out.  Jennie Marts is always a huge hit for me, I was just too sensitive with the topic of this book, to make this one a favorite.
*I voluntarily read and reviewed an advanced copy of this book, provided by the author. All thoughts and opinions are my own.*
Reading Order & Links:
Amazon (click on covers), iBooks (click on titles) & Book Depository (click on book #)
***Each book can be read as a standalone, but best enjoyed in order.***
Related Posts