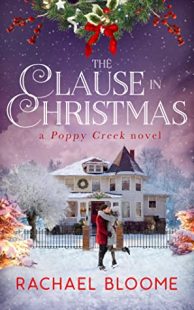 The Clause in Christmas
(
Poppy Creek #1
)
by
Rachael Bloome
Purchase on:
Amazon
, 
Book Depository
Add to:
Goodreads
Synopsis:

An unexpected inheritance. A pesky clause in the will. And 25 days to avoid falling in love.

Cassie Hayward hates Christmas. Especially this year.

No job. Flat broke. And an ex most definitely on the naughty list.

The unexpected inheritance of a charming Victorian cottage in the small town of Poppy Creek may be the Christmas miracle Cassie needs.

Except for one itty-bitty problem: a clause in the will.

To inherit the house, Cassie must complete a series of festive tasks every day in December leading up to Christmas. All overseen by the handsome, Christmas-loving lawyer Luke Davis.

Luke is as strong and steady as the bespoke furniture he crafts as a hobby. He has to be. Stepping into his late father's shoes as the town lawyer comes with a sleigh full of responsibilities. Which mean the captivating stranger collecting her inheritance is a distraction he can't afford.

As the unlikely pair complete the daily tasks, fighting their attraction becomes more futile than putting jolly ole St. Nick on a diet. But when someone from Cassie's past reappears with the offer of a lifetime, Cassie will have to choose between love and the life she always wanted.
Review:
The Clause of Christmas felt like an adorable Hallmark movie. There was a woman who didn't believe in Christmas, a man who was a pillar in his community and a quaint small town filled with lots of charm and quirky people. Add in a Christmas calendar that had a different festive task from December 1st to December 25th and this book seemed to have it all!
But ultimately I DNF this book at 46% because I couldn't connect to any of the characters. Cassie was anti-Christmas because of her childhood and never seemed to give it a chance as an adult, until now. I was happy to see the joy she found in something so simple as decorating a tree to sledding. But with only a small glimpse into her past, I never felt as though I knew Cassie. She was someone who was emotionally out of reach for me and I couldn't ever connect with what she felt. And since I didn't share her love of coffee, I unfortunately couldn't even make that connection with her.
With Luke, I liked him right away and he made me laugh. But the more time I spent with him, and heard his thoughts, I lost that connection. And when I got to the scene where he was talking with his guy friends, I closed the book. It was a little too tender for my liking, and I've never said that before. But regardless of my lack of connection, I believe that a lot of people will adore The Clause in Christmas. All the elements are there for a wonderful Christmas tale. If you end up picking this one up, here's hoping you enjoy it more than me!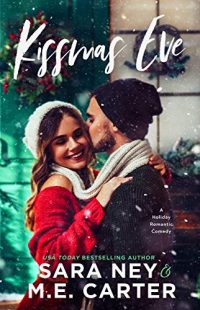 Kissmas Eve
by
M.E. Carter, Sara Ney
Purchase on:
Amazon
Add to:
Goodreads
Synopsis:

Christmas… Bah Humbug…

Sports agent Adam Roberts hates Christmas, hates cheer, and just about anything tied with a bow. What he does love is sports, the thrill of a competition and the mysterious identity of the woman he's been flirting with on the company messenger.

He doesn't know her name, but he's determined to find out. Even if it means attending the Christmas party he's dreading.

Merry Christmas to one and all!

Meg McClane loves everything about Christmas, from her festive Ugly Sweaters, down to her candy-cane striped toenails. But not everyone appreciates her holiday cheer; not her co-workers, not her bosses, and certainly not Adam Roberts, the senior agent she's had a crush on for as long as she can remember.

But now a new man has caught her eye, or maybe just her interest with his kind and witty conversations on the company messenger. It's just her luck that when they finally decide to meet up, she gets stranded with a stranger in the elevators on their way to the company Christmas party…
Review:
Kinsman Eve had the cutest premise ever! But unfortunately this was another book where I couldn't connect to any of the characters. And some of them felt over the top, like Sheila. She worked right next to Meg…..and I just wanted to shove a candy cane in her mouth so she'd stop talking. #BadJen
I did enjoy that we got to hear both of the main characters thoughts. Meg was adorable and loved everything Christmas. And I didn't care what her co-workers said about her outfits. I thought they were perfectly festive! Meg had been crushing on Adam, a guy that worked in the same office. If only she knew that Adam was interested in her too.
Both Adam and Meg were characters I'd normally adore, so I'm not sure what went wrong. Especially since it was oh so sweet how they ended up getting together. But it took over halfway for me to be somewhat invested in the story. And I finally cracked a smile when I was close to the end. There were a few grammatical errors, but ultimately this book just didn't elicit much emotion from me. Since the characters and story line were something I'd typically fall for, I will be picking up another book by each of these authors. I'll be keeping my fingers crossed that I like them a lot more.
Related Posts