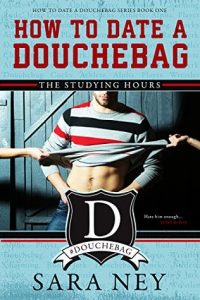 The Studying Hours
(
How to Date a Douchebag #1
)
by
Sara Ney
Purchase on:
Amazon
Add to:
Goodreads
Synopsis:

CRUDE. ARROGANT. A**HOLE.
No doubt about it, Sebastian 'Oz' Osborne is the university's most celebrated student athlete—and possibly the biggest douchebag. A walking, talking cliché, he has a filthy mouth, a fantastic body, and doesn't give a sh*t about what you or anyone else thinks.

SMART. CLASSY. CONSERVATIVE.
Make no mistake, Jameson Clarke may be the university's most diligent student—but she is no prude. Spending most of her time in the hallowed halls of the library, James is wary of pervs, jocks, and douchebags—and Oz Osborne is all three.

She's smart, sarcastic—and not what he expected.

…EVERY DOUCHBAG HAS HIS WEAKNESS.

He wants to be friends.
He wants to spend time with her.
He wants to drive her crazy.

He wants…

Her.
What can I say about this book? My friend compared it to #Nerd, and I just wholly have to disagree. Yes, there are similarities:
-Meet in Library due to tutor session type deal
-Guy tries to win girl most of book
-Guy is panty-dropper jock who can get any girl he wants
-Little quotes at the beginning of each chapter
-Good*ish type girl
…
And that's where the similarities end for me. Yeah there are cute jealousies for both guys and yeah guy wants girl for real…but seriously-the amount of times the guy talks about sex in this book is staggering. No WONDER the girl won't commit to you, bro-Every time you say anything it's about trying to get in her damn pants. And, I'm sorry, Romeo was about WAY more than THAT. And I guess that's why I'm comparing. I'm not being a bitch and dissing my great friend…I just couldn't help but to compare after she mentioned they were similar. And, frankly, the biggest difference between the two??
This book didn't have an ounce of all the cute heart and passion #Nerd had.
And it's as simple as that. I'm sorry, H, this one just was extremely underwhelming…and not just because we only got a little time with the two together-it was just too much and not enough. I liked the guy's jealousies and I liked how much he liked her…but it wasn't enough to make up for all the sex talk and repetitiveness I had to go through for 60% of the book.
And I'll leave it there, lest I keep bashing a very popular book. I think I made my pearl clutching point. 😉
Related Posts