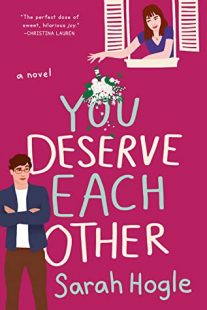 You Deserve Each Other
by
Sarah Hogle
Purchase on:
Amazon
, 
iBooks
Add to:
Goodreads
Synopsis:

When your nemesis also happens to be your fiancé, happily ever after becomes a lot more complicated in this wickedly funny, lovers-to-enemies-to-lovers romantic comedy debut.

Naomi Westfield has the perfect fiancé: Nicholas Rose holds doors open for her, remembers her restaurant orders, and comes from the kind of upstanding society family any bride would love to be a part of. They never fight. They're preparing for their lavish wedding that's three months away. And she is miserably and utterly sick of him.

Naomi wants out, but there's a catch: whoever ends the engagement will have to foot the nonrefundable wedding bill. When Naomi discovers that Nicholas, too, has been feigning contentment, the two of them go head-to-head in a battle of pranks, sabotage, and all-out emotional warfare.

But with the countdown looming to the wedding that may or may not come to pass, Naomi finds her resolve slipping. Because now that they have nothing to lose, they're finally being themselves--and having fun with the last person they expect: each other.
Review
He's pulling out mixing bowls, and that man is even more deluded than I am if he thinks I'm filling a sink up with mixing bowls I'll have to wash in order to feed someone he despises, while he takes the credit. Stacy can choke on store-bought sugar cookies like the rest of us. Why's he even bringing them? They're dentists. They should be eating celery.

Reading this book was like breathing in a lungful of crisp, clean air. It was healing. I felt hurt for Naomi and Nicholas and then I felt pure elation as they came back to one another. Reading this book was like taking a good long look at my own life and realizing just how easy it is to fall into a romantic rut without even knowing how long you've been there.

"Just as beautiful as the moment we first saw each other from across the room. On visitor's day, at the prison."
I swallow. "I'll be headed back to prison soon, I'm sure."
"I hear they offer classes. You could finally learn what the word regardless means."

If any of you are married and have really young kids like I do (2.5 years and 8 months) you know that said kids consume your life. There is no alone time, no sleep, no dates (COVID that's also on you), no careless days lying in bed until mid-afternoon. For better or worse (but really mostly only better lollll) having kids is the fastest and easiest way to change the dynamic of a relationship. I just kind of felt like I was in a funk and reading this book really kind of lifted me out of that.

This is it, then. He's going to drive us both off a bridge. Voldemort and Harry Potter's quandary pops into my head: Neither can live while the other survives.

Nicholas and Naomi are an engaged couple that, when we first start this book, seem to hate each other. I couldn't BELIEVE they were even still engaged if I'm being honest and for a number of different reasons I'm glad they had been engaged instead of married. For some reason that made it even more important that they were still hanging on, even though they weren't legally bound to one another and had no kids to worry about. It just made things more important for me I guess. Anyway, they're in a really bad spot where they can't really even stand to be around one another, or each other's friends, and ESPECIALLY family. Nicholas's mother is the epitome of the overbearing monster-in-law, who is deeply in love with her son and does not accept that she is no longer the center of his life. Wow, just …..wow. The way she was trying to make wedding plans and the things she would say to Naomi just…stunned me. I can't even. Eventually, something shifts and Naomi kind of shakes herself awake. The two start really going at it (argument wise, settle down lol) and the shift starts to happen.

The man I love is waiting for me at the pond's edge, and I feel his pulse as if it's my own. My senses kaleidoscope, collecting pictures and scents and sounds to preserve until my dying day. I've been holding my breath since the second I met him; how strange now, to exhale at last. Breathing will never feel the same again.

Nicholas realizes he is not living the life he wants to and trades his Maserati for a used Jeep, his normal outfits for something that could be seen on a lumberjack, and their cookie cutter rental for a magical little cottage in the woods. Slowly but surely they begin to start actually talking to one another and remember what it is to actually be friends, and then more. I think the biggest thing for me was when they started doing the smallest things for each other to make the other one happy. Writing little notes to each other, playing video games together, Nicholas driving through the night to come home when Naomi admitted to missing him while he was away. It's so easy to forget how important those little things are to a relationship when your attention has been diverted to "bigger things" (i.e. kids on my part). So yeah, this book just kind of reminded me that even though these things can be forgotten, they can just as easily be remembered (especially once you are able to get a good nights sleep someday and can ditch the kids for a few hours lolol).

And on a less serious note, can we just talk about how fucking FUNNY this book was. Lately, I've found that the best books are the ones that make me straight up cackle out loud. And I swear to God their banter and Naomi's inner dialogue had me dying on basically every page. I was obsessed. I know so many people have said this already but it straight up did remind me of Sally Thorne's writing. I can't wait for her next book and will be scanning NetGalley for it like a hawk. Also, in reference to that quote below, HOW AMAZING IS THE STORY OF HOW THEY ACTUALLY MET OMG I WAS SHAKING AT THE CHANCE OF IT ALL ARGHHHH. ♥

How did Nicholas and I meet? We met in a house called Ever After, the second time we were strangers. And I am one hundred percent in love with the transformation of us.
Related Posts