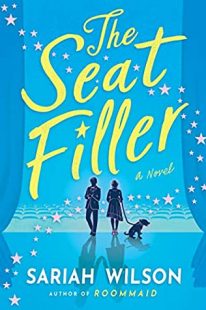 The Seat Filler
by
Sariah Wilson
Purchase on:
Amazon
, 
Book Depository
Add to:
Goodreads
Synopsis:

The movie star and the dog groomer are one kiss away from the perfect love story. That's the hiccup in a warm and witty romance by the bestselling author of Roommaid.

The meet-cute award goes to dog groomer Juliet Nolan. It's one of Hollywood's biggest nights when she volunteers as a seat filler and winds up next to movie heartthrob Noah freaking Douglas. Tongue tied and toes curling in her pink Converse, she pretends that she doesn't have a clue who he is. It's the only way to keep from swooning.

She's pretty and unpretentious, loves his dog, and is not a worshipping fan. No way Noah's giving up on her, even if his affectionate pursuit comes with a bump: Juliet has a pathological fear of kissing and the disappointments that follow. What odds does romance have without that momentous, stupendous, once-in-a-lifetime first smooch? Patient, empathetic, and carrying personal burdens of his own, Noah suggests a remedy: they rehearse.

The lessons begin. The guards come down. But there's another hitch they weren't betting on. As for that cue-the-orchestra-and-roll-credits happy ending? It might take more than practice to make it perfect.
Review:
The Seat Filler was a delightful romance that kept a smile on my face!  If you're looking for a story that will make your heart happy, have a fabulous romance and the most wonderful happily ever after then this is your book!  This was my first time reading anything by Sariah Wilson, and I'm definitely looking forward to devouring her backlist!
Noah still wore his smirk and he was just…staring at me. Like he was trying to memorize my facial features for the police report he probably planned on filing.
The first chapter alone was so much fun, I was hooked right away!  Juliet Nolan was helping her best friend, Shelby, be a seat filler at an awards show.  And who was Juliet placed next to?  None other than the Noah Douglas.  Noah was a movie star who she had followed and been obsessed with since she was a kid.  But their first interactions went a little off kilter, so Juliet pretended to have no clue who Noah was.  With the banter between them so seamless, this book had one of the most hilarious meet cutes I've ever read!
I actually pressed my phone to my chest, squealed, and spun around. I never thought this would happen to me, and not even in my wildest daydreams did I ever imagine that it would be with Noah Douglas.
Juliet was someone I wanted to be friends with!  She was absolutely hilarious and I loved her thoughts!  Whether it was her interactions with Noah, to her friendship with Shelby, to even her passion working as a dog groomer, there was so much to love about Juliet!  And once we got a little further into the story, we got to see her struggles.  I've never heard about someone who was extremely fearful of being kissed, but her description of the panic afterwards reminded me so much of my own panic attacks during certain medical procedures.  My heart felt a kinship and hurt for her.  So I was keeping my fingers crossed that Noah and Juliet would work out.  Because while there was definitely a spark between them, could a dog groomer and a movie star truly work?
"You are one dirty boy," I told him.
"I am," Noah agreed as he brushed some soil off his pants.
My cheeks flushed and I said, "I was talking to your dog."
"I know." Then he winked at me and all the blood drained from my brain.
Noah Douglas was charming, sweet, caring and swoon worthy!  I loved that he was down to earth, hardworking, and such a good man.  He snagged me from that very first chapter and the more we got to learn about Noah, the harder I fell for him.  Even though he was Hollywood royalty, I loved how much he loved his dog, wasn't superficial and had such a good heart.  And when Noah learned about Juliet's kissing phobia, the care he took towards that situation, he continued to melt my heart!  Plus I loved every moment he was around Juliet, especially since you could feel the chemistry.  But happily ever afters aren't always easy, so I kept my fingers crossed that they would eventually get theirs.  It was so deserved!
He wrapped his long fingers around my wrist and pulled my hand to his chest, placing it over his heart. It was beating fast. "You're not the only one affected."
Romance lovers will enjoy how easy it is to devour The Seat Filler!  I laughed and smiled through the beginning, my heart got pulled in different ways through the middle and the end had the most wonderful happily ever afters!  If you're a fan of adult romance that is sweet and fun, then definitely add this one to your list!
*I voluntarily read and reviewed an advanced copy of this book, provided by the publisher. All thoughts and opinions are my own.*
Related Posts