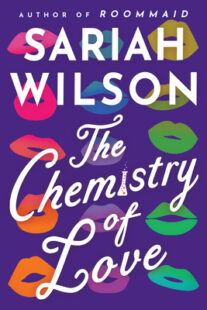 The Chemistry of Love
by
Sariah Wilson
Purchase on:
Amazon
, 
Book Depository
Synopsis:

True love requires a little research and development in a funny, heart-racing romance by Sariah Wilson, the bestselling author of The Paid Bridesmaid.

How can Anna Ellis, a geeky, brilliant, and hopelessly smitten cosmetic chemist possibly win over Craig Kimball, the man of her dreams―who also happens to be her boss? The answer is Craig's empathetic (and handsome) CEO half brother, Marco. The makeup mogul knows Craig for the ridiculously competitive rival he is. Whatever Marco has, Craig wants. That can be Anna, if she's game to play.

All Anna and Marco have to do is pretend they're falling in love and let the rumors begin. If the experiment in attraction works, a jealous Craig will swoop in and give Anna her happily ever after―if it weren't for one hitch in the plan. There's more to Marco than meets the eye. With every fake date, Anna's feelings are starting to become dizzyingly real.

Blame it on chemistry. It's unpredictable, exciting, and occasionally combustible. If Anna and Marco are really falling in love, who are they to argue with science?
Review:
None of this was going how I'd planned.
The Chemistry of Love was a hilarious fake dating romance! This was one of those stories where I Couldn't. Stop. Smiling!  If you're looking for an adorable story that will make you smile and fall in love, then this may be your book!
I was keenly aware of him walking just behind me, and I wanted to pinch myself. We'd been having our second- ever actual conversation! 
Anna Ellis was a cosmetic chemist who lived with her grandparents. She was madly in love with her boss, Craig. Whom she rarely was ever around, but she built him up as the most amazing man possible in her head. Think movie star worthy. And it didn't matter that her friend Catalina wasn't the hugest fan of him. Anna knew she was destined to be with Craig! So when Marco, Craig's brother, stepped into her world, he was the key to reaching her dreams. Craig always wanted what Marco had. So if she were to fake date Marco, then Craig would be hers!
"Wow. That is some rom- com- level delusion right there," she said.  "It's never going to work."
"Marco seems to think it will."
"It's a good thing that man is pretty, because he's obviously not very in touch with  reality. I've seen the movies. This sort of thing never works out. If anything, it's only guaranteed to make you fall in love with him." 
Anna was hilarious, quirky and so much fun! It took me a little while to warm up to her because she could be clueless and lost in her head at times, but she was goodhearted and had an innocent feel to her. So when Anna would make some bad life decisions, there was quite a few lol, I couldn't stop the laughter from pouring out of me. I was so happy she had Catalina in her life, because she had no problems being brutally honest with Anna. And I loved her grandpa, their interactions together were heartwarming. Yet my heart hurt for Anna. Her ambition and dreams didn't always pan out the way she wanted. I wanted her to find her happily ever after!
My pulse raced, and I couldn't explain why exactly. Or why my stomach flitted with delight when he smiled at me.
I was in love with Craig.  None of this made any sense.
Craig. Well. I lacked seeing what Anna saw in him. Yet whenever she and Marco were together, there were sparks. No matter how much Anna didn't want to admit it! And I loved Marco right from the beginning. He was thoughtful, kind and caring. Yes he was gorgeous, but I loved learning about the sides he didn't show others. I loved his interaction with her friends. And I loved even more the things he did to help Anna out. Except there was one tiny problem, Marco was the ultimate closed book. I desperately wanted to know his thoughts on everything. So his gestures of kindness and helping Anna out, well I built them up in my head. I didn't even care if I was wrong. I loved Marco, and thought Anna should feel the same!
I came close to Marco, and he stiffened, standing straighter, tightening his arms so that his forearms flexed.
I didn't understand what his reaction was about.
"Thank you," I said. "It may be too much, but thank you."
It took him a second, and I watched as his Adam's apple bobbed twice before he cleared his throat and said, "You're welcome. I should, uh, get back to work."
"And I should get back to looking nice." 
Anna and Marco clicked together so seamlessly. Even if they could be the polar opposites when it came to their opinions on love and marriage. Anna was a firm believer that it existed, while Marco didn't think it did. And I got it. Marco's back story gutted me wide open. I understood why he was jilted towards love. But his moments with Anna were sigh worthy. And the chemistry between them was intoxicating. So every time they had to "fake" being together I was a giddy mess. I loved when they had to touch, be near one another or kiss. I wanted THEM to work. Their moments could be so perfect, it was like they were destined for one another. Yet Anna was adamant that she still wanted Craig and he was her forever.
"Hey, Anna?"
"Yeah?"
"In case you didn't know, the ugly duckling never had to change. She just needed to figure out that she'd been a swan all along." He paused, like he was waiting for a response. When he didn't get one, he said, "Good night."
The Chemistry of Love was laugh out loud hilarious and so much fun! Anna's cosmetic mistake will be stuck in my head forever haha! But the friendship that developed between Anna and Marco made my heart sing. And as little pieces came together, I was patiently waiting for Anna to connect the dots. To see what I saw. This was another adorable story by Sariah Wilson! I can't wait to read whatever she releases next!
PS All of the birds names?! They were great!
*I voluntarily read and reviewed an advanced copy of this book, provided by the publisher. All thoughts and opinions are my own.*
Related Posts