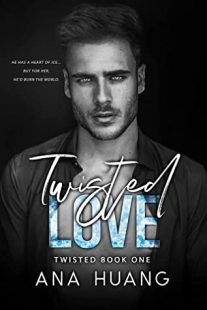 Twisted Love
(
Twisted #1
)
by
Ana Huang
Purchase on:
Amazon
Add to:
Goodreads
Synopsis:

He has a heart of ice...but for her, he'd burn the world.

Alex Volkov is a devil blessed with the face of an angel and cursed with a past he can't escape.

Driven by a tragedy that has haunted him for most of his life, his ruthless pursuits for success and vengeance leave little room for matters of the heart.

But when he's forced to look after his best friend's sister, he starts to feel something in his chest:

A crack.
A melt.
A fire that could end his world as he knew it.

***

Ava Chen is a free spirit trapped by nightmares of a childhood she can't remember.

But despite her broken past, she's never stopped seeing the beauty in the world…including the heart beneath the icy exterior of a man she shouldn't want.

Her brother's best friend.
Her neighbor.
Her savior and her downfall.

Theirs is a love that was never supposed to happen—but when it does, it unleashes secrets that could destroy them both…and everything they hold dear.

Twisted Love is a contemporary brother's best friend/grumpy sunshine romance. It's book one in the Twisted series but can be read as a standalone.

WARNING: This book contains a possessive antihero, explicit sexual content, and profanity. No cheating or menage, but if you're looking for a traditionally sweet, loveable hero, this is not the book for you. Recommended for 18+.
Review:
Her chest rose and fell with every breath, and she stared at me with nothing but trust in those big, brown eyes.
Oh, Sunshine. If you only knew.
Twisted Love was an emotional tale that will have readers addicted from that first page. The writing was so easy to devour, the characters leapt from the pages and the story pulled at my heart. If you're a fan of NA romance then there's a good chance you'll want this one on your tbr!
"Josh has the worst taste in friends," I bit out. "I don't know what he sees in you. I hope that stick in your ass punctures a vital organ." Then, because I'd been raised with manners, I added, "Thank you for the ride."
I adored Ava, she had the hugest heart ever, lots of sass and I loved that she had no problem putting others in their place. She found so much happiness in life while at college, even though she struggled with her past. And her relationship with her brother, Josh, was so heartwarming. But with Josh going away, he asked his best friend Alex to step in and watch his baby sister. So when Alex moved in next door, I knew that was a recipe for disaster or would be the most fabulous thing ever. Because while Alex attended their family holiday functions, and had been around Ava for years, they didn't always mesh in the most fabulous of ways lol.
I could imagine myself lifting that shirt, tugging her bra aside with my teeth, and closing my mouth around those sweet, hardened peaks—
I yanked myself out of that startling fantasy fast. What the fuck was wrong with me? That was Josh's sister. Innocent, doe-eyed, and so sweet I could throw up.
I was already obsessed with Alex Volkov the first moment we met him. He was a genius, who graduated early and had one of the most successful real estate development companies in the US. Alex was the poster boy for alpha males. And while I do love those types, he was a little too intense at times, even for me. But regardless, I loved that he seemed cold and shut off to the world. That he was able to control his emotions and could say the minimal while getting so much across. He was a closed book that I definitely wanted to crack open. But once Ava and Alex started spending more time together, he slowly started to open and oh my heart it was fabulous!
Every encounter with Alex, no matter how small, left me on edge.
I was nervous, yes, and a bit terrified.
But I'd also never felt more alive.
While Ava tested and pushed Alex at times, which could be so funny, he also messed back with her in the best way possible. Yet every single interaction between them, even if it was a moment with disgusting cookies lol or a movie, was HOT. The tension was so thick between them, and with Alex being sex personified, you're in for a lot of steam in the pages! And while I loved a lot of their sexier moments together, a few of them were not exactly my cup of tea.
I didn't want to heal. I wanted to burn. I wanted to bleed. I wanted to feel every scorching lick of pain.
And soon, the person responsible for that pain would feel it too. One thousandfold. – Alex
Both of their pasts could be such a mystery, since one was locked away and the other hadn't been divulged to us yet. Alex was set on a path for revenge and Ava wanted to shed light on the years of her life that were filled with a fog. So I loved getting clues and peaks into what made them the way they were now. But I loved even more watching how they grew together. Especially since Alex was dark, seductive, caring, dangerous and extremely protective and took care of Ava. I also loved how he had no remorse for destroying those that did Ava wrong.
I wanted her, but it wasn't a sweet, tender kind of want.
It was a dirty , ugly want, tainted by the blood on my hands and a desire to drag her out of the sunshine and into my night.
Twisted Love was gritty and rugged, seductive and erotic and twisted while being heartwarming. The story was filled with a richness and depth that flowed through the pages and made it so easy to devour. If you're a fan of alpha males, stories that will twist your mind and a heroine you will be rooting for every step of the way then definitely check out this book!
Other Favorite Quotes:
I couldn't resist— I scooted closer to him on the couch and pushed his shoulders forward so I could run my palm down his back.
His muscles bunched beneath my touch. "What," he said in a tight, controlled voice. "Are you doing?"
"I'm searching for your control panel." I patted his back, trying —and failing —not to notice the sculpted contours of his muscles. I'd never seen Alex shirtless, but I imagined it was glorious. "You must be a robot."
Darkness craves light as much as it wants to destroy it, and here, in this ballroom, with her in my arms and my cock straining against my zipper, that had never been more clear.
I hated how much I wanted her, and I hated that she wasn't smart enough to run away from me while she still had a chance.
Though let's be honest, it was already too late.
She was mine. She just didn't know it yet.
It was only a kiss, but it seemed so much more illicit. Dangerous.
A better person would tell her the truth, but I'd rather be the villain with her by my side than the hero who risked losing her because of a misguided sense of morality.
*I voluntarily read and reviewed an advanced copy of this book, provided by the author. All thoughts and opinions are my own.*
Related Posts