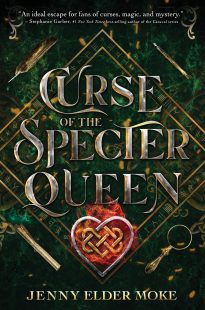 Curse of the Specter Queen
(
Samantha Knox #1
)
by
Jenny Elder Moke
Purchase on:
Amazon
, 
iBooks
Add to:
Goodreads
Synopsis:

A female Indiana Jones meets Tomb Raider when Samantha Knox receives a mysterious field diary and finds herself thrust into a treacherous plot. After stealing a car and jumping on a train, chased by a group of dangerous pursuers, Sam finds out what's so special about this book: it contains a cipher that leads to a cursed jade statue that could put an end to all mankind.

MAY THE HAZEL BRING YOU WISDOM AND THE ASPEN GUIDE AND PROTECT YOU...

Samantha Knox put away her childish fantasies of archaeological adventure the day her father didn't return home from the Great War, retreating to the safety of the antique bookshop where she works. But when a mysterious package arrives with a damaged diary inside, Sam's peaceful life is obliterated. Ruthless men intent on reclaiming the diary are after Sam, setting her and her best friend, along with her childhood crush, on a high-stakes adventure that lands them in the green hills outside Dublin, Ireland. Here they discover an ancient order with a dark purpose - to perform an occult ritual that will raise the Specter Queen, the Celtic goddess of vengeance and death, to bring about a war unlike any the world has ever seen. To stop them, Sam must solve a deviously complex cipher - one that will lead her on a treasure hunt to discover the ancient relic at the heart of the ritual: a bowl carved from the tree of life. Will she find the bowl and stop the curse of the Specter Queen, or will the ancient order bring about the end of the world?

Indiana Jones gets a refresh with this female-driven mystery adventure, set in the 1920s, full of ciphers, ancient relics, and heart-stopping action - the first in a brand-new series!
Review:
Curse of the Specter Queen was impossible not to devour in one sitting.  The story brimmed with adventure, friendship and a sprinkling of romance.  This is a story that will stay with me for a long time to come!  If you're a fan of books that are impossible to put down, characters with tons of heart and stories that play out like you're watching a movie, then you definitely need to pick up this book!
She had solved one puzzle only to find another. It beckoned her, laying out cryptic clues and drawing her in like a trap.
Sam lived a quiet life in the 1920s restoring books until a damaged diary ended up in her hands.  From that moment on, her whole life turned upside down.  While trying to protect those she cared about, from men who would do whatever it took to get that diary back, Sam took off on an adventure of a lifetime with her childhood best friend and her best friend's older brother.  You guys!!  This book was so much fun and a breath of fresh air.  The story quickly picked up pace and there were some fun twists and turns as the story unfolded.  I even jumped and screamed at one point.  Be prepared to get pulled into this world and to not want to ever leave it!
What if, instead of leading them to the answers, she was leading them to disaster?
 I adored Sam!  She seemed so content living her quiet life surrounded with books, but there was so much more to her then meets the eye.  As the story unfolded, we got to learn about her past and her love of solving puzzles and riddles.  Sam was brilliant, clever and I loved how she persevered time and again.  She refused to be stumped trying to decipher a two hundred year old letter and finding a missing relic.  They discovered they had to stop a ritual to raise an ancient god that would end the world.  But through it all, there were so many heartwarming interactions between her, Jo and Bennett.  I loved the three of them together!
"Like I used to say at the academy, good luck and don't get caught." Joana gave her a mock salute before disappearing around the side of the house.
Joana aka Jo had been Sam's best friend, but circumstances pulled them apart from one another.  You could tell that they cared deeply for one another, so I loved watching them mend their friendship.  And Jo, oh she was a blast and so much fun!  I loved how adventurous Jo was and how she loved those around her fiercely.  It was fun watching her help pull Sam out of her shell and seeing the two of them work together.  Especially since Sam wasn't afraid to take risks like "borrowing" cars lol or giving her brother, Bennett, a hard time or two.
"Doesn't she look fabulous?" Joana prompted, when no one had said anything for several long moments.
"Like a vision," Bennett said softly, the words slipping out before he could take careful stock of what they might reveal. Sam's breath caught somewhere between her mouth and her lungs in a painful lump that got beaten about her chest by her rapidly thrumming heart.
Bennett, eeps!  I fell so hard and quickly for him.  He tried his best to protect Sam and Jo, to send them back home to safety, but neither of them were having that!  They joined Bennett on his quest to go visit his Professor in Ireland.  And we got to see firsthand that while Bennett and Jo were extremely smart and worked seamlessly together, Sam usually one upped Bennett.   I loved that!  There's so much more I want to say, but my lips are zipped!
Bennett was right: to stay could be disastrous— it probably would be, if she was honest with herself.
But she couldn't leave . Not now. Not when she was so close to an answer. Not when the fate of the world might be at stake.
Thievery, curses, friendship and adventure were sprinkled throughout the pages making this book impossible to put down!  With magic, unknown enemies, and puzzles to piece together, this book was entertaining from beginning to end.  If you're a fan of movies like The Mummy, Indiana Jones or National Treasure then you definitely need to pick up this book!  I'm so glad I did and now I can't wait to go read Jenny Elder Moke's other book, Hood!
*I voluntarily read and reviewed an advanced copy of this book, provided by the publisher. All thoughts and opinions are my own.*
Find it: Goodreads I Amazon I Kindle I Audible I B&N I iBooks I Kobo I TBD I Bookshop.org
 About  Jenny Elder Moke:
Jenny Elder Moke writes young adult fiction in an attempt to recapture the shining infinity of youth. She worked for several years at an independent publisher in Austin, TX before realizing she would rather write the manuscripts than read them. She is a member of the Texas Writer's League and has studied children's writing with Liz Garton Scanlon. She was a finalist in the Austin Film Festival Fiction Podcast Competition in 2017 for her podcast script, Target. When she is not writing, she's gathering story ideas from her daily adventures with her two irredeemable rapscallions and honing her ninja skills as a black belt in Tae Kwon Do. Jenny lives in Denver, CO with her husband and two children.

 Website | Twitter | Facebook | Instagram | Goodreads | Amazon


Giveaway:
3 winners will receive a finished copy of CURSE OF THE SPECTER QUEEN, US Only.
Tour Schedule:
Week One:
| | | |
| --- | --- | --- |
| 6/1/2021 | | Excerpt |
| 6/2/2021 | | Review |
| 6/3/2021 | | Excerpt |
| 6/4/2021 | | Excerpt |
| 6/5/2021 | | Review |
Week Two:
| | | |
| --- | --- | --- |
| 6/6/2021 | | Review |
| 6/7/2021 | | Excerpt |
| 6/8/2021 | | Review |
| 6/9/2021 | | Review |
| 6/10/2021 | | Review |
| 6/11/2021 | | Review |
| 6/12/2021 | | Review |
Week Three:
| | | |
| --- | --- | --- |
| 6/13/2021 | | Review |
| 6/14/2021 | | Review |
| 6/15/2021 | | Review |
| 6/16/2021 | | Review |
| 6/17/2021 | | Review |
| 6/18/2021 | | Review |
| 6/19/2021 | | Review |
Week Four:
| | | |
| --- | --- | --- |
| 6/20/2021 | | Review |
| 6/21/2021 | | Review |
| 6/22/2021 | | Review |
| 6/23/2021 | | Review |
| 6/24/2021 | | Review |
| 6/25/2021 | | Review |
| 6/26/2021 | | Review |
Week Five:
| | | |
| --- | --- | --- |
| 6/27/2021 | | Review |
| 6/28/2021 | | Review |
| 6/29/2021 | | Review |
| 6/30/2021 | | Review |
Related Posts
I'm so excited to be on the tour for Curse of the Specter Queen! I absolutely loved this story! So check out my 4.5 Star Review below and enter to win a copy of this book! Enjoy!♥