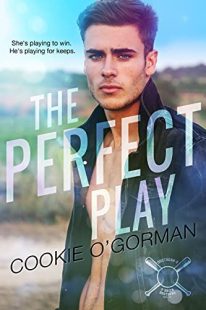 The Perfect Play
(
Southern U OBrien Brothers #2
)
by
Cookie O'Gorman
Purchase on:
Amazon
Add to:
Goodreads
Synopsis:

She's playing to win.

Okay, so I probably shouldn't have made that bet with Emmy. But come on! She was challenging me. Attract a guy in seven days? No problem.

Well…maybe just one.

The guy she chooses is her brother, Chase O'Brien aka golden-boy-Virgin and star pitcher for the Wolves. Unlike most guys, Chase seems immune to my charms—but I've always loved a challenge.

He's playing for keeps.

Charlie never should've made that bet with my baby sister. But if she uses her magic touch to heal my arm and gets me back in the game? It's all good.

Actually, the more time we spend together, the harder I fall. I always knew I'd recognize my soulmate when I found her—and Charlie's the one.

Even if she doesn't know it yet.

This new adult sports romance features a strong heroine with a soft center, a hot-bookish hero who believes in true love and a sexy set of brothers guaranteed to make you swoon.

Love is always the perfect play.
Review:
The Perfect Play was an instant favorite! With friendship and romance laced throughout the pages, this book was impossible to put down. Cookie's books always make me laugh and smile, and again this one was such a huge hit! If you're looking for a romance story that is swoon worthy and will make you fall in love, then look no further, this is your book!
It was the nice guys you had to look out for. They were capable of real damage.
I needed to remember that unless I wanted to get hurt.
When Charlie accepted a bet from her roommate Emmy, she had no idea what was in store for her. Attract a guy in seven days? Piece of cake! Charlie was mesmerizing and knew how to get a guy's attention in the blink of an eye. But Chase O'Brien? He was a baseball star who was known as a good guy, read books at parties and was a virgin waiting for his soul mate. Charlie definitely had her work cut out for her!
Her light blue eyes were intent on mine. "I was wondering when you'd get here."
As she stopped in front of me and threw her arms around my neck, she whispered quickly, "Don't read anything into this. It's nothing. I just need you for a second."
But it wasn't nothing.
The thought flitted in and out of my head as her lips landed on mine.
Charlie was fun, passionate and cared deeply, I wanted to be best friends with her! I loved that she knew how to get what she wanted. Like getting the attention of the opposing school's pitcher, so her home team could make a comeback lol! She made me laugh so much! But Charlie was hesitant about letting the opposite sex in. She'd been burned in the past, so the moment a guy started to show any interest in her, she checked out. Thankfully Charlie wanted to win that bet and Chase was stubborn and wasn't about to let Charlie get away.
"Not going to lie though. Every now and then when I need a confidence boost, I look in the mirror and tell myself I'm pretty."
Chase grinned. "That's tragic."
"You have something against good self-esteem?" I asked.
"No," he said. "What I have a problem with is you calling yourself 'pretty' when you're one of the most gorgeous women I've ever seen in my life."
My breath hitched.
Chase was the ultimate book boyfriend! He was intoxicating and swoon worthy! At the end of The Best Mistake, he injured his arm. He hadn't been able to play baseball, and his team desperately needed him since he was their pitcher. It was suffocating that he couldn't just heal. That everyone from his fans, to the team to even his family who loved him, made it seem like the teams whole future rested on his shoulders. I just wanted to reach into the book and give him a hug because he made me cry, my heart hurt for him. So when Charlie stepped into the picture, she was a breath of fresh air and made sides of Chase come out that had me smiling and sighing out loud!
I couldn't remember the last time I'd felt anything, let alone actual electricity, with such an innocent kiss. I'd die before admitting it. To Chase or to anyone. But there had been something…
I loved watching Charlie and Chase form a friendship. It felt so real! Their moments together made me obsess over every single word or touch between them. They were so addictive together and I loved that we got to alternate each chapter between them! But you guys….Chase had this sexy, intense side and I. Was. Obsessed! So then when he stood up and defended Charlie's honor, I didn't think I could fall any harder for him but I did. I couldn't get enough of the two of them together. They were the best of being endearing and oh so hot, they became one of my favorite couples ever. I was rooting for them every step of the way!
"The truth is I've been thinking about you every hour of every day."
He bit his lip, shook his head once before continuing.
"My mind is full of you," he said. "I want to run my fingers through your hair …to know what that feels like. I want to talk to you for hours until we're both too tired to move, and we fall asleep right next to each other. I want to feel you in my arms. And if that sounds too romantic, well, I have other thoughts, too."
"Do you?" I breathed.
While you can easily read this as a standalone, I can't recommend the book before this enough. The Best Mistake was just as fabulous! That story was about Charlie's bestie, Honor, and Chase's brother, Archer. And in this story we got to spend time with other favorites too like Baylor, June and so many more! This has become one of my favorite romance series and I can't wait to see who the next book is about! The Perfect Play was a swoon worthy story that romances lovers will fall hard for! I can't recommend it enough!
"Hey Charlie," I said.
"Yeah?"
Putting my hand against the doorframe, leaning down so I was speaking into her ear from behind, I said softly, "You don't have to worry. When I find my soulmate, there won't be any hesitation on my end. My girl will know she's the one for me. I've waited a lifetime to meet her. When I do, I'm never letting go."
Charlie swallowed.
"That intense enough for you?" I asked.
"Yeah. That was…yeah," she said again.
PS Who knew spooning could be so hot?! *fans face*
I was having difficulty denying what my heart had been telling me for days.
Her.
She's the one.
You are hers, and she is for you.
PPS I love the list!!!!!!!
*I voluntarily read and reviewed an advanced copy of this book, provided by the author. All thoughts and opinions are my own.*
Related Posts