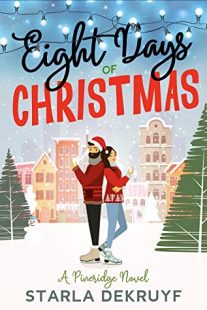 Eight Days of Christmas
(
Pineridge #1
)
by
Starla DeKruyf
Purchase on:
Amazon
, 
iBooks
Add to:
Goodreads
Synopsis:

Ready or not, Isabella Whitley is returning to her snowy hometown of Pineridge, Colorado for her sister's Christmas wedding. She wants in and out unscathed. Unlikely. A decade ago, she headed to New York and hasn't looked back. Now she must explain her disappearing act to not only her family, but the high-school sweetheart she left behind as well.

Enter Leo Hoffman. He's frosty after striving—and failing—to forget Isabella, the only woman capable of jingling his bells. Since his brother is marrying her sister, Leo is forced to celebrate Eight Days of Christmas with Isabella and her family—a tradition where they perform a different holiday activity each day leading up to December 25th.

Soon, their close proximity brings back memories—and the inability to keep their hands off one another. There's only one problem. Isabella's ex unexpectedly enters the equation, and she faces a difficult choice. Listen to her heart or her head? Isabella will need to decide, once and for all, where she belongs.

Perfect for fans of IN A HOLIDAZE and SWEET HOME ALABAMA! This second-chance, enemies-to-lovers romance will have you swooning and reminiscing of first loves.
Review:
With a second chance romance that had an enemy to lovers feel, Eight Day of Christmas was a quick read! It had vibes of Christina Lauren's In a Holidaze and the story flowed so easily. But while I loved so many of the characters, the heroine and I couldn't work. At all.
Being back in Pineridge with Leo again was worse than she'd anticipated it would be. Just because she had abandoned him, didn't mean she'd lost her feelings.
Deep down, she knew she'd always love Leo.
Isabella Whitley, Izzy, moved to New York to go to college and hadn't returned home to her family for 10 years. She was headed back for her baby sister's Christmas Day wedding, yet she knew it wouldn't be easy. Her sister was getting married to her ex-high school sweetheart's brother. And to top it off, her boyfriend in NY just broke up with her and now she was couch surfing with friends. I started out this book hoping that Izzy could find her happily ever after!
God, she was still so stunning it hurt. He wished he could reach over and touch her. Wished the past had unfolded differently than it had when it came to her. Wished he wasn't so damn bitter.
But he was, and all the wishing in the world wouldn't make that bitterness go away.
Leo Hoffman was my favorite! He was wounded from Izzy leaving him years ago. And he never got an answer as to why she didn't return back home after college, like was planned. With a failed past marriage, a loving family and a career he was passionate about, Leo felt like an open book. So as we got to hear parts of the story in his voice, I fell hard for him. Leo was swoon worthy while being jaded. And he not only had a kind heart, but was incredibly sexy too. I loved how thoughtful he was. Leo was a book boyfriend you could easily fall for!
If memories would be all he'd have from the week they'd shared, he didn't want to forget a single detail.
While there was so much chemistry between Leo and Izzy, there was pain too. As someone who adores banter in stories, their banter hurt and made my heart sad. It was laced with an undercurrent of heartache and felt attacking at times. It was sad and didn't leave me smiling or begging for more. It didn't help that Izzy could be so bitter and rude. Her emotions could flip so easily and there were quite a few moments in the book I just wanted to shake some sense into her or ask her where her kindness was!
She mumbled to herself as she stomped up the stairs, "Eight Days of Christmas, my ass. It's only day three and I'm ready to jump on the next plane out of here."
On a positive, I loved all of the Christmas activities and references! Her family celebrated the eight days till Christmas with different activates each day. From Christmas tree shopping, to building snow men, gingerbread house decorating, and more, it made my Christmas heart so happy! And while this is random, I LOVED that Izzy's ex was Todd and their cat was Margo. I laughed out loud at that Christmas movie reference! But while doing family activities, Izzy's parents or siblings would make comments about her disappearing act. With her bad attitude I felt no sympathy towards her. How did she expect everyone to treat her after she was gone for 10 years?!
"Ten years is a long time. I don't want a lifetime to pass knowing that I didn't at least try for the one thing I want most in this world."
Eight Days of Christmas had an ending that yes left us happy in the moment but I needed an epilogue or something more. The last few books I finished had HFNs, but this one left way too much up in the air. I closed that last page not smiling. Especially since there was also no closure about Izzy's sister and the issues surrounding her. Maybe there will be a future book about her, but with Leo and Izzy I felt like there were too many things unanswered about their future. Plus there were a few unexplained interactions like when Leo's dad shows up and knows information that hasn't been given to him. Sigh. So if you pick this one up, here's hoping you find lots more joy in the pages and love it more than me!
*I voluntarily read and reviewed an advanced copy of this book, provided by the publisher. All thoughts and opinions are my own.*
Related Posts