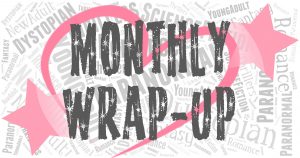 During our Monthly Wrap-Up, we'll take a look at what has happened around here in the last month. That'll include what's happened in my life, what we've read, any other posts we may have had, and our most popular Instagram posts..
*We linked this post to the October Monthly Wrap-Up Round-Up Link-Up at Feed Your Fiction Addiction*
Jen's Life:
✮ In September we went hiking with some friends. It was 6 miles in the mountains and all 5 of our boys did great! It was so nice finally being smoke free, from the fires, and being able to get out and run around. You can see some of my pictures from our hike here.
✮ My youngest made All Stars for Soccer! If you aren't familiar with that, it's where local areas pick the best player or two from each of the surrounding teams and then make an All Star Team with them. He was so honored to be chosen and his team has been working so hard getting read for their upcoming tournaments! They'll be going up against other All Star Teams from California and Nevada. I'm so proud of how hard he's worked and he's only 8!
✮ I love Halloween! We celebrated at my parents house the day before with a party and then trick or treated with family and friends the day of for hours. You can see two pictures of our costumes here and here.
✮✩✮✩✮✩✮✩✮
What We Read:
5 Stars:
✮ Broken Skies by Theresa Kay
✮ The Soulmate Equation by Christina Lauren
✮ Fireproof (Busy Bean #8) by Delancey Stewart
✮ Afterglow (Busy Bean #10) by Aria Wyatt
✮ A Shadow in the Ember (Flesh and Fire #1) by Jennifer L. Armentrout
✮ Boyfriend (Moo U #0) by Sarina Bowen
✮ To Sir, with Love by Lauren Layne
✮ Office Hate by Rachel Van Dyken
✮ Cupcake by Cookie O'Gorman
4 Stars:
✮ Sidetracked (Busy Bean #7) by R.L. Kenderson
✮ Footnote (Busy Bean #9) by Alexa Gregory
✮ A Stormy and Sultry Sea (Witches of the Island #2) by Katie McGarry
3.5 Stars:
✮ Doubletalk (Busy Bean #6) by Teralyn Mitchell

3 Stars:
✮ A Christmas at Gingerbread Falls by Katie Mettner
✩✮✩✮✩✮✩✮✩✮
Our Favorite Books of the Month:
Arielle's Choice – Afterglow (Busy Bean #10) by Aria Wyatt
I'm just going to say it. This is my TOP, TOP favorite book in ALL of The World of True North series. I just really am going to need everyone to run and go read the entire series BUT ESPECIALLY this one. I could honestly gush all day. There is not a single part of this book that I didn't like and you better believe that once there is an audio of this I will be SPRINTING to buy it so I can listen to Declan's sexy Irish brogue in my ear holes. *shivers*
✩✮✩
Jen's Choice – A Shadow in the Ember (Flesh and Fire #1) by Jennifer L. Armentrout
A Shadow in the Ember slowly seeped into my heart and consumed my every waking thought. I couldn't stop the laughter from bubbling up at the most inappropriate times, the smile that kept appearing or the tears that kept falling down my face. This story became an instant favorite and is a must read for all fantasy lovers!
✩✮✩✮✩✮✩✮✩✮
Other Posts:
✮ COVER REVEAL: Much Ado About Dukes (Never a Wallflower, #2) by Eva Devon
✮ COVER REVEAL: Home with You by Claudia Burgoa & Grahame Claire
✩✮✩✮✩✮✩✮✩✮
Instagram:
Here were our most popular posts last month, from each of us ♥.
✩✮✩✮✩✮✩✮✩✮
So this was our September & October….did you read any of the same books that we did? Or share the same favorite book as us? If not, then what was your favorite book?
Here's hoping you all had a wonderful September & October. And cheers to November being fabulous for all of us!
Related Posts