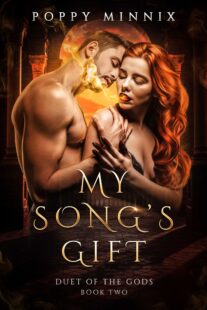 My Song's Gift
(
Duet of the Gods #2
)
by
Poppy Minnix
Purchase on:
Amazon
Add to:
Goodreads
Synopsis:

There's no backing away from the rebellion Alex started in Olympus. He cannot give in and let Olympians, otherworldlings, and humans suffer any longer, and now the siren he loves, Lula is at his side.

The problem is, Zeus is after her and wants Alex's pledge of loyalty. But Alex won't bend.

When Alex does the right thing, confessing he knew Lula long before meeting her, she runs… straight into the enemy, Moros', arms. The enemy who has a secret of his own.

He's been creating chaos on Earth to draw out Lula. He wants her to rule Olympus.

He demands she become as dangerous as he is.

What does a siren with a broken heart do?

She becomes apocalyptic.
Review:
My Song's Gift was a fabulous ending to Duet of the Gods! If you love Greek mythology, adult romance and political intrigue then make for sure you have this duology on your tbr! With secrets brewing just below the surface and nervous energy sizzling in the air, this book was easy to devour. It was filled with all the angst and was sexy, entertaining and so much fun!
The cliff I stand on gets higher and sharper each day, neither direction a path I want to travel. A thousand times I've opened my mouth to tell her and failed to speak the words.
Alex had kept Lula in the dark for how they met and why. It made sense, he never meant to fall in love with her. But after Lula had secrets kept from her, from one of her sisters, he knew that she would struggle forgiving him. Or even not love him anymore. So when Zeus put things into play that forced Alex's hand, Lula shattered. Her friendships, love and life were seen in a different light. Was any of it even real? So she ran. And landed right in Moros' crosshairs, who was Alex's enemy. With sirens missing, death, unrest, a rebellion that was in the works and those we love in perilous situations, this book was impossible to put down!
If he thinks violence will make me give Lula up, he's wrong. I'll die to keep her out of his hands.
Alex continued to be the ultimate book boyfriend! Yes guilt was eating him alive for keeping secrets from Lula. She was to help his rebellion and falling in love with her was never part of the plan. So when he decided to tell her the truth, for why they met and how long he had been watching her, I was terrified. Of course Lula was gutted. Hurt and betrayal was all she could feel and breathe. Her faith and trust were gone. And from that moment, they both went in different paths. I couldn't believe what happened with Alex *cries*. I kept hoping that fairness would prevail, although that didn't seem to exist in Olympus. But Alex showed us time and again that he was determined and focused. He knew what he wanted…to change Olympus and for Lula to be his forever. So with each action he did, each word he spoke and each breathtaking moment, he cemented himself as someone that was worthy of respect and love.
My rationality left with Comus, when they dragged him from me and closed him out, leaving me with a pile of splintered plans. But I've made a new one. Burn everything to the ground and maybe… maybe we'll find something worthwhile in the ashes.
With Lula leaving and ending up with Moros, oh my heart. Everything went sideways. Her whole world shattered and gone was the girl who had fire in her. I loathed Lula's time with Moros. It hurt watching her not fight right from wrong. It broke me that she wasn't running away from unforgivable acts that were done. Lula was a shell of the girl we loved. Yes she had been deceived and now doubted her past and those around her, but anything was better than the sadistic Moros. Although….he was honest with her for who he was. I got that she could trust that much from him. But still, I was begging for her to put together the clues that she was surrounded by monsters. And I kept hoping that something would snap her out of it. Lula definitely had a lot of growing that she needed to accomplish in this story.
The second the door closes and the click of the lock sounds, I drop to my knees and cover my mouth to keep the sobs silent. Nothing will be right again.
Powerless and desperation was laced with hope and allies that left us cheering. I loved watching those step up and have one another's back. That there was solidarity and so much healing too. Siblings, friendship and love found their way into the pages and that had my heart cheering for joy. Plus, the side characters were everything! I adored Hades! I don't care if he had a bad rap and was a total wildcard, he cracked me up and I loved his t-shirts! Plus Comos and Rath awww, they were my ultimate two favorite side characters! Oh and Thor. He came out of nowhere and wiggled into my heart so easily. And as the story progressed, there were two twists that I didn't even see coming. So hold on, because this story was a wild ride!
We have eternity to explore the Earth and realms, but there's no doubt that I'm his world and he's mine.
My Song's Gift was a forbidden love story filled with betrayal, secrets, love, hope and so much charm. The steamy moments between Alex and Lula were everything! And those that are fans of happily ever afters will absolutely love the epilogue that ends this story. It was beautiful and will make readers so happy! Plus it leaves the door open for other characters to have spin-off series, and I for one can't wait for that to happen. And while usually I talk more about the plot of a story, for this book it's definitely best left with the reader to discover. There would be too many spoilers, but I will say that the last 30% was my ultimate favorite! If you love adult romantasy, definitely make for sure this one is on your tbr!
*I voluntarily read and reviewed an advanced copy of this book, provided by the author. All thoughts and opinions are my own.*
Related Posts