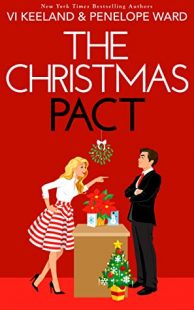 The Christmas Pact
by
Vi Keeland, Penelope Ward
Purchase on:
Amazon
Add to:
Goodreads
Synopsis:

From New York Times Bestselling authors Vi Keeland and Penelope Ward comes a standalone holiday novella.

Eggnog. Check. Roaring fire. Check. Hot romance book. Check!

Riley Kennedy's emails keep getting crossed with her male colleague, Kennedy Riley. The infuriating man forwards them along with his annoying commentary and unsolicited advice. At least she never has to see him in person, since they work in different locations…until they come face to face at the office holiday party.

As luck would have it, Kennedy turns out to be outrageously handsome…though still a jerk. Yet somehow he's able to charm her out on the dance floor—and convince her to participate in his crazy scheme: he'll go home with Riley for a Christmas party and pretend to be her boyfriend, if Riley agrees to be his date to a wedding. It sounds easy enough. Little by little, however, the act they're putting on starts to feel like so much more than a Christmas pact—and Riley's about to learn there's more to Kennedy than she ever imagined.
Review:
The Christmas Pact was a fabulous, quick story that was oh so adorable.  With wonderful chemistry, adorable situations and characters that were so much more then meets the eyes, I fell in love with this novella.  If you're looking for a heartwarming story that also has fake dating in the pages, you definitely need this book in your life!
"My apologies. Let's start over. I'm Kennedy Riley. Pleasure to meet  you. Um, what's your name again?"
Smartass.
I glanced over his shoulder  and pretended to wave at someone. "Oh gosh, I see someone I actually  like over there who I need to speak to. I'd say it was lovely meeting  you, but I'm a terrible liar. So instead, I'll just say Merry Freaking Christmas."
With similar names, and their work emails keep getting mixed up, there was no way Riley Kennedy could get away from Kennedy Riley.  Especially when Kennedy would forward Riley her emails, while also letting her know all of his thoughts on her life.  Even if they were infuriating to her.  So when their paths crossed in person at a Christmas work party, sparks flew!  And it led them pretending to be each others significant others over the holidays, around each others families.  What started out in jest ended up turning into so much more.
Kennedy looked into my eyes and I couldn't look away. It was like he was  seeing me for the first time, like he'd finally found the missing piece  of my puzzle and things suddenly made sense.
While I thought Riley needed to live a little and Kennedy needed to pause sometimes, they both exceeded my expectations.  Their back stories, as we got to know them, made them leap off of the pages.  And while I liked them both individually, together they were so much fun.  I loved their antics and make believe around Riley's family.  I laughed out loud and loved the chemistry between them!  But by the time they got to Kennedy's family, it felt like there was so much more between them.  Because what happens when fake dating doesn't start to feel fake anymore?  I'll say that I got tears in my eyes and loved these characters.  The Christmas Pact ended with a fabulous happily ever after and left a smile on my face.  I'll definitely be picking up more books from these two authors!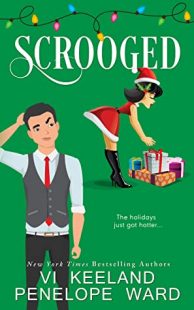 Scrooged
by
Penelope Ward, Vi Keeland
Purchase on:
Amazon
Add to:
Goodreads
Synopsis:

New York Times Bestselling Authors, Vi Keeland and Penelope Ward bring you three sexy short stories to heat up your holidays!

Sexy Scrooge

The last thing I needed was to share an Uber with Scrooge—a cocky lawyer on a snowy Christmas Eve. It was bad enough I was on my way to court for the gift of eviction.Although maybe today wouldn't turn out so bad after all.The Sexy Scrooge and I started to connect as we trudged our way through a storm. Our ride was about to end. But would I ever see him again?

The Merry Mistake

Note to self: Ask Santa for glasses this year. When I accidentally mistook a gorgeous man resting outside my building for a homeless person in need of lunch, we got into it. I'd only been trying to do a good deed around the holidays, but he called me righteous. I called him something far worse. If only I didn't have to see him again. But fate had other plans.

Kissmas in New York

It was just supposed to be a simple kiss with a stranger. I'd done it to prove a point—that I hadn't lost my sense of adventure. But you know what they say about the best laid plans. Maybe I'd get something in my stocking after all this holiday season...
Reviews:
Sexy Scrooge: 5/5 Stars

Sexy Scrooge was absolutely adorable and lots of fun!  I couldn't stop smiling and it was a cute story about finding luck and having a little faith.  I easily could have read more!  But as super quick Christmas stories go, this is one of the best!
It just goes to show that with a little luck, fairy tales can come true, despite Ebenezer Scrooge.
The Merry Mistake: 4/5 Stars
The Merry Mistake was a cute story about mistakes and good deeds!  This one had a heartwarming aspect with an ailing father.  And I loved how even though there was a little hate going on between the couple, there was no denying that they definitely wanted each other!  While Piper was a little obnoxious and assumes in the beginning and Mason could be kind of a jerk, we got to see exactly who they were and it made so much sense.  I ended up really liking the both of them and hoping for them to end up together!
She leaned in. "Can I tell you a secret?"
"Yeah."
Her breath brushed against my cheek as she said, "I still sort of think you're an asshole."
Shaking my head, I laughed. "You're nothing if not honest, Piper." I lifted my brow. "And you might be right."
Kissmass in New York: 3/5 Stars
Kissmass in New York was the possibilities of taking risks and changing your life.  While this was my least favorite of the three stories, it still had a lot of heart.  I just wasn't as okay with everything ending with a HFN since so much was still left up in the air.
Within seconds, it became demanding as something inexplicable ignited between us. Soon, our tongues were colliding. We might have just met, but this just felt right—like I was made to do this.
If you're looking for something that's quick and will give you some romance cheer around the holidays, then definitely give these quick little stories a try!  They all end in happily for nows and I'm glad I picked up this book!
Related Posts