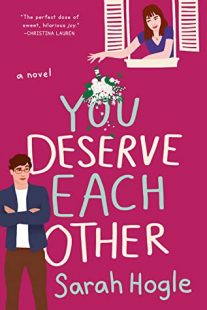 You Deserve Each Other
by
Sarah Hogle
Purchase on:
Amazon
, 
iBooks
Add to:
Goodreads
Synopsis:

When your nemesis also happens to be your fiancé, happily ever after becomes a lot more complicated in this wickedly funny, lovers-to-enemies-to-lovers romantic comedy debut.

Naomi Westfield has the perfect fiancé: Nicholas Rose holds doors open for her, remembers her restaurant orders, and comes from the kind of upstanding society family any bride would love to be a part of. They never fight. They're preparing for their lavish wedding that's three months away. And she is miserably and utterly sick of him.

Naomi wants out, but there's a catch: whoever ends the engagement will have to foot the nonrefundable wedding bill. When Naomi discovers that Nicholas, too, has been feigning contentment, the two of them go head-to-head in a battle of pranks, sabotage, and all-out emotional warfare.

But with the countdown looming to the wedding that may or may not come to pass, Naomi finds her resolve slipping. Because now that they have nothing to lose, they're finally being themselves--and having fun with the last person they expect: each other.
Review:
"You're a demon," I tell him. "And you've been a ghost," he breathes.
What a balm to my soul, truly. When I was recommended this by not one (though, one was VEHEMENTLY insistent I read it), but two of my best friends, I knew I would have to read this. Upon further inspection, though, I found out that the book is essentially a big fat trigger for me (what did I even think this was about when I read the blurb? I clearly have a sore skimmer-dar) and I knew I needed to wait until I was in the right headspace.
"You stopped seeing me, Naomi. You stopped wanting me. You're going to figure out one of these days that I can tell when you're starting to disassociate, and it's the most heartbreaking experience I've ever had. It's nonstop. It keeps on happening. I try to bring you back to me every time you go to leave, off into your own head where I'm not allowed."
Was I in the right headspace for this? Not hardly. Especially after having just had a major holiday with my favorite nightmares come to life (in-laws. I mean my in-laws…was this not clear?). BUT. I persevered. I just had read The Spanish Love Deception (my heart. The feels.) and I needed something….different. And, frankly, I do this shit. I get so invested in a genre, which is ALWAYS fantasy, but then I hit a snag and I have to tuck tail and run to my safe place. My sometimes place. My 'I keep this off to the side until I truly need it' space, and it inevitably brings me back to life and I literally can't stop devouring my cozy reads. Don't worry-I will get my harsh fantasy head back screwed on tight-I can only do sweet and happy so long.
I like the Nicholas who drops everything and runs when I'm freaking out at the side of the road. The one who wraps his coat around my shoulders and eats a bowl of food poisoning with me. But I can't wait for that Nicholas to pop up every now and then, leaving me a different version of him to deal with regularly: the man who abandons me in more ways than one to placate his demanding mother. That's the Nicholas I need to be focusing my energy on. I can't let myself forget.
And I never try to get stuck in my cozy corner, yet here we are. And, weirdly, I'm so happy to be here-at least for now. BUT I DIGRESS-I saved this beautiful, amazing, wondrous piece of absolute WIN for when I would need it most, but I had no idea how deeply it would speak to my chaotic soul.
The one time I need him to dote on his mother after work, and he comes straight home instead like a jackass.
How it would awaken such deep, dark thoughts, but spin them in a light that made it so fun-so ludicrous-that it inevitably made it bearable to bring them softly to the surface, letting them float into my consciousness and allow me to surf through my own torrid moments, even as we witness Naomi and Nicholas work on theirs with the subtlety of a battering ram.
I see that he didn't wash the dishes like he promised, and I almost admire the evil touch. Neglecting to wash dishes is one thing. Voluntarily saying you're going to do it and then not doing it is an act of hostility.
What an odd twist of fate that such an outrageous and-some might say-heinous display of issues would help me sort through mine.
My aesthetic is aggressively, unapologetically basic. Some of it stems from a lady at a MAC counter telling me I'm an autumn, because of my amber eyes and long, stick-straight hair the color of pecans, but I know in my leaf-ogling, beanie-loving, pumpkin-gorging soul that I'd be a basic bitch even if I had neutral undertones. It's in my DNA.
This book, with zero flaws to be seen, was the most calming, beautiful, and aware book I've come across. I do NOT think it's a good thing I relate to this, but, then again, what right is it for anyone to judge me for having a 16 year relationship that formed in High School, fought tooth and nail to keep alive, leading me to an insurmountable depth of happiness I thought I'd never reach (I see Arielle side-eyeing me, and that's okay-LOOK-INLAWS DO NOT COUNT, OKAY? It's FiNnNeEe), and I would hold onto it until the end of time. Love is like that sometimes, isn't it? Messy? But what makes love worth it? What is the draw of fighting though the good AND bad times…especially when the bad is so. Damn. Bad. (Seriously, this book made my relationship seem like child's play in comparison)
Foam gurgles from my blood-red Babadook mouth and giddiness overtakes me. It's the closest to joy I've gotten in a long time. I'm going to follow this feeling straight down into hell.
I think this book is the perfect example for such a question. That being said…I do believe, if you have big issues in your relationship, it could be oddly triggering. I honestly thought I would be triggered and unable to enjoy it-not so. It was a complete opposite for me, and I think there was a lot of truth in Naomi's words, no matter how petty they came across. This book is 'unbelievable', in a way. But, honestly, that's what is so funny about it- I actually, truly, did not find it unbelievable, because I've been so far down in the dumps about my relationship before, almost all these feelings have come to the surface (yes I have measured my love in percentages, full stop-it happens). So who is to say if it would trigger you? It's one of three outcomes (trigger, annoyance (rolling eyes because yeah right this could NEVER happen), or pure elation-which is me. I am elated).
Maybe so, but Nicholas has a dramatic streak as well. He got it watching daytime television in grade school, pretending to be sick so he could stay home and avoid bullies who called him Four-Eyes and made fun of the ascot his mother made him wear. Nicholas knows precisely what he would say to his childhood bullies if he ever came across one of them now. He's perfected his speech in the shower, which he must think is soundproof. Too much One Life to Live in his formative years turned him into a vindictive diva. To be honest, I hope he gets the opportunity to deliver that speech someday. It's incredible.
Nicholas and Naomi fell in love and found each other by chance, but they found each other when they needed one another most and it is just so…beautiful. I LOVED THIS. But then they began to do what many couples do, which is to say they misunderstood one another, let the other think things that weren't true, decided to back off and let things go rather than talk about them when the puppy love phase wore off and actual issues arose while actually getting to know one another, and they, essentially, gave up on each other….which is so sad. Enter the Battle Royale of making one leave the relationship first so they don't incur the costs of their spectacularly large wedding.
Nicholas absorbs my attention so fully that I know I'll never forget how this feels. It's a peace and a comfort I haven't been able to find anywhere. It's how my heart pounds so loud I'm certain he can hear it. It's how his closeness makes my knees weak, and his skin brushing mine jolts me like a spray of hot sparks. It's how he knows me better than anyone else, and I never meant for him to.
I just…who thought of this? I know the author did, I know, but the way this was written-I died. I literally laughed on every. Single. page. OUT LOUD. No joke. The way she would go on in a paragraph talking about things and going on about it nonstop and then just end the sentence with a jab at Nicholas, or a zing about someone-it spoke to my deranged heart, making me cackle into the dark like an evil little goblin incapable of being quiet or discreet about my obvious glee over her derision of all things Nicholas.
Nicholas doesn't like bangs? Fantastic. I don't like Nicholas.
The way they go for one another was nothing short of maniacal, hilarious…then, ultimately, sad. And the humor was done so well, because we really never had time to become morose, which is the beauty of this SPECTACULAR author I now love, yet you still felt for them as you saw them secretly pine for one another here or there, sometimes becoming lost in a lovely memory or seeing something that made them remember a warm feeling…only for the fleeting moment to dissipate into thin air when one of their hijinks exploded at the exact moment they were beginning to rekindle or actually see the other or speak to them deeper than on the surface or try to get to know the other again.
I tried to keep him at a safe distance where he could only see the decent parts of me and it made us both miserable. I inadvertently let him in to see the ugly parts but instead of running away like I'd counted on him to do, he wrapped his arms around all of that ugliness and didn't let go.
I loved this book with my whole heart, and the tenderness with which these two handled one another as they fell in love again, the vulnerability seeping from every pore as they began to bare their soul in a last ditch effort to win their love back from the one person they swore to love the most in the world…it made my heart melt. It's hard-relationships are hard, end of story. But a true relationship is not measured in years, or by a ring, or even by the standards set by society–its measured by what you do when the going gets tough, whether you are willing to stick by the one you love's side, what you are willing to do to save them-and even you-from losing themselves, what you are willing to do to keep each other afloat, to stay sane, to stay present, and to ultimately keep each other happy, as a whole, expecting nothing in return-never giving up on one another. It's a beautiful sentiment, and many relationships don't have that power. That drive. I'm happy to say that mine does, and I'm so happy this book helped me see that (in a funny and different light, of course). What a beautiful dumpster fire of a book. I think you're my favorite.
*****
whiny voice You guuuuuuuysssss. I am DYING from the inside out with these amazing contemporaries I saved for a rainy day, when I was at my absolute lowest, when I didn't feel like reading even though I ALWAYS feel like reading, after 2 starring two books (what the actual fuck even).
I do this. I ALWAYS read fantasy (with that smidgen of romance, of course) and I hear of these amaaaaazing contemporaries that I just HAVE to read (I hear (thank you, friends)) and I pile them all up and wait…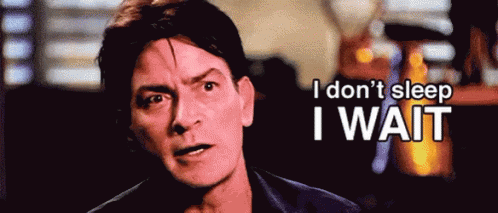 Then, when I need it most….there they all are. A plethora of all things sweet, snarky, enemies to lovers, and well-written novels that I gobble up when I have nothing left to live for (the drama).
I'll admit I started The Spanish Love Deception to get me out of my woes, but had to try this book that has been raved about to me for as long as its been out (side-eyeing you, Snake) and now I am a complete and utter mess, trash for all things contemporary with all these gems, the cream of the crop, that I horded like a greedy little Goblin.
Who even am I. I sure hope I can write a review on this one. I have to. It sang to my soul and appealed to the deepest, darkest, most sinister parts of me…and I couldn't have laughed more.
MAKE TIME FOR THIS. I WILL.
Related Posts