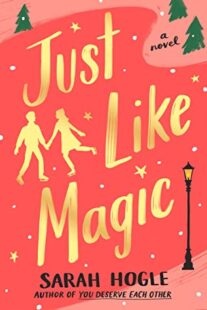 Just Like Magic
by
Sarah Hogle
Purchase on:
Amazon
, 
iBooks
, 
Book Depository
Add to:
Goodreads
Synopsis:

From the author of Twice Shy comes a sprightly Christmas novel, a rollicking romp through the absurdity of family holidays and the hope of new love.

Bettie Hughes once knew the comfort of luxury, flaunting a ridiculous collection of designer shoes and a stealthy addiction to CBD oils. That is, until her parents snipped her purse strings. Long obsessed with her public image, Bettie boasts an extravagant lifestyle on social media. But the reality is: Bettie is broke and squatting in Colorado, and her family has no idea.

Christmas, with its pressure to meet familial expectations, is looming when a drunk Bettie plays a vinyl record of "All I Want for Christmas Is You" backwards and accidentally conjures Hall, an unexpectedly charming Holiday Spirit in the form of a man. Once the shock wears off, Bettie knows she's stumbled upon the greatest gift: a chance to make all her holiday wishes come true, plus a ready-made fiancé.

But as the wiles of magic lose their charm, Bettie finds herself set off-kilter by Hall's sweet gestures. Suddenly, Bettie is finding her heart merry and light. But the happier she gets, the shorter Hall's time on earth grows. Can Bettie channel the Christmas spirit and learn to live with goodwill toward all men? Or will her selfish ways come back as soon as the holidays are over?
*ARC provided by Penguin Group Putnam in exchange for an honest review*
It's taken my whole life to realize that not being the center of attention isn't the same thing as being ignored.
Is this growth? I don't care for it.
I will admit this book made me feel many things…and anger was one of them, to start. It's rare I pick up a book by a beloved author and feel anything other than-at minimum-happy. I'll also admit, before going farther down the rabbit hole, that I did NOT know this was a Christmas book when I requested it. It's simple, really-I saw Sarah Hogle and I clicked 'Request'. I do not question a single thing when I see that name, and I never will-even after this tremulous start. BUT I DIGRESS. I picked this story up and it was nothing short of…well…just as she described it: Chaos [goblin].
It feels wrong to find him attractive, so I'm trying not to. It's like eyeing a Keebler elf with seductive intentions. He's so nice and so pure, a glowing unicorn untainted by all that is crass and vulgar about the world.
And I realize some people didn't just fall head over heels immediately for Twice Shy (I loved it from page one, but we are all different, I suppose! And I GET IT.), but this was a whole different beast, in my opinion. I think we were thrown in rather quickly, deep into our MC's story without much to ground us. Then, all of a sudden, this bitter girl [with so many pop culture references to start out that my head was spinning and I couldn't keep up?] has this super happy, almost Elf-like guy landing in her living room and to say I was utterly confused would be an absolute understatement.
His face is scarlet. "The Grinch is to me what polka dots are to you."
"I've never met anyone who hates the Grinch."
"I don't! I can't possibly hate anything. But he's terrible, Bettie. All the Whos wanted was to eat their roast beast and sing. They just wanted to celebrate. That's all they wanted! I don't understand why the cable network Freeform includes this insult to the holiday spirit in their Twenty-Five Days of Christmas lineup."
Now-listen-I am fair and I don't judge immediately…but wow. I say this with my WHOLE heart-I have never been so shocked and flabbergasted by a book in my whole entire existence. What. Even. WAS. This??? To say it took me a VERY long time to even want to turn the pages is a nice way of saying this was a struggle, to a certain point. And okay, I really am not selling this well, but I'm not trying to. This book, at first, will turn many people away. I just know it. But then…then. Even though I am of the more broody type of male, as of late….Hall just…he became this person that wholly changed the trajectory of this story.
I'm practically a demon in comparison, which you'd think would prompt me to take it easy on him. But instead, it's really bringing out the demon. I find myself wanting to say inappropriate things just to see what his expression will do. All of my worst impulses are running amok.
Maybe I can see how my spirit might be a one point five.
No longer was his silliness the forefront, but something that enhanced every single moment, every single scene, every single event that would have normally caused Bettie strife or heartache. He was an anchor, an outside view, someone who aided everyone to see that they were all viewing things in an entirely incorrect or slewed perspective and just…all of a sudden this jumbled, unbelievable, crazy mess of utter destruction and mayhem became something deeper, sounder, something that lived with a slowly beating heart, suddenly gaining a pulse whereas, before, it was filler and silly and lacking the depth of a puddle.
"Is this tap water?"
He blinks. "Uhh. I don't know."
"I only . . ." I slump onto my side upon the unforgiving floor, eyes clenched tight, dying of thirst. ". . . drink . . . Evian."
He tips the cup against my lips, confirming my worst fears about the source of this water. It's inhumane, the atrocities I have endured today.
And isn't that just the kicker? I was all of sudden transported to thoughts such as 'well, okay, that stuff wasn't that silly' or 'man those moments of such exaggerated spoof have kind of enhanced the story now that we look back, haven't they?', to 'okay but all those moments the magic annoyed me and I didn't think it could possibly be redeemed after such silliness now seem so much cuter *imagining Hall frantically trying fulfill Bettie's wishes running around behind her while she stands there frothing and smiling maniacally* it hits different and I now smile fondly' (seriously, I, at one point, was genuinely like WTF?!) and, ultimately, 'Hall is literally the kindest person and he helps Bettie to see herself for who she could be, and isn't he just becoming so much sweeter and down to earth? More human?'
Are you going to intervene?" I ask Hall.
"Can't. Duels are protected from magical interference. It's all in the legislation."
"I would like to see this legislation."
"There is legislation that prevents you from seeing the legislation. Your eyes are too mortal."
Naturally.
I can't explain how all of a sudden a literal OVERLY SWEET, CANDY BOX type of guy became someone I bawled over, but here we are. And here I am. And that just goes to show how great of a writer my Sarah is, because even though I thought she made Bettie just…too much…she made me-ultimately-care for her. She made me see myself in her. She made me FEEL things with how I am bitter and angry and how I, too, would love to shove it to those who wrong me daily, yet I won't, I don't, and I deserve more. I deserve to think better of myself, to hold myself in a higher regard and to just…let that evil go. Let those PEOPLE go. And I just love this author, absolutely ADORE this crazy woman, for always creating the Naomi's and Betties that are-yes, sometimes hard-edged and perhaps sometimes cruel-so relatable and [even though Bettie was WAY over the top] palatable and….people who I saw my mirror image self in.
But I'll never be sufficiently holiday-cheered, which means that he's wrong, and isn't going anywhere. I have the vicious, cold, impenetrable heart of a withered old hag. It's half of my appeal.
And ouchhhhh maybe that's just why I love this author so much. She sees me. She hears me. She tells me I am okay as I am and that there is always room to let love in, let it grow, and let it become something more than bitterness and perhaps we could stand to let more light and love in.
Felix is feeling bad about himself because he didn't give Marilou her dream wedding, so he's poking holes in my love life, and I don't want to hear it. I've rapidly grown protective of my sham relationship and our future sham marriage.
And ugh look at me being all sappy-I used to be nice, too, ya know. Just like young Bettie. Don't you just looooove in-laws who corrupt your view of the world (the way that You Deserve Each Other sings to my soul, I tell you…)? Either way-YES. This book was crazy and I do hope the beginning is fine tuned a bit, but that's okay because, frankly, in the end I felt. And not everyone will. That's okay, too. I didn't think this was going to work. I truly didn't. But once Hall went to bat for Bettie, let the 'good guy will take all your shit' act step aside to defend the girl he was falling in love with….my heart melted. It became goo. And I liked seeing him find a real persona that didn't emulate all things nutcracker and holiday spirit (since that is who he personifies) and seeing that he could be serious –and he was seriously in love with Bettie. I needed this levity. Without it I fear this book would have fallen in the cracks for me, yet it fought it's way out and now I can look forward to a fun book to read in December-everyone needs a good dose of a great man like Hall.
I have plenty of good attributes, of course—I'm always down for a fun time, I can tie a cherry stem with my tongue, and I have a knack for finding hidden gems when traveling. But I'll admit I'm probably a tad more self-involved than is decent and am fond of revenge schemes.
It shouldn't have worked, for me, by rights-him being the literal holiday spirit (so weird lol), but, in the end, watching him guide Bettie through her journey for self-worth, finding what makes her glow…it was just absolutely beautiful to see both of their transformations. And when it finally got serious, when we got to see their clock winding down, true emotions having to be shown lest they are never said before he inevitably has to say goodbye, that's when we truly begin to feel and see what this whole story was meant to be.
My genetic pool doesn't rise early to admire the dawn. If we rise early, it's because there's a limited number of Krispy Kreme donuts.
And there is a moment where Bettie is ice-skating-alone-and I just…it fractured my heart as she discovered herself, as she let her sadness shine, let the idea that she needed someone else to make her complete go… I bawled, okay . Hogle can set. A damn. Scene. And that whole moment, the atmosphere, what happens, how it plays out, how she ~feels~ things…my heart. I don't think I'll get my heart back from that absolutely breathtaking moment.
Simultaneously, my conscience, which isn't as much like Jiminy Cricket as it is like Scar from The Lion King, sits forward and raises an intrigued eyebrow.
So. Yes. I was not sold at first, and it will not be for everyone…and many will love it. That's just how it goes. But I can firmly say, now that I have officially written a review and chosen a side (my true feelings always come out candidly when I write my reviews, because my immediate feelings have faded and I've had time to process) that I am proud to say I love this dumpster fire of a book, just as I did Twice Shy and You Deserve Each Other, and I am so happy I found my beautiful, chaotic, dumpster fire of an author (am I allowed to say this? I feel like she'd actually appreciate this) and I hope she never stops churning out my Naomis and Betties and chaos goblins alike. I will always try them, and I will always hold them tight. There aren't enough neurotic, WELL DONE female MCs like Hogle creates-I just have to hope she never stops writing them, or I'd truly lose a piece of my crazy, surly, petty self.
FRAN SCALE:
Jen-As you are my light and joy and HOLIDAY SPIRIT PERSONIFIED FRIEND, yes
Arielle– I teeter back and forth, but I think you'd get a kick out of it
Cassie– You are an evil, corrupt soul like me, so yes. Maybe not a favorite, but you'll enjoy the petty just as I did
Anna– Actually, maybe. But who knows.
****
I mean…IDK????? I have ZERO clue what to rate this. It was a two…for like…40%. Isn't that just crazy? Then a tentative three. Then a four. Then my ass was bawling for twenty minutes (I do not think I feel well. I had a twig in my eye) straight and inconsolable with feels and wtf even.
Something about Hogle-even when she starts with such a HUGE misstep and novel of absolute chaos that makes zero sense and pisses me off with her buddy the elf love interest-just speaks to my heart.
Maybe it's that I, too, have lost my happiness and youth and the rose tinted glasses way I used to view the world because of circumstances that surround me and have changed me irrevocably. That I saw my bitterness in Bettie and saw how Hall brought all that wonder and willingness to try and be good and the way he fell for her was just so sweet and sincere.
Maybe it's the way he defended her, went to bat when no one else would, with his whole heart because he knows who she is on the inside the way I crave to be supported and cherished. He literally CHERISHED her with hearts in his literal eyes and I aspire to make my husband find those love eyes again ha.
I don't know. But I was a mess and, though this was a surefire dumpster of a book I don't actually know will do well, I fell for it because I am weak and a sucker and even though I am of the toxic male variety as of late I found the LAST half with Hall so heartfelt and endearing with his adoration of Bettie that I cannot rate this low any longer.
Call me weak. Call me a sucker. But Hogle speaks to my bitter little heart and shoves my style of humor into every crevice (despite how cheesy the jokes COULD be and WERE for a very long time) and how she [maybe perhaps WAY too many this time] uses pop culture references in every story that crack me up but normally has the perfect amount for me.
So. Whatever. I guess a 5 for now??? LOL SHOCKER? I am weak.
REVIEW TO COME.
***********
OMGGGGG The way that getting this ARC made my DAYYYYYYY!!!
This. Author. Is. EVERYTHING.
Nicholas doesn't like bangs? Perfect. I don't like Nicholas.
Lolll I cannot WAIT.
Related Posts