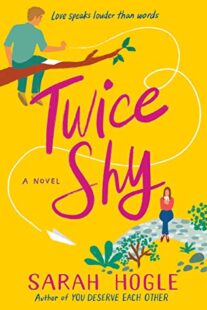 Twice Shy
by
Sarah Hogle
Purchase on:
Amazon
, 
iBooks
Add to:
Goodreads
Synopsis:

Can you find real love when you've always got your head in the clouds?

Maybell Parish has always been a dreamer and a hopeless romantic. But living in her own world has long been preferable to dealing with the disappointments of real life. So when Maybell inherits a charming house in the Smokies from her Great-Aunt Violet, she seizes the opportunity to make a fresh start.

Yet when she arrives, it seems her troubles have only just begun. Not only is the house falling apart around her, but she isn't the only inheritor: she has to share everything with Wesley Koehler, the groundskeeper who's as grouchy as he is gorgeous--and it turns out he has a very different vision for the property's future.

Convincing the taciturn Wesley to stop avoiding her and compromise is a task more formidable than the other dying wishes Great-Aunt Violet left behind. But when Maybell uncovers something unexpectedly sweet beneath Wesley's scowls, and as the two slowly begin to let their guard down, they might learn that sometimes the smallest steps outside one's comfort zone can lead to the greatest rewards.

It's rough when you have a nature that begs you to avoid heartache at all costs but also makes you wear your heart on your sleeve.
When sifting through my to be read, deciding what to read, I definitely have a type. Call me old fashioned, but I like what I like, and not much else is going to make me happy. I look for the broody heroes-the most tortured, even. I pine for snarky enemies-lovers, tension radiating off every page. I soar through the witty and over-the-top banter, absorbing it into my cranium like some sort of demented sponge, all the while giggling 'Oh they are so into each other'. I am a creature of habit and I rarely deviate from my formulas, especially for romance. So, tension tension tension, thy name is Chelsea. But this-this was…not that.
He tries to silent-treatment me into giving up. It almost works, but my discomfort with long silences prompts me to react strangely and I throw both of us off by giving him a wink.
He stares at me, wide eyed, like I've grown another head. "What the hell was that?"
"A wink?"
"Winking is weird."
"You're weird."
"That's a bizarre thing to do, shutting your eye at someone."
I shrug. "It can be kinda hot, I think."
And can I tell you how happy I am that it wasn't? Look, I am all for that battle of wits and superiority, the sometimes childish neglect of not realizing what's in front of you (hellooooooo he has not left your side the entire book-boy's INTO YOU), but there are some [very few] rare [very rare] occurrences where being happy just…makes me happy. And this…this is that book.
Not to be dramatic, but I would rather drink battery acid than be in the throes of a crush.
And I'm mad- SO mad – that we women (or whomever) can't just enjoy happy go lucky books (I mean, maybe that's just me that needs some drama?) that show us what a sweet man really can be like. I'll admit I'm the biggest duck in the puddle here when I say that happiness throughout an entire book can be a snoozefest-I just need SOMETHING to keep me hanging onto their every moment together or word not said-it's in my DNA to be a HUNDRED perCENT THAT bitch that needs the push and pull and-okay-surely that's why this book has such a low rating. Because there is no way people are sleeping on Wesley and Maybell that way-no sir- because they are flawless. Literally-
-without a single flaw. Ya know, besides being perfect, naturally. BUT. All joking aside, I truly do not get the disconnect between Sarah Hogle and readers. Yes, YDEO is deemed popular (or so it seems, I don't know) and yet it has a less than stellar rating on Goodreads (who even ARE you people?) and it's rarely a book I hear mentioned. Now THIS masterpiece of fluff and marshmallows and rainbows
has an even lower rating. WTF? HOW? I get it-it's so sweet, its saccharine.

(I literally picture this when I think of this book)
But like…Wesley? Did you even MEET him? And the beginning was fabulous. There was banter. He was broody. She was lonely and quirky and sweet without direction. Literally Grumpy/Sunshine gold. And-yes-it does get into perfect territory where he and she are just adorable together and there really isn't question they won't end up together, no real formulaic climax (I suppose) or question of how they can work something out, but there are real life issues expressed.
I've only ever wanted to be liked, and I've only ever wanted to be liked by absolutely everybody I come in contact with, however temporarily and inconsequentially. It's my most dominant and simultaneously weakening driving force, which leads to my toning down various wants and needs in order to make myself digestible, easy to get along with. The essence of Maybell Parrish is painfully sensitive, and if you touched it, it would retract and try to surrender. For better or worse (and I've certainly tried to be anyone but myself), I am a wobbly white flag.
There are real life issues tackled. And there are real life issues that aren't resolved (realistic) but acknowledged and led to believe they are an ongoing project. This book, while specially made with a purposefully head-in-the-clouds heroine, is realistic beyond belief and it's so wonderfully mundane (YES I am making this a positive, get over it) I may call it transcendent for simply being.
From my position on the ground he's about eight feet up, watching me with Oh, no written all over his face.
"There's no escaping me," I tell him. It comes out sounding disturbingly ominous.
Sarah Hogle has undoubtedly reached a level where she has become my favorite contemporary author to date. She is funny. She is always sarcastic-even sweet Maybell had Naomi vibes (thank, Jeebus). And all the characters are all just so…realistic.
Maybell Parrish doesn't make waves. She doesn't even make ripples.
They are not sex gods or relationship experts and they make mistakes time and again…but they are all the more relatable for it…and now, opening up one of Hogle's books gives me inner peace and warmth that cannot be manufactured nor forced. She is my happy place.
My mind is a fanciful storybook that loves symbolism and parallels. It invents romantic notions, where there often aren't any, in everyday life situations. It has led me to perceive many a man in a nobler light than he deserved, and it's told me bad situations were meant to be as a coping mechanism to make them bearable.
If her first book was antagonistic and about getting back at a significant other, becoming even, this one was the exact opposite in that it was about doing everything you can to be equal and showing you care. But both, in the end, were about being accepted for who you are-all the good and ALL the bad, guards down-and being loved wholly for it, and isn't that the most beautiful and amazing thing? Parallels, amirite?
I squint at my painting, straining to view it through someone else's eyes. It isn't recommended. I slip back behind my own eyes again and ponder the merits of paint-by-numbers wall hangings. Would that be considered cheating?
Being loved fully, always, teaching us to embrace our flaws and love ourselves for who we are and not who we think we should be. Speaking the truths we didn't know we needed to hear, but changing us imperceptibly and for the better, life lessons learned masked by witty banter and laughs at the others' expense. I think this woman may just be a genius. It's about being seen…and even the most self-actualized of us can probably admit that's our largest insecurity-not being seen for who we are beneath the surface. And-I'll say it again-isn't that the damndest thing…to have some author come out of nowhere and call you out like that. Couldn't be me.
*PS- I relate so wholeheartedly to her heroines. Whether it's too shy, too gullible, too snarky, the mean, snarky thoughts about a significant other (YDEO), I just love how I AM THESE GIRLS.
*PPS- THE POP CULTURE REFERENCES SPRINKLED THROUGHOUT. RIP ME.
*****
Y'all are sleeping on this wonderful amazing out – of – this – world chaotic author. I do NOT understand the low ratings.
RTC!!!!
Related Posts