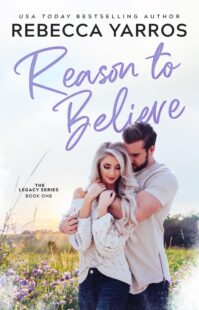 Reason to Believe
(
Legacy #1
)
by
Rebecca Yarros
Purchase on:
Amazon
, 
iBooks
, 
Book Depository
Add to:
Goodreads
Synopsis:

From USA Today bestselling author Rebecca Yarros comes a brand-new small town, older-brother's best friend standalone romance.

"I'll take them!"

That's what I tell the social worker when my pre-k student and his baby brother need an emergency foster placement. I'll do anything to keep the brothers from being split up. But my apartment's flooded and there's only one house I can take them to on such short notice…his.

Knox Daniels, my older brother's best friend, offers his new place without hesitation. He's not moving back to our tiny town until next month—that's when all our hotshot firefighters are returning for their one and only chance to rebuild our fathers' fallen, iconic crew.

It doesn't matter that I've been silently in love with Knox since we were kids.
It can't matter that we pretend that reckless prom night kiss never happened.
It won't matter that my feelings for him could destroy his lifelong friendship with my brother and threaten the certification of their hotshot crew.
Because I'll be out of his house long before he gets back.

Except Knox just walked in…a month early.
And the icing on this awkward cake?
He's gorgeous as always and I'm covered in baby puke.
He takes one look at the boys and tells me we can make this work—
We can temporarily fake a relationship to keep them from being separated by the system.

Suddenly, everything matters.
Review:
Reason to Believe was an emotionally beautiful love story!  With tons of heart, this sexy romance completely consumed me.  It was impossible to put down. As heartbreaking and uplifting moments laced throughout the pages, this book soared right onto my favorites list!
"You're not always an asshole, do you know that?"
I laughed. "Yeah, well, just don't tell anyone."
"I like this version of you." Her arms tightened around my neck, and I flinched.
Like was dangerous. It was everything I'd avoided these last seven years when it came to Harper.
With a mix of older brother's best friend and fake dating, this story was done to perfection! We started out seven years in the past, and got to witness why Knox and Harper could never be together.  Even though the chemistry and connection between them was electrifying. When we jumped seven years in the future, Harper found herself in a situation to help foster two little boys, at Knox's house while he was away. So when Knox came home a month early, he agreed to help Harper keep the boys from being separated. By pretending that they were together.
I was head-over-heels in love with that arrogant ass and had been since I was old enough to name the emotion.
But to him…well, I wasn't anything, not even a blip on his sexual radar.
I was his best friend's little sister.
And I hated that most of all.
I absolutely loved Harper! She was fierce, independent, intelligent and had the hugest heart! When she stepped up to help foster one of her students and his baby brother, after their mom had been killed, I loved seeing her resolve, strength and watching her try to do her best. Even though it was extremely challenging. So when Knox appeared in the picture, I held my breath. She had been in love with her older brother's best friend since she was a kid. And when Knox stated that they were in a fake relationship, to keep the boys from being separated, it just reinforced why she had been in love with him forever.
"I'm so sorry I dragged you into this," she whispered.
I dropped my chin to rest on the top of her head, avoiding where she had her hair piled in some kind of knot. "Harper, there is nowhere else I would rather be."
Her breath hitched, and we both fell silent.
Knox pulled at my heart and it was so easy to fall for him. While he was jaded from the past, he would do anything for Harper. Yes she was his best friend's little sister, but as we got to hear the story from his point of view also, we saw how desperately he secretly craved her.  She was the only thing in his life he truly wanted, but couldn't ever have. That need burned him alive. So I loved the forbidden feel of them! As Knox stepped up and helped Harper every step of the way, their friendship showed how perfect they were for each other. And the sexual tension between them was so intense, it was like they were on fire every moment they were near each other!
My breath caught at the longing in his eyes, the need and heat that echoed my own.
This story brimmed with emotions that were raw and real. I already had tears by the second chapter and they just kept appearing as the story unfolded. I even found myself sobbing and couldn't stop the tears from pouring down my face. While this book was an emotional powerhouse, there was also so much love, friendship, smiles and laughter throughout this story too. I loved their firefighting family! I loved Harper and Knox's friends, who I had already fallen in love with in previous novellas (Point of Origin & Ignite which are currently FREE!). You don't have to read them before picking up this book, but I highly recommend you do! Together they made this found family that was uplifting in their little town. And I loved how they had each other's back. It was smile inducing and their lighter moments were heartwarming. Plus the two little boys in this story will absolutely capture your heart.
I poured all of my messy, unlabeled emotions into the caress of my lips, the stroke of my tongue, hoping she understood what I didn't know how to say. Praying she knew what she meant to me when I couldn't put words to it.
Romance lovers will passionately fall in love with Reason to Believe! Within the pages this story was emotional, intense, swoon worthy, intoxicating, heart wrenching and had so much passion! This was a story-line that will capture your heart and one you'll remember forever. And the HEA at the end?! It was everything I could have ever wanted and more. If you're looking for an adult romance to pick up, I can't recommend this one enough!
*I voluntarily read and reviewed an advanced copy of this book, provided by the author. All thoughts and opinions are my own.*
About Rebecca Yarros:
Rebecca Yarros is the Wall Street Journal and USA Today bestselling author of over fifteen novels, including Great and Precious Things and The Last Letter. "A gifted storyteller" (Kirkus), she is also the recipient of the Colorado Romance Writer's Award of Excellence for Eyes Turned Skyward from her Flight and Glory series.

Rebecca loves military heroes and has been blissfully married to hers for almost twenty years. She's the mother of six children, ranging from kindergarten to law school, and is currently surviving the teenage years with three of her four hockey-playing sons. When she's not writing, you can find her at the hockey rink or sneaking in some guitar time while guzzling coffee. She and her family live in Colorado with their stubborn English bulldogs, two feisty chinchillas, and a Maine Coon kitten named Artemis, who rules them all.

Having fostered then adopted their youngest daughter who is nonverbal and on the autism spectrum, Rebecca is passionate about helping children in the foster system through her nonprofit, One October, which she co-founded with her husband in 2019. To learn more about their mission to better the lives of kids in foster care, visit www.oneoctober.org.

To catch up on Rebecca's latest releases and upcoming novels, including The Things We Leave Unfinished, which just received a starred review from Publishers Weekly, visit www.RebeccaYarros.com.


Website I Facebook I Facebook Group I Twitter I Instagram I Goodreads I Bookbub I Amazon
Related Posts
Reason to Believe easily landed on my favorites list! Check out my 5 Star Review below ♥.