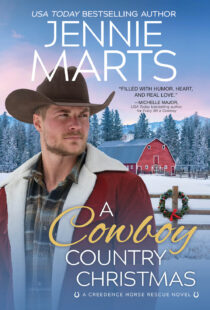 A Cowboy Country Christmas
(
Creedence Horse Rescue #6
)
by
Jennie Marts
Purchase on:
Amazon
, 
iBooks
Add to:
Goodreads
Synopsis:

There's no better time than Christmas to open your heart

Holt Callahan used to love the holidays, but getting dumped on Christmas Eve would turn anyone into a Grinch. Now he hates Christmas and all the holly jolly shenanigans that go with it. When he moves back to his cousin's ranch in Creedence, Colorado, the last thing he expects is to come face to face with the one who got away and all of her holiday cheer.

Lainey McBride is all about Christmas. Now she's running her family's ranch festivities while her grandfather is in rehab, and no matter how many things don't go according to plan, she's determined to bring her holiday spirit. But the holidays have their own way of healing, and a Christmas in Creedence just might be the merry magic that brings these two broken hearts back together again.
Review:
A Cowboy Country Christmas was a heartwarming, second chance romance.  With characters that will find their way into your heart and a cast of animals that will make you laugh and smile, I can't recommend this book enough. With sleigh rides, hot cocoa, snow, mistletoe and so much more, this festive heartfelt book is exactly what you need around the holidays!
Holt snapped the reins and gave Merry a cluck, and the sleigh burst forward, the runners gliding easily along the freshly fallen snow. Lainey laughed with delight, and he knew he would do just about anything, even wear a stupid jingling Santa hat, to hear her laugh like that again.
Holt Callahan hated Christmas after having his heart ripped out on Christmas Eve.  He currently found himself living on his cousin's ranch, in the adorable small town of Creedence, Colorado.  Yet one day on the ranch, Holt came face to face with the woman from his past.  Her name was Lainey McBride and her grandparents owned the ranch next to his cousin's.  Colt had been in love with Lainey since he was 10 years old.  He thought she had left for good when they were teenagers.  So he was shocked to see her back, and dressed as one of Santa's elves. When Lainey asked Colt to help her out with some Christmas festivities, he couldn't say no to her. It had felt like no time had passed since he had been around the woman he loved. And from that one moment, it led them on a path to a beautiful second chance!
She'd shredded his emotions and pretty much wrecked him for years. Maybe still. But she was here now, smiling up at him, and that was all that mattered.
I adored Holt!  He was a grumpy, sexy, cowboy who was such a good man and had the biggest heart.  He worked around his cousin's ranch and loved the animals he spent his time with.  So I couldn't understand what happened to make Lainey stand him up at the dance when they were younger. She had shattered his heart.  But even with his heart hurt, and with questions about the past, Holt found himself smiling more when he was around Lainey. I loved that he messed with her.  His banter and teasing was smile inducing and made me laugh.  And I loved even more that he helped Lainey out every time she needed it. 
A little flicker of something that felt like hope bloomed in her chest, and she couldn't keep the smile from broadening across her face. It had been a lot of years since she'd flirted with Holt Callahan, but it still felt as easy as falling into a mountain lake on a hot summer day.
Lainey found herself back in Creedence at her Grandparents ranch. Every year they put on Christmas celebrations that countless people came to and helped fund their ranch for half of the year.  Yet with her Grandma's passing and her Grandpa's broken hip, Lainey stepped up to pull off the Christmas magic!  I liked Lainey right away, yet I paused when we got to listen to her thoughts too. I didn't understand why she thought Holt had abandoned her. So as I was waiting for the past to meet the present, I loved how strong and brave Lainey was. How she had the biggest heart too. And that Lainey seemed to be falling back in love with Holt all over again, while also helping him fall in love with Christmas.
He let go of her hair, and his fingers trailed softly over her neck and along her jawline. Her lips parted, and she sucked in a quick breath as his thumb grazed across her bottom lip.
It was beautiful to watch how Lainey and Holt's friendship rekindle so quickly.  It was like they never were apart.  Except for the fact that there was a huge elephant in the room about why they parted ways to begin with. But with touches, glances and kisses under the mistletoe, I loved watching their love for one another come back and continue to grow. On top of Lainey and Holt we also got to see so many characters from the previous book and even the other series too. Do you need to read the previous books in this series or the one before it? Nope! But I can't recommend them enough! Aunt Sassy was hilarious as ever! I loved seeing someone all the way back from Caught Up in a Cowboy! And getting to see HEA's for characters in the Creedence Horse Rescue previous books was so beautiful! I had happy tears over getting to see how their stories played out! But there was also moments of laughter with the animal antics. With a dog rescue, a fainting goat and even a camel, along with our favorite tiny horse, pig and goat this book had it all! Ohhhh and my favorite moment was the nativity scene. I was laughing so hard that I had tears pouring down my face.
He closed his eyes and dropped his chin as if her touch caused him physical pain. She started to pull her hand away, but he caught it in his and held her fingers to his lips, pressing a hard kiss against them. "I've missed you so much," he whispered against her palm, his voice husky and raw with emotion.
A Cowboy Country Christmas ended with the most wonderful happily ever after! And with baking cookies, ugly Christmas sweaters and trees, this book was filled with all the Christmas cheer! Plus a Christmas miracle that will bring tears to your eyes! I absolutely adored this story and I love that whenever I pick up a book by Jennie Marts, it is always filled with so much heart and love! I can't wait to read whatever she releases next!
PS They talked about hot cocoa with crushed-up candy canes stirred in and then sprinkled on top of the marshmallows and OH MY GOSH!  This sounds amazing!  Why I've never had that before is beyond me but I'm making this for me and my little boys ♥!
*I voluntarily read and reviewed an advanced copy of this book, provided by the publisher. All thoughts and opinions are my own.*