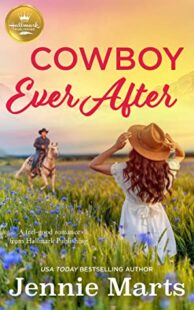 Cowboy Ever After
by
Jennie Marts
Purchase on:
Amazon
, 
iBooks
, 
Book Depository
Add to:
Goodreads
Synopsis:

She's writing a romance novel…
and he's just like the hero in her story!
Enjoy the delightful cowboy romance from Hallmark and USA Today bestselling author Jennie Marts.

Kaylee Collins, a shy city-dweller, is writing a Western romance—and getting the details wrong. Her editor insists that Kaylee learn more about country life by spending a week at a working ranch. Kaylee reluctantly agrees as long as she can bring Gladys, her slightly overweight Corgi.

To rustle up her courage, Kaylee channels the spirit of the fearless heroine of her story. But she's shocked when she meets Luke Montgomery—the spitting image of her handsome cowboy hero!

As far as Luke's concerned, Kaylee's books are pure fantasy. Love hurts, and he should know: he lost his wife a few years back. But he finds himself amused, and then enchanted, by this woman who bravely tries new things and whose heart seems to be as big as the Montana sky. Can they both dare to start a new chapter together?

This clean romance includes a free Hallmark original recipe for Extra Delicious Carrot Cake.
Review:
Cowboy Ever After was a heartwarming tale that was filled with love, laughter and friendship.  If you love small town romances and stories that play out like you're watching a Hallmark movie, you need this book in your life.  I desperately need this to be made into a Hallmark movie so I can binge it again and again!  Cowboy Ever After was a charming, sweet and delightful romance that landed right on my favorites list!
All she could focus on was the way his fingers had felt as they brushed her cheek and the crystal blue shade of his eyes as he peered down at her. She was caught in his gaze, powerless to move as she drowned in their depths.
Kaylee Collins was an author who lived in Chicago, but needed to perfect some of the smaller details in her cowboy romance stories.  When her editor suggested that she go to Montana, to stay with her brother and learn how a ranch works, Kaylee agreed.  She embarked on a trip, along with her adorable corgi Gladys who I absolutely loved!  Their adventure was filled with an adorable small town, friendly townspeople, farm animals and a sexy cowboy that looked like just like the hero in one of her books!
Kaylee Collins had landed in his life, with her pudgy dog, hot pink cowgirl outfit and a smashed vegetable cake, and he hadn't been the same since.
I loved Kaylee!  She was so relatable and easy to click with.  From choosing the wrong clothes, to trying and channel one of her characters for bravery, I absolutely adored her!  And from that first goosetastic moment she stepped on Luke's ranch, Kaylee's world started to change. She tried her best to get out of her comfort zone, while helping on a working ranch.  And I loved how her time helping or being around the ranch inspired moments in her books!  But most of all, I loved that Kaylee was always a joy to be around. Her cheerfulness and happiness was infectious!  And before Luke knew it, that broody cowboy started to feel things he hadn't felt in years!
He held the book sideways, and she could see he was already half-way through. "I was just gonna read a couple of pages, but I couldn't put it down. You're a great writer, Kaylee."
"Thank you," she whispered. "That means a lot." His words touched something in her.
Luke was a tortured hero I fell hard for!  He seemed to keep his head down, work hard, and didn't expect much from a city person coming and staying with him. So I loved that Kaylee shocked him. Her willingness to jump right in and help, while getting her hands dirty, made him pause and look at her.  Which he hadn't done with anyone in quite a long time. And as Kaylee got Luke to open up, I loved that he was charming and easy to talk to. He was also kind, thoughtful, protective and extremely sexy! Even if he could be a little clueless when it came to women at times. Luke was a hero that so many people will easily fall for!
The air felt different here. And so did she. Something about being on the ranch was filling an empty place inside her. Maybe a place she didn't even know was there. Not until she got here and found the missing pieces to fill it with.
While Luke and Kaylee seemed like polar opposites, they both spent so much time alone and loved their dogs Gladys and Cooper with their whole heart and souls. I loved what Gladys and Cooper added to the story; they both easily wiggled their ways into my heart! And as Kaylee spent more time around Luke, I fell hard for him right along with her! He was swoon worthy, sigh inducing and had such a good heart. I loved them working on the ranch together and going to town events. But Luke had his walls up high and Kaylee was only there to research her book, and then would be heading back to the city. Still, neither of them could ignore the tension between them that simmered with electricity!
"All that matters is just you and me, darlin'."
"Just you and me," she repeated in a whisper.
Cowboy Ever After was a story-line that captured my heart! Every time I pick up a Jennie Marts book I know that I will be smiling from that first page to the last, and that the story will be filled with so much heart!  There were also hidden treasures with Dean, Emma, Bear and so many animals! With laughter, romance, jealousy, friendship and love, this book was everything! If you need a feel good story, definitely look no further then this book!
*I voluntarily read and reviewed an advanced copy of this book, provided by the publisher. All thoughts and opinions are my own.*
Related Posts