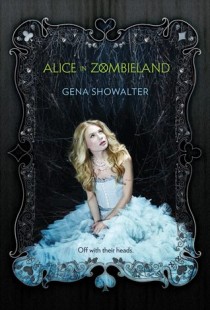 Alice in Zombieland

(The White Rabbit Chronicles #1)
by Gena Showalter
Purchase on: Amazon, iBooks, 
Book Depository
Add to: Goodreads


*4 STARS!*
Before I go any further I want to say to people that are thinking of reading this. Alice In Zombieland has NOTHING to do with Alice In Wonderland! There is a few similarities but only by names and chapter titles.. The heroine is named Alice although she prefers to be called Ali and chapters are titled like 'off with her head.' I know a few reviewers went into this thinking it would be a twist on AIW and so they was disappointed, I went into this knowing it was different and so for me it worked.
With out giving too much away because this is a clever book.. This is about a 16 year old called Alice/Ali who's life is drastically and heartbreakingly changed when she loses her whole family in a terrible accident. She is left picking up the pieces and realises what her dad told her about the 'monsters' that roam around at night could actually be true and not crazy madness that she used to think.
Alice goes to live with her Grandparents and to a different school this is where she meets Cole and his group, they are intimidating and everyone stays away from them. They come in every now and then with cuts and bruises.. Maybe they just get into a lot of fights? Every morning when Ali sees Cole they have a vision some are hot and steamy others are pretty scary.. What are these visions could they be showing them the future? Ali and Cole are drawn to each other and has a strong chemistry, it was hot and at times sweet but for me I just wanted more. I found there wasn't enough sweet times for them both and I was missing the butterflies. They had this love/hate relationship at the beginning and found it hard to trust one another.
"This is becoming a very bad habbit," Cole growled, suddenly keeping pace beside me. His arm wrapped around my waist. "You run, I chase."
I hate zombies!!! I hate them, they scare me and give me the shivers, as soon as I know I'm watching a movie about zombies I turn it off or put a pillow in front of my face. These zombies wasn't any better they were well detailed and just disgusting and creepy which made this book surprisingly fun for me. I'm realising I like getting spooked with books I like the feeling of tucking my feet on the chair in case any monsters grab them and having to keep the light on, although this wasn't scary at all, its just because zombies do scare me I felt like that.

My favourite character..

One character in this book I adored and just made me laugh all the time is Ali's best friend Kat I love her, she's hilarious but so supportive. A lot of things she and Ali would say just reminded me of me and my group of friends, the banter was so funny and just made me think wow that's what we would say and just made me laugh harder. She was a strong and sassy character that wont take any bullshit from other people.
"Let's get married, me and you, and have a thousand babies together," Kat said. "That'll show 'em!"
I cant forget Ali's grandparents some of the things they said made me nearly choke a few times. I just wasn't expecting it from them. They was supportive and always their for Ali. I couldn't help but just love them.
"I'm not trying to- What do teenagers say nowadays?" he asked my grandmother. "Get all up in her biznez," Nana said. Without cracking a smile. "That's right," he replies. "We're not trying to get all up in your biznez, Ali."
For me this was a high school romance with friendships and enemies with a twist (Zombies) so anyone who fancies a surprisingly clever book with lots of secrets and laughs should give this a go.
Related Posts