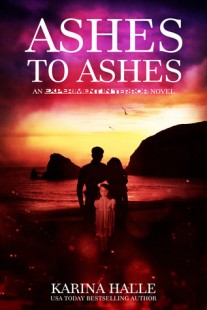 Ashes to Ashes
(
Experiment in Terror #8
)
by
Karina Halle
Purchase on:
Amazon
Add to:
Goodreads
*5 Scared Shitless Stars*

"You…make me feel sane in this crazy world. You give me hope. You give me life. When I'm with you…I can't even believe I'm with you. It's like that every morning. Like I'm dreaming, but I'm not."
–Perry
They're baaacckkkkk! I didn't realize just how much I missed Dex and Perry until I picked up A to A and became immediately immersed into this amazing story. It's not often that such a long series can entice me for such an extended period of time, this being number eight in the series. With each new installment I have progressively read, I've found myself falling head over heels for this ghost hunting duo with absolutely no reservations about how many books are in the series. Much like with television shows, I tend to see that the higher the seasons or series (books) climb, the dumber or more forced they become (excluding Friends, of course). But not with Karina Halle's EIT series. Sure, Come Alive, for me, was by far the weakest of the series, so I had some reservations about this upcoming release, but I was ecstatic to be wrong in my presumptions.
"This is real," he said, voice oh so low, so gruff it made me throb. "This is nothing but real. You and me. Us. You know that, don't you?"
I nodded. "I know."
"Perry, I love you," he said, his gaze drifting to my lips. "I'm not…" He paused. "I'm here. I'm staying here, by your side. This is more than just two people shacking up together. This is so much more."
Dex and Perry have been through everything-you name it, they've most likely went through it. In this installment, we get to see where they are in a normal, well, somewhat normal, relationship. I loved seeing how well Dex treated Perry and that they were actually going to do a normal, fun show with the newest addition, Rebecca. It feels like forever since they have had a successful show where they actually got decent footage and actually were scared the whole time.
There was nothing there, just the glare from the windows, reflecting slices of the foggy sky.
And still, I knew something was there.
Watching me.
And waiting.
For their newest episode of Experiment in Terror, they are being asked to film a 'haunted' school on Oregan's coast. How scary, right? Creepy little children running around (the bane of my existance-child ghosts *shivers*)? Oh, no, don't worry, there's more!!! Many of these children? They lost their lives to Tuberculosis….or did they? So now, not only are there creepy little children haunting our EIT hosts' every move, there are doctors, and nurses, and a bad, bad thing….and they all want Perry.
"It eats hate," she said. "It devours fear. It has promised me things."
This installment is by far the scariest yet, in my opinion. I couldn't breathe, my breath faltering and heart stopping everytime there was noise behind them, above them, around them…wherever. I had an erratic heartbeat at all times-this book was bad for my health. This was one of those books where you felt an imaginative breath on the back of your neck with a spine-tingling awareness and had this feeling that you were being watched as you read. It was by far the hardest time I've had while trying to read at night-therefore, I did NOT read with the lights out.
I pulled away from the door, and the minute I did so, the whispering stopped, leaving me in silence. I counted to ten, gathering the courage to do it again. I carefully put my hand on the knob and my ear back on the door.
There were no whispers.
Just one metallic voice, like it was speaking through a crackly radio.
"She's behind you."
A breathtaking storyline and a group of people I've come to adore, this book almost made it to my favorite book of the series, but as of now it is a tie between this one and Lying Season (Book 4). These books have had the strongest plot and the best character chemisty, making for an intense build-up that had you on the edge of your toes. I am so glad to be back into Perry's head and to see that familiar angst that was present in the beginning of it all-it wasn't petty, it was fun and kept you guessing and all you wanted was to find out more, more, more. It was normal and the way it should be between these friends, lovers, and coworkers.
Rebecca's manicured nails fluttered in my face. "I said, keep your bloody thoughts to yourself. I don't want to hear about anyone's erections. Boobs, maybe."
Please pick this series up-you'll be scared out of your mind, but it will be so worth it-you ARE missing out, I can assure you of that.
Related Posts