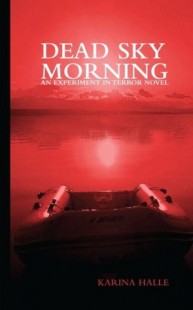 Dead Sky Morning
(
Experiment in Terror #3
)
by
Karina Halle
Purchase on:
Amazon
Add to:
Goodreads
4 "I most definitely had trouble falling asleep" stars
As I started DSM, I was giddy, excited, and couldn't wait to delve deeper into Perry and Dex's story. These two have been on tremulous territory since the first book, and Karina Halle is doing a great job of keeping everyone hooked- we're just waiting for these two to realize how much they care for each other and at least hook up. But with this tremulous territory comes frustration and anger with both the characters and us readers.
The paranormal part in this story really merits 5 stars. It does. This installment was terrifying. I am not using that term lightly. It terrified me.
But, and this is a heavy but, the tension between Dex and Perry was a little obnoxious at times. Get over it Perry, he has a girlfriend. I know what it's like to be into a guy who has a gf, we have probably all been through it, but she has taken the cute crush/love and turned it into something that can only be deemed slutty. I love Perry, she's an awesome character and a lot like me, but it doesn't excuse trying to get with a guy in a 'serious' relationship.
Something else has been nagging at me since I started Experiment in Terror as well, and until now, it's been hazy and not quite clear as to what that something is…but, it's now crystal clear: I am a flawed reader. Look at this scenario and tell me I am not perfectly flawed in my feelings and expectations:
-Dex has a girlfriend.
-Perry is in love with Dex.
-Dex is most likely 'in love' with Perry.
See, this doesn't quite add up…I want these two to partake in the hanky panky department and Dex to drop his bitch of a girlfriend. Not in any particular order. Is it wrong that we readers root for the main characters to be together even at the expense of another [secondary] character? Even when one of these main characters has a other half that they used to/do care about? Are we seriously suggesting the main characters cheat? What does that make us? Hypocrites? If this was in real life, these people would be dubbed slut/manwhore. It seems that in literally every book, we root for two people to be together no matter what the consequences of the situation will be, and I feel it more and more as the series continues. I love Romance, and this is technically a horror/romance story. And that's what this whole thing is: a story. They're not really cheating, and nothing bad is really happening to anyone.
Don't get me wrong. I am still rooting for Peclan, but it doesn't mean I haven't realized how wrong it seems-especially with this particular series. Now that that's under my belt, I must say: the steam factor was through the roof in at least one scene. I loved it! It was built up sexual tension and it was a much needed 'release'. I think readers will be satisfied, at least for a moment.
Now-the scare factor? 10/5 stars. I about died. Everything that scares me to the core was in this book. I thought-"oh, no buddy read on this one? Ok, I'll be fine. The last two were scary, but I handled them pretty well. Piece of cake." WRONG. This book scared me so deeply that I threw my Nook down on the bed and turned up the tv as loud as I possibly could without waking the bf. I couldn't stop my labored breathing and my erratic heartbeat from a certain scene that gave me the chills, and I couldn't stop looking over my shoulder or to the side of the bed. I stared straight ahead every time I would go to the restroom, and my heartrate would accelerate yet again after I had already gotten it partially calmed down. Now, this might seem dramatic to those who like this kind of book and are used to it-but I am not, and little girl ghosts are my number one creep-out factor. Gah. I had to finish during the day, and even then I had to keep looking out of the corner of my eye. To say that I was scared to death was an understatement, and I truly am astonished I fell asleep.
So, all-in-all a very good read. It gets under your skin and makes you think twice about getting up to pee in the middle of the night. I love Dex and Perry, I do, and nothing can deter me from rooting for their relationship to move forward. They are flawed and they are real. It is a very refreshing change. I just wish View Spoiler » Dex hadn't gone to a strip club at the first sign of problems with Jenn. Perry might be 'impressed', but I was repulsed with his actions and had to really force myself to drop it once they got on the island. He took sleaze to a whole new level with that maneuver. « Hide Spoiler I can't wait to start the fourth installment, Lying Season, but I have to wait on my buddy read…buddy (lol) to even begin what are supposed to be the scariest books in the series yet. Yikes.
Related Posts