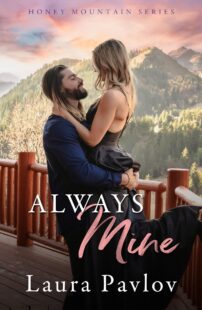 Always Mine
(
Honey Mountain #1
)
by
Laura Pavlov
Purchase on:
Amazon
Add to:
Goodreads
Synopsis:

He fights fires for a living, but the flames building between us may be too big to extinguish.

Niko West is the most beautiful man I've ever laid eyes on.
Six feet, four inches of broody, chiseled Greek god in a firefighter suit.
He's also been my best friend since kindergarten.
He always says the only solid thing in his life is our friendship.
He's Honey Mountain's favorite player and I'm what you'd call a relationship girl.
But when I find myself single for the first time since turning sixteen, I make Niko an offer he can't refuse.
Who better to show me what I've been missing?
But now that we've crossed that line, I don't know if friendship is enough for me.

**This is book 1 in the Honey Mountain Series. Each one can be read as a complete standalone. A HEA is guaranteed!**
Review:
Always Mine was a charming, friends to lovers romance. It was set in a beautiful town, that I pictured as the Donner Lake area. And with that small town charm, adorable characters, and a storyline that was easy to devour, this was such a quick read! I buddy read this friends and there was lots to talk about. Including some of the hiccups I had too.
Vivian had been the only good thing in my life for as long as I could remember. My only constant. I'd never fuck that up.
Niko West had the weight of the world on his shoulders. He had put his life on hold to take care of his mom and sister when his dad had gone to jail. And his childhood hurt my heart. His dad had abused him. A lot of times he would escape to Vivian's house and sneak into her bedroom window to find solace with his best friend. Now as an adult, he had so much responsibility on his shoulders taking care of his sister, niece and mom. All while being a firefighter. Thankfully his bestie Vivi was still a shining star in his life. And I loved how the guys at the firehouse were there for him too.
"One time, Honey Bee. Then we go back to normal," I said against her ear, nibbling on her lobe before I could stop myself.
Vivian had also put her life on pause while helping take care of her family. I adored her large family of sisters and her dad who was the head of the fire department. She was a baker and was so easy to click with. So when she found herself finally single, she propositioned Niko something he couldn't refuse. She wanted him to teach her what she'd been missing. I loved that she spoke her mind. I love that she was bold and brave. When Vivi and Niko were together, they were so sexy and cute together. Their friendship was beautiful and I loved how they would do anything for each other. But when you mix friendship and more, the lines get very blurry and grey. Yet there wasn't a lot of angst between them. The struggles in this book were found with other characters.
She was the light that shined through all of the darkness.
With friendship, jealousy, small town drama, family and love, this book had a lot going for it. There was a scene that left my palms sweaty and nervous for who was going to be okay. A few other moments that made me have tears in my eyes. And I didn't expect there to be so many steamy scenes, which played in nicely. The story ended with a wonderful happily ever after and set us up to want her sister's stories in the future books. Yet I had a few hiccups. I struggled with Niko's mom, although hate would probably be a better word to describe how I felt towards her. And there weren't visual descriptions about the characters. So while they easily stood out by name, I struggled seeing them in my head. And when I read a book I want it to play out like a movie in my head.  That could never happen. So I may give the next book a try, or not.  I haven't decided yet.
Tragedy had a way of reminding you how precious life was.
Reminding you about what mattered most.
About what was most important.
Love and family were everything.
Related Posts