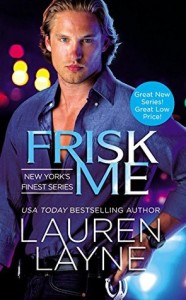 Frisk Me
(
New York's Finest #1
)
by
Lauren Layne
Purchase on:
Amazon
, 
iBooks
Add to:
Goodreads
Synopsis:

Officer Luc Moretti had no idea that his dive into the East River would have him drowning in a media frenzy. No matter how many times he tells reporters he was just doing his job, they're determined to make him into NYC's newest hero. Coming from a long line of NYPD's finest, Luc knows that being a cop has nothing to do with headlines and viral videos, and he's more than ready to get back to life away from the cameras—until he meets the gorgeous but jaded journalist assigned to film a TV special on him.

Ava Sims may be the only woman in NYC who isn't in love with Officer Moretti. That's why she's going after the real story—to find out about the man behind the badge. Ava's determined to keep things strictly professional, but the more time she spends around Luc, even she has to admit there's something about a man in uniform . . . and she can't wait to get him out of his.
*ARC provided by Publisher in exchange for an honest review*

"I love being a cop, but I love you more. I'd give up being everybody else's hero, if you'll just let me be yours."

It doesn't take much for a book to make me happy these days-I'm much pickier and have fifty times the rules I used to. But, in doing so, I've found what works. It's not enough to have a cute boy and a lonely girl and some raunchy love scenes-I need essence. I need a beating heart between each and every page and I want that pulse to continue all the way through the end….Okay, maybe it does take a lot for me to be happy.
But the point in all of this is simple: I am much pickier-therefore, I find more books I enjoy because I sift past the bullshit that used to please me. My tastes have evolved and I have learned what makes a true author. Again, it's not about making lovable characters, though that is tantamount to the essence of a great plot, but making them come alive-making you live and breathe with them, become them, feel each heart break and quarrel as if you are right there living it with them. Just as I mentioned above-the author has to be able to give the characters a pulse-and Lauren Layne is the QUEEN of all these things.
Luc's eyebrows lifted. "Old? You're what, twenty-five?"
"Twenty-eight. And don't start in on me about how I'm a spring chicken with my whole life ahead of me, because time and age work differently in TV."
"If I look like the type of guy that would use the phrase 'spring chicken,' I need to do some serious reevaluating of my manliness."
I had mentioned earlier that I skip over tons of books these days, but not once have I thought to evade a Layne novel. It's not often you find a favorite author who, despite the odds, never disappoints you. Many times you wait and wait and wait for that third book in a trilogy, only to be disappointed when your high expectations are crushed after such a long journey. I'm not going to lie-I have a 'phobia' (I say this loosely) of third books in my fantasy/dystopian/sci-fi series-I am so picky and they almost never hold up to my standards and I walk away with a heavy heart. But my favorite author here, she never lets me down. I don't sit and stew about whether it will work, won't work, will disappoint me…I just wait.
I sit and wait for netgalley, or whomever, to release the request for a LL novel and I immediately click that beautiful green 'request' button. Haven't read the blurb yet? Who cares. I know, without a doubt, she could write about towelie and the return of Mr. Hankey, the Christmas Poo, and I wouldn't bat an eyelash before I requested/read it (though, that would certainly create a lot of trademark problems, I would imagine).
"Not really," Sawyer said, giving her an apologetic pat on the hand. "So. Who wants to tell me? Are we talking accidental boob brush?"
Ava gave him a glare.
Sawyer's eyebrow lifted. "Full on cop-a-feel? Duuude." He reached over to fist-bump Luc, who batted his hand out of the way.
Luc's partner grinned and drained his beer. "This is nice. Me, Superman, Lois Lane, and unfilled lust."
I always fangirl over Ms. Layne, but until she gives me a reason not to, I won't stop. I was skeptical, I'll admit, about this story. It might be the cover (sorry sorrryyyy!!!! (hides face)), seeing as I am a cover whore, but I dunno, I just always wonder how she will tackle a new story line. In this new series we have Luc Moretti, officer in NYC, and Ava Sims, reporter (AKA his worst nightmare).
But hey, bright side…at least now she knew what an ID was in cop-speak: Indecent exposure.
It also explained why Luc Moretti had changed his mind about letting her tag along. He thought she'd be scared off.
Please. It would take a hell of a lot more than a flaccid penis on a disorderly drunk to scare her off the story.
As the blurb touts, Luc isn't a cop for the fame, the viral videos, the glory…he just wants to help others-to save and protect them at any cost. But one day his need to be anonymous is obliterated when a video of him risking his life to save a little girl goes viral and CBC sends a reporter to do an 'American Hero' story on him.
"Nope." He moved closer, shifting so that his upper body leaned into hers. "We start with interrogations."
"And then?" Her voice was flirty and light, but her eyes were pure heat.
His gaze dropped to his hand, which had found its way to her knee somehow.
"Depends. If the cop's skilled at interrogation, things generally progress to handcuffs…and other things. If the cop's unsuccessful…"
Luc broke off and shrugged.
Ava looked at him over the top of her wineglass. "Which one are you? The skilled interrogator or the other?"
"Depends."
"On."
He leaned in and pressed his lips to her ear. "Whether or not you like handcuffs."
The animosity that ensues when sexy reporter Ava Sims steps on the scene is palpable, even as officer Luc Moretti pleads to his boss not to let this happen. But, more than that, not only does Luc and Ava's hateful banter ring somewhat false, there are sparks, there is heat, there is chemistry, there is….recognition?
He would do his duty. He always did his duty. With pride.
Luc was absolute perfection (see my profile, section 3, BBF list, seventh down), but aren't her male leads ALWAYS? His inner turmoil and broken torment are hid beneath a thin veil of sarcastic remarks and well-placed smirks that keep people content and distracted from what's really there. His mind and soul aren't at peace and his heart is heavy-there are darker sides to being a cop, but he is still the sweetest and kindest of his brothers-always the peace maker, always the one people want to talk to….Enter Ava.
"Sims, we've spent every day of the past week together. You're practically my second partner on the job, even if you're in the way more often than not."
"Hey!"
He held up a hand to stop the protest. "No. You are, and you know it."
She huffed. "I just wanted to turn on the siren once. Just to try it."
"Uh huh. You're telling me it had nothing to do with the fact that it was rush hour and you had to pee?"
Ava Sims gets on every last one of Luc's nerves-history has them bickering constantly and snarky towards one another every chance they get. But then we get to see little bits and pieces of Ava that the world doesn't get to see-her slightly skewed, too large glasses, her yoga pants, her damp ponytail and general lack of productiveness on the weekends-and that's when I started to warm up to her. There was never anything wrong with her per se, but I also didn't connect with her much at first. Then we began to see this sloppy Ava who, for all of the above reasons, reminds me of my little sister-slop extraordinaire. I swear to god, that is my sister down to a tee, and I LOVED THAT about Ava. I felt this tiny little connection that made me smile as I imagined my sister like this every Friday night after a long work week of dressing up and playing a part.
"Did I mention Miss Sims and I have a history?" he said, knowing it would be exactly the kind of topic change that she would latch on to.
Nonna's gray eyebrows lifted. "Did you fornicate?"
Luc choked on his beer. "Jesus, no. And there should be a ban against that word."
"Don't be prudish, Luca."
So, yeah, this isn't my favorite LL novel (I think Blurred Lines might be (maybe?) There are too many-maybe After the Kiss or Broken or The Trouble with Love), but that doesn't mean I didn't reach my happy place-because I did. And with a Grandma like Nonna-Oh my GAHD did I laugh out loud with this woman when she and Luc had their hilarious conversations-how could you not laugh and smile constantly? I swear, even if you aren't prone to laughing out loud like myself, you will-It's an inevitability because….yoga. Anyway, I can only hope that everyone finds as much happiness out of this book as I did. The tears were falling and my heart was soaring-I was in heaven.
Reading Order & Links:
Amazon (click on covers), iBooks (click on titles) & Book Depository (click on book #)
***Each book can be read as a standalone, but best enjoyed in order.***

Frisk Me #1
Reviews:
Chelsea
Jen

Steal Me #2
Reviews:
Chelsea

Cuff Me #3
Reviews:
Chelsea
*****************************

"I love being a cop, but I love you more. I'd give up being everybody else's hero, if you'll just let me be yours."

I mean…how could I not give it 5 stars? Come on.
Review to come
ARC provided by Netgalley in exchange for an honest review 😀 😀
Related Posts