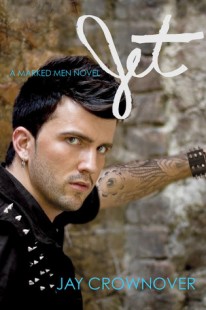 Jet
(
Marked Men #2
)
by
Jay Crownover
Purchase on:
Amazon
, 
iBooks
, 
Book Depository
Add to:
Goodreads
Synopsis:

With his tight leather pants and a sharp edge that makes him dangerous, Jet Keller is every girl's rock and roll fantasy. But Ayden Cross is done walking on the wild side with bad boys. She doesn't want to give in to the heat she sees in Jet's dark, haunted eyes. She's afraid of getting burned from the sparks of their spontaneous combustion, even as his touch sets her on fire.

Jet can't resist the Southern Belle with mile-long legs in cowboy boots who defies his every expectation. Yet the closer he feels to Ayden, the less he seems to know her. While he's tempted to get under her skin and undo her in every way, he knows firsthand what happens to two people with very different ideas about relationships.

Will the blaze burn into an enduring love. . . or will it consume their dreams and turn them to ashes?
Review:
Ayden – We were two people forever marked by those around us, and it hurt to know it was enough to keep us apart.
Jet was a sweet love story that made me smile as I closed the book.  The slow build of their relationship, their banter that had me laughing out loud, and the drama that came crashing down on them made me care for both of them.  Shockingly, I had to wipe the tears from my eyes from time to time and that just made me fall for Ayden and Jet's story that much more.  I am so glad that I continued on with this series!
Ayden – When I looked at him I had a hard time remembering the rejection and what I should be doing and instead let his wicked grin ruin all of my self-control.
Thankfully we get to start back at THAT night. The night where Ayden throws herself at Jet and Jet of course turns her down. Finally we get to understand what was going on in Ayden's head. We get to see why she became so withdrawn and why the whole experience shook her to her core. And of course it gave us insight into her infatuation with the hard-core rocker. I loved that the book started at that scene! Then we fast-forward one year later where Jet is now living with Ayden and Cora.  We get to feel the sexual tension and watch what makes them tick, explode and run.
Ayden – Jet was going to undo me in every way he could, and I just didn't know if I was going to be able to stop him.
Jet – I thought she was going to look remorseful or ashamed; I wasn't prepared for her to be mad. Those whiskey eyes lit with a fire I had never seen in her and before I could react, she slapped me across the face hard enough to make my back teeth rattle and my face flame.
Jet has so much more going on than one would ever think. The outside that he shows the world doesn't even hint on how potent and intense he is on the inside. When he starts pulling back the layers and allowing you into the core of himself, wow, you almost need to step back by the intensity of it all. He is filled with so much rage, so much talent and so much passion that it's a lot to take in. His accumulation into this person is partly because because an aspect of his life is so depressing, so unfair and the weight of it is crushing him into the ground. Jet is one very conflicted, complicated person and for me I never really knew what he was going to do next.
Ayden – Who I was and who I wanted to be were being torn into separate parts, and the me that was left was vulnerable and raw, I had no idea how to stitch it all back together again, or even if I wanted to.
Jet – None of us is shooting sunshine out of our asses, girl, so I don't know why you think you should suffer alone.
Oh Ayden, I just loved that girl, huge mess and all! She made me smile, laugh and her "I'm not going to be some defenseless little girl" attitude made me love her even more. Ironically, Ayden reminded me of the opposite of what Shaw was trying to mold herself into in Rule. Where Shaw was portraying to the world what she thought others wanted her to be, Ayden was portraying to the world the exact opposite of what others wanted and expected her to be.  Coming from a shady past that constantly haunted her and in her desperate need to have that past fade away forever, she created the current Ayden.  But they say you can't always outrun your past, and unfortunately Ayden is no exception to that rule.
Ayden – It would take torture to get me to admit it, but my main goal in life was to see how far down that damn angel tattoo went, and to trace the entire thing with my tongue.
Together they are nothing short of endearing and I liked watching Jet and Ayden interact. They are both two broken souls that are just trying to figure out how to put all of their pieces back together.  It was funny, sad and frustrating but I thoroughly enjoyed their story and I will definitely be continuing on with the series.
P.S. The song used on Page 93 was so WRONG and HYSTERICAL. I couldn't stop laughing, shaking my head and shouting no, no, no!
Reading Order & Links:
Amazon (click on covers), iBooks (click on titles) & Book Depository (click on book #)
***Each book can be read as a standalone, but best enjoyed in order.***

Rule #1
Reviews:
Jen

Jet #2
Reviews:
Jen

Rome #3
Reviews:
Jen

Nash #4
Reviews:
Jen

Rowdy #5
Reviews:
Jen

Asa #6
Reviews:
Jen
Related Posts