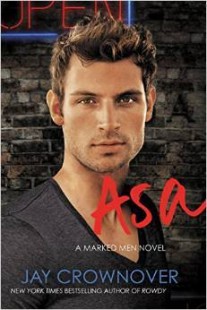 Asa
(
Marked Men #6
)
by
Jay Crownover
Purchase on:
Amazon
, 
iBooks
Add to:
Goodreads
Synopsis:

Starting over in Denver with a whole new circle of friends and family, Asa Cross struggles with being the man he knows everyone wants him to be and the man he knows he really is. A leopard doesn't it change its spots and Asa has always been a predator. He doesn't want to hurt those who love and rely on him, especially one luscious arresting cop who suddenly seems to be interested in him for far more than his penchant for breaking the law. But letting go of old habits is hard, and it's easy to hit bottom when it's the place you know best.

Royal Hastings is quickly learning what the bottom looks like after a tragic situation at work threatens not only her career but her partner's life. As a woman who has only ever had a few real friends she's trying to muddle through her confusion and devastation all alone. Except she can't stop thinking about the sexy southern bartender she locked up. Crushing on Asa is the last thing she needs but his allure is too strong to resist. His long criminal record can only hurt her already shaky career and chasing after a guy who has no respect for the law or himself can only end in heartbreak.

A longtime criminal and a cop together just seems so wrong . . . but for Asa and Royal, being wrong together is the only right choice to make.
Review:
That was the perfect ending to such a pleasurable series.  Not only did we get to watch Asa's incredible story unfold, but we also got snippets of all of the other characters that we love.  As if that wasn't enough, we were left with an amazing epilogue!  Happy tears were falling down my face, and I honestly could not be more satisfied with the way this series ended!
To say that Asa had lived a hard life would be an understatement.  Asa went to jail, played people, and did beyond horrific things that earned him that spot in the hospital bed back in Jet's book.  It took him almost dying and his sister giving him a second chance for him to see the light.  He finally wanted to at least try and live his life on the law abiding side.  Asa and Royal are in the same circle of friends, and there's no denying their underlying current of chemistry.  But Royal is a cop who has arrested Asa in the past.  After a horrifying event went wrong on a call, Royal wants Asa.  She doesn't want to fight her feelings anymore, and Asa should be a sure thing right?  But it's not so simple, and the fun has just begun!
I was ecstatic to read our southern charmer's story, because Asa had already won me over in the previous books!  And honestly, he made me grin constantly.  I didn't care that he was a criminal.  I didn't care that he automatically wanted to do what was "wrong" and had to fight those daily urges.  He was alluring, dark, charming, hot and I had already fallen right into his trap.  And when the good sides of him peeked out, oh my goodness he was amazing!  But at the same time, he made me want to fix him.  He had a tainted view of himself from his past actions, and did not see himself as redeemable or that he deserved anything good in his life.  Even if that good made him exceedingly happy.  I think that's one of the reasons he started to test Royal.  And while it hurt my heart to watch it all unfold, I loved how Royal reacted!
Just like Asa, I loved Royal when we met her in some of the previous books.  She was smart, straight forward, made me laugh, and I could not wait to see what she was going to say or do next. It warmed my heart that she pushed Asa to try and see himself differently.  And I was rooting for her from page one, even while she struggled immensely with an action she watched unfold.  While they were both wonderful separately, when Asa and Royal were together they were electric!  Their level of sexual tension was through the roof hot!  And when it finally proceeded down that avenue, I didn't know if fanning myself was enough since you could literally feel their heat radiating off of the pages.  Their chemistry of course led to one of my favorite scenes being about a shower and a cracked door.  WOW, I've never read anything like that before! *claps out loud*
I am sad to say goodbye to these characters that I adore and love.  But with the Saints of Denver coming next year, it looks like we might get a peak here and there of our beloved crew.  But till then, it warmed my heart to see how much everyone has grown over time.  That each one of our Marked Men got their own version of a happily ever after!  It's been a great journey, and I am so happy that I got to discover their world!
P.S. I love that Royal loved pop music and Britney Spears!  I always get a song or two stuck in my head that reminds me of the storyline while reading a book.  For Asa and Royal's story it was Criminal and Toxic.  And I literally screamed out loud when Jay Crownover had Toxic on Asa and Royal's Playlist haha!  Of course their playlist was my favorite of this series!
*ARC kindly provided by HarperCollins via Edelweiss in exchange for an honest review*
Reading Order & Links:
Amazon (click on covers), iBooks (click on titles) & Book Depository (click on book #)
***Each book can be read as a standalone, but best enjoyed in order.***

Rule #1
Reviews:
Jen

Jet #2
Reviews:
Jen

Rome #3
Reviews:
Jen

Nash #4
Reviews:
Jen

Rowdy #5
Reviews:
Jen

Asa #6
Reviews:
Jen
Related Posts