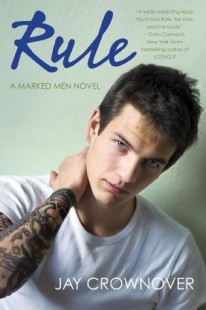 Rule
(
Marked Men #1
)
by
Jay Crownover
Purchase on:
Amazon
, 
iBooks
, 
Book Depository
Add to:
Goodreads
Synopsis:

Sometimes opposites don't just attract – they catch fire and burn the city down

Shaw Landon loved Rule Archer from the moment she laid eyes on him. Rule is everything a straight-A pre-med student like Shaw shouldn't want – and the only person she's never tried to please. She isn't afraid of his scary piercings and tattoos or his wild attitude. Though she knows that Rule is wrong for her, her heart just won't listen.

To a rebel like Rule Archer, Shaw Landon is a stuck-up, perfect princess – and his dead twin brother's girl. She lives by other people's rules; he makes his own. He doesn't have time for a good girl like Shaw – even if she's the only one who can see the person he truly is.

But a short skirt, too many birthday cocktails and spilled secrets lead to a night neither can forget. Now, Shaw and Rule have to figure out how a girl like her and a guy like him are supposed to be together without destroying their love…or each other.
Review:
What a sexy, amazing, touching book. I loved everything about it and I was so sad when it ended because I just couldn't get enough of Rule and Shaw! Rule Archer and Shaw Landon have been friends, errr more like acquaintances, since middle school. She was his twin's best friend and his family fell head over heels for her. They all loved her as one of their own, well everyone except for Rule. Over the years he more or less ignored or tolerated her. Then one drunken night Rule and Shaw went past the bounds of their 'friendship' and are now left struggling where to go from here.
Shaw – You have always been determined to make everyone who cares about you prove it beyond a shadow of a doubt. You've never wanted to be easy to love, Rule, and you make damn sure that nobody can ever forget it.
Rule – My mother looked at me with tears in her eyes and stated point-blank, "It should have been you" as they lowered Remy into the ground.
Rule is the epitome of a douche bag, man whore and a charming, sexy bad boy all rolled into one. With his countless hairstyles (gah he makes mohawks so sexy!), body piercings and tatted up body, he is one of those people that oozes sex appeal. He is THAT type of man that everyone shamelessly stares at when he walks into a room. He is THAT type of man that you can't help but feel magnetically pulled to. But his problem? Oh man, he has baggage. Two enormous issues to be specific. And living this type of douche baggery, man whoring lifestyle helps him cope with those demons. They help to diminish the mind numbing pain of missing his twin and being a constant failure in his parent's eyes. Rule struggles on a daily basis knowing that not only is his twin dead but that his parent's constantly throw in his face that he is NOT his twin. Every time they look at him they see everything they lost and everything that he is not. Drowning himself in woman and alcohol helps him feel better, if even for a moment.
Rule – It made me a little nervous that when she didn't have all of her guards up and all her haughty defense mechanisms in place, she seemed so fallible, so undeniably human, so approachable, and so…attainable.
Shaw – I loved Rule like it was my mission in life. I loved him like it was inevitable, like no matter how many times I was shown what an awful idea it was, what a bad match we were, what a callous asshole he could be, I couldn't shake it.
Shaw is classy, rich, gorgeous and loyal. She is on her way to becoming a doctor, and has the world at her fingertips. On the outside, Shaw's life looks absolutely perfect. On the inside she is a mess, a huge mess. She is constantly struggling to live up to everyone else's expectations. Her actions and choices are not what she wants but what others would expect of her. Unfortunately she shoves her needs and wants under the rug. And what does she want more than anything – Rule. She has been in love with Rule since the moment she first saw him. But loving Rule Archer would never be allowed in her parent's world. Her parents are cold, calculating and love is irrelevant in their book. Heck, Shaw was solely conceived because she would be a tax deduction. That's why she feels so eternally grateful to the Archer family. When she became immersed with the Archer's, she finally understood what a family should be. And because of this, she will do anything to make them happy.
Shaw – All I had ever wanted in life was to affect him, to get him to feel something, anything, other than simple tolerance for me.
Every Sunday Shaw endures the sight of seeing Rule hangover, naked, and with some girl(s) in his bed. She feels as though it is her obligation to gather his discombobulated crazy self and take him to his parent's house for their weekly dinner while her heart breaks a little more. This is how the book starts and I loved every minute of this twisted, steamy read! Rule and Shaw's interaction were electrifying and I loved that every other chapter we got to be in either Rule or Shaw's head. It made me that more attached to the two of them. The other characters in the book were amazing also.  Now I'm off to read Jet's story, yay!
Reading Order & Links:
Amazon (click on covers), iBooks (click on titles) & Book Depository (click on book #)
***Each book can be read as a standalone, but best enjoyed in order.***

Rule #1
Reviews:
Jen

Jet #2
Reviews:
Jen

Rome #3
Reviews:
Jen

Nash #4
Reviews:
Jen

Rowdy #5
Reviews:
Jen

Asa #6
Reviews:
Jen
Related Posts