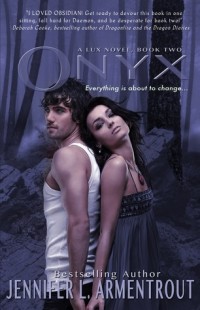 Onyx (Lux #2)
by Jennifer L. Armentrout
Purchase on: Amazon, iBooks, 
Book Depository
Add to: Goodreads


I ABSOLUTELY LOVED Obsidian, and I loved Onyx. But I wasn't AS wowed when I finished as when I finished the first. This one was great, but I guess it just bothered me a tad, and I say a tad because I know it shouldn't all just work out perfectly right away, that Katy would not admit her feelings for Daemon. I mean, come on, just admit it! That part drove me crazy. And normally I could care less in a romance if there is lack of girlfriends, but I truly missed Dee in this one.
She was hardly in it and she is just the sweetest thing..weird thing to say I know, but she was so nice and fun in Obsidian that I missed her spunk in the second. I guess that made an impact of the intensity of the novel as well. And, as per her first book, there was another cliff hanger at the end of this one that had me scrambling yet again to another Wi-fi area to download book 3, Opal. I know there will be yet another cliff hanger at the end of Opal and it has me asking myself-What will I do when done with this third book..considering the fourth installment does not come out until July?…
Related Posts