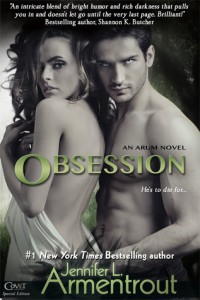 Obsession
(
Lux #4.5
)
by
Jennifer L. Armentrout
Purchase on:
Amazon
, 
iBooks
Add to:
Goodreads
Synopsis:

He's arrogant, domineering, and... To. Die. For.

Hunter is a ruthless killer. And the Department of Defense has him firmly in their grasp, which usually doesn't chafe too badly because he gets to kill bad guys. Most of the time he enjoys his job. That is, until he's saddled with something he's never had to do before: protect a human from his mortal enemy.

Serena Cross didn't believe her best friend when she claimed to have seen the son of a powerful senator turn into something...unnatural. Who would? But then she witnesses her friend's murder at the hands of what can only be an alien, thrusting her into a world that will kill to protect their secret.

Hunter stirs Serena's temper and her lust despite their differences. Soon he's doing the unthinkable breaking the rules he's lived by, going against the government to keep Serena safe. But are the aliens and the government the biggest threats to Serena's life...or is it Hunter?
Review:
I always thought everything was black and white while reading the first four books in the Lux Series. Arum are the bad guys and the Luxen are of course the good guys. How could it be anything else? But after reading Obsession, my little world has been shaken around and everything isn't black and white anymore. It is all a huge shade of gray. So of course my mind is backtracking, re-thinking all of those scenes where the Luxen and Arum interacted in the previous books. It's not how I thought it was at all. I'm so glad we got to meet Serena and hear Hunter's story so we could understand the "bad" alien's plight.
"Are you done acting like a psychotic, cracked-out Muppet baby?" he asked, and I could tell by the way his fingers spasmed around my wrists, he really wanted to shake me. "Or do you need a couple more moments to return to sanity? I have all day. And you actually feel kind of good under me, so take your time.
Serena's best friend confesses that the guy she was seeing is an alien. Not only did she overhear him and his brother arguing about Daedalus and Project Eagle, but she saw them turn into light bulbs. She's desperately afraid that they are after her because she knows their secret. After a turn of events, Serena no longer thinks her friend is so crazy. She watched her friend get brutally murdered by one of those "light bulbs". Scared out of her mind and thanks to the DOD she is ends up being stuck with Hunter as her protector. Because who would be the best person err alien to protect her from a Luxen? An Arum of course!
Hunter – I smiled then – a big, toothy idiotic smile – and Serena didn't see it. Her eyes were closed, which was good, because I was turning into one big vagina.
Hunter was inappropriate in so many different ways and I couldn't help but love him for all of his flaws. He was cocky, demanding, horribly blunt, never understood personal boundaries, patience would never be one of his virtues, and he had to have the dirtiest mind on the face of the planet. Wait, that last one is absolutely not a flaw! Hunter was seriously obsessed with anything and everything related to sex and his internal thoughts always cracked me up. But he had such a dark side to him. It almost felt at times as though it would swallow him whole. And during those times, I ached for him as he tried to fight his true nature. As he tried to fight the coldness that lived inside of him, the coldness that would try to overpower him and force his human side to slip away. But he tried his hardest to be good for Serena. The times where he would fight his inherent nature, oh wow, he was amazing! There's a scene where he gently puts a tshirt on Serena and I couldn't help sighing out loud. He had so much potential and I kept hoping that he would win the battle to fight his demons so we could see what would happen between the two of them.
Serena – High-stress situations amplified emotions. I knew this, and yet I'd allowed myself to fall for the extraterrestrial asshole.
I couldn't help but like Serena. She reminded me so much of Katy. Her sassiness, spunk and ability to stand up to Hunter had me applauding for her. I don't like my heroines to be doormats and Serena definitely had it in her to always throw it right back in Hunter's face when he was being I'm-the-most-amazing-specimen-on-the-face-of-the-planet. And the chemistry between the two of them was hot! Sometimes a little too hot for my liking, I'm still getting use to stories having A LOT of steam in them, but I still enjoyed every moment that Hunter and Serena were together.
Hunter – Somehow, in the relatively short time I'd known Serena, she had wiggled her way into my cold body. She was my light, my warmth and I wasn't ready to let her go.
I am anxious to see how Serena and Hunter will fit into the final book. Will they help or hinder Katy and Daemon's plans? I have some ideas of how they will appear in the final book, View Spoiler »Hunter owes Luc a favor. Luc has to call out his favor in the final book, right?! « Hide Spoiler but only time will tell. I am extremely happy this book was added into the Lux Series. Understanding the history and learning more about the Arum was fascinating. I'm so glad I got to learn that the battle between the Arum and Luxen isn't as black and white as I originally thought. There will always be good and bad within each race. And I can't wait to see how their future unfolds.
Reading Order & Links:


Amazon

(click on covers),

iBooks (click on titles) & Book Depository

(click on book #)


Shadows #0.5
Reviews:
Jen

Obsidian #1
Reviews:
Jen
Chelsea

Onyx #2
Reviews:
Jen
Chelsea

Opal #3
Reviews:
Jen
Chelsea

Origin #4
Reviews:
Jen
Chelsea

Obsession (Companion novel) #4.5
Reviews:
Jen
Chelsea

Opposition #5
Reviews:
Jen
Chelsea

Oblivion #Companion Novel
OBSIDIAN, ONYX & OPAL
Told by Daemon Black
Reviews:
Jen

Related Posts