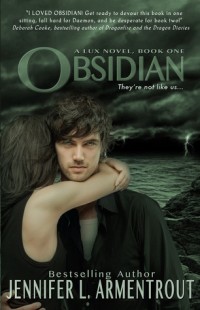 Obsidian

(Lux #1)
by Jennifer L. Armentrout
Purchase on: Amazon, iBooks, 
Book Depository
Add to: Goodreads


Ok, it has officially been a week since I finished this-I was in Antigua so no Internet connection to review….but even after a week I am still shocked into O M G mode that this book was so damn good.
I really figured it would be corny and just another YA paranormal romance. I was wrong. I loved Daemon, I loved Katy, and I loved Dee. I loved them all, which is very rare. Katy was a realistic heroine figure and she never once got on my nerves. Daemon….was definitely a douche..but I STILL loved him and hey, lets be realistic-I knew better than to fall for his facade. This book had it all-Suspense, romance (of course), a huge, dramatic fight-to-the-death scene at the end, and a cliff-hanger that had me cursing out loud that I was in another country and could not buy the second installment in the series. Needless to say, the minute I landed in the states I was seeking out Wi-fi connectivity in-between flights to get started on the second book in this awesome series. Loved it-another favorite added to the shelf.
Reading Order & Links:


Amazon

(click on covers),

iBooks (click on titles) & Book Depository

(click on book #)


Shadows #0.5
Reviews:
Jen

Obsidian #1
Reviews:
Jen
Chelsea

Onyx #2
Reviews:
Jen
Chelsea

Opal #3
Reviews:
Jen
Chelsea

Origin #4
Reviews:
Jen
Chelsea

Obsession (Companion novel) #4.5
Reviews:
Jen
Chelsea

Opposition #5
Reviews:
Jen
Chelsea

Oblivion #Companion Novel
OBSIDIAN, ONYX & OPAL
Told by Daemon Black
Reviews:
Jen

Related Posts