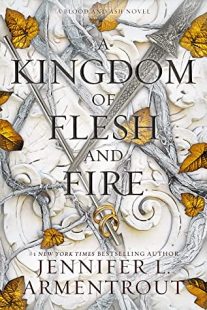 A Kingdom of Flesh and Fire
(
Blood and Ash #2
)
by
Jennifer L. Armentrout
Purchase on:
Amazon
, 
iBooks
Add to:
Goodreads
Synopsis:

Is Love Stronger Than Vengeance?

A Betrayal…

Everything Poppy has ever believed in is a lie, including the man she was falling in love with. Thrust among those who see her as a symbol of a monstrous kingdom, she barely knows who she is without the veil of the Maiden. But what she does know is that nothing is as dangerous to her as him. The Dark One. The Prince of Atlantia. He wants her to fight him, and that's one order she's more than happy to obey. He may have taken her, but he will never have her.

A Choice….

Casteel Da'Neer is known by many names and many faces. His lies are as seductive as his touch. His truths as sensual as his bite. Poppy knows better than to trust him. He needs her alive, healthy, and whole to achieve his goals. But he's the only way for her to get what she wants—to find her brother Ian and see for herself if he has become a soulless Ascended. Working with Casteel instead of against him presents its own risks. He still tempts her with every breath, offering up all she's ever wanted. Casteel has plans for her. Ones that could expose her to unimaginable pleasure and unfathomable pain. Plans that will force her to look beyond everything she thought she knew about herself—about him. Plans that could bind their lives together in unexpected ways that neither kingdom is prepared for. And she's far too reckless, too hungry, to resist the temptation.

A Secret…

But unrest has grown in Atlantia as they await the return of their Prince. Whispers of war have become stronger, and Poppy is at the very heart of it all. The King wants to use her to send a message. The Descenters want her dead. The wolven are growing more unpredictable. And as her abilities to feel pain and emotion begin to grow and strengthen, the Atlantians start to fear her. Dark secrets are at play, ones steeped in the blood-drenched sins of two kingdoms that would do anything to keep the truth hidden. But when the earth begins to shake, and the skies start to bleed, it may already be too late.
Review:
A Kingdom of Flesh and Fire was an epic continuation of the Blood and Ash Series. This story brought out all of my emotions! The laughter constantly floated out of me, I cried more tears then I could count, my smile was a permanent fixture on my face and at times uncertainty pooled in my chest. I loved every single minute of it! If you're a fan of addictive fantasies, fearless heroines and the most enticing of book boyfriends, then you definitely need to add this one to your tbr!
He was both the villain and the hero, the monster and the monster-slayer.
This book picked up right where From Blood and Ash stopped. Deceit and lies swirled around Poppy. So much of what she thought was true wasn't. Her Kingdom, Hawke, to even herself. My heart ached watching her come to terms with it all. But Poppy persevered. She was brave, fearless and faced challenged head on. She was someone that you could look up to and respect. And I loved listening to her voice as we traversed this new chapter of her life with her. Especially anytime she was near Casteel.
"Most people aren't as insane as you," I said in a throaty voice that wasn't mine.
"That's not a very nice thing to say." He scraped harder with his sharp teeth, just below where he'd bitten me before, and I gasped as my body jerked. "And the truth is, you like my brand of insanity."
My blood pounded through me in a dizzying push. "I don't like anything about you."
He laughed as his lips skimmed the side of my throat. "I love how you lie."
Oh you guys, Casteel was the embodiment of intoxication. I am obsessed with him. I didn't care that he could be cold and ruthless at times. I didn't care that he could kill without a second thought. He did what he had to do to keep those he loved safe and to get what he wanted. So the way he protected and respected Poppy made my heart race. The way he spoke to her made me smile and laugh. And the way he looked or touched her set my soul on fire. Casteel is officially my favorite book boyfriend ever!
"Just pretend?" I trembled as the tips of his fingers skated down the side of my throat, around to the nape of my neck.
"Pretend." His lips hovered above mine once more, right there, teasing.
I closed my eyes, my voice barely more than a whisper. "Yes."
This story was filled with not only a physical, but an emotional journey. So I loved watching Poppy and Casteel figure out their way alone and together. There was the proposal, frightening creatures, horrific truths, obstacles that seemed impossible to breach and deals to be made. Trust, faith, and love shimmered across the pages but so did the uncertainty of their world, what was to come and their feelings for each other.
He claimed my lips as if he were staking a claim to my very soul. The possibility that he was already well on his way to doing so should've served as a dire warning, but I was far too immersed, far too gone at the feel of him, lost in how demanding his lips were.
Anytime Poppy and Casteel were together, I would find myself laughing, smiling or sighing. Well also tears a time or two orrrr more. But their relationship was so deep, so real. I loved how hard Poppy fought against Casteel. She tried her best to not cave, to not care for him. But he was Casteel, he was irresistible. So while they may fight, bicker, and wear masks around each other, at the end of the day they were perfectly imperfect together.
His forehead dropped to mine. "There is one more thing I need. Something that I've needed for days. Weeks. Months. Maybe forever." The bridge of his nose brushed mine. "But I know you won't allow it. Not like this."
The pounding in my chest moved lower. "What…what have you needed for so long?"
"You."
I shuddered.
A Kingdom of Flesh and Fire was seductive, addictive and mesmerizing. There was a fierceness to this story that consumed me. It was impossible to put down and not to feel everything all these characters did. We got to know characters deeper….I love Kieran! And we got to dive into their world and see so many things unfold that I can't talk about. It's killing me to keep quiet! A Kingdom of Flesh and Fire was absolutely breathtaking and I can't recommend it enough!
*I voluntarily read and reviewed an advanced copy of this book, provided by the author. All thoughts and opinions are my own.*
Other Favorite Quotes:
"You're beautiful when you're quiet and somber, but when you laugh? You rival the sunrise over the Skotos Mountains." – Casteel
"I have a lot of blood on my hands, Poppy. Sometimes, so much that I don't think they'll ever be clean. So much that I don't know if I ever want them to be."
The next time I saw Casteel, I was going to shove the stupid knife so far into his chest, he would have to dig it out.
"You don't smell like that to me," he murmured, and a shiver curled its way down my spine. "You smell like honeydew."
Oh, my gods….
Reading Order & Links:
Amazon (click on covers) & iBooks (click on titles)
Related Posts