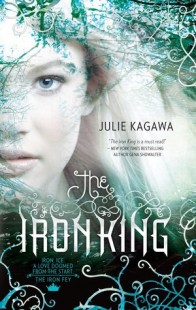 The Iron King
(
The Iron Fey #1
)
by
Julie Kagawa
Purchase on:
Amazon
, 
iBooks
, 
Book Depository
Add to:
Goodreads
Hmmm. I about plastered a 3.5 on here and I probably should have….but if I'm being honest, I skimmed a ton of this book in the middle. I feel bad rating this so low when I knew this was a fantasy going in, but I have just recently fallen in love with Kagawa's writing (her dystopian/paranormal series)and I could not pass up an opportunity to read another of her works-fantasy or not. And I'm just completely optimistic-I always think I'll get past the little bits of odd characterization and be able to zone in on what my sorry ass really came for-the romance and the action. Well, I was on two totally separate spectrums from start to finish: I liked the beginning, skimmed LOADS in the middle, and LOVED the last 30%. Oh fickle, fickle me.
"War?" Something cold touched my cheek, and I glanced up to see snowflakes swirling in a lightening-riddled sky. It was eerily beautiful, and I shivered. "What will happen then?"
Ash stepped closer. His fingers came up to brush the hair from my face, sending an electric shock through me from my spine to my toes. His cool breath tickled my ear as he leaned in.
"I'll kill you," he whispered, and walked away.
I'll start with why I decided to rush to book two….one word: Ash. Guys, I am not someone who solely bases their reviews and reasons for loving a book on a male lead, but I just did not get enough of the dark prince, Ash. Once he entered the story my eyes lit up and my imagination took hold of the story-my heart started beating faster and I started to speed read just to get more of what he was saying and doing. I just couldn't get enough of him. And it almost seems to go hand in hand with this author (I've just noticed) that when the guy gets heavily involved, drama and action and malice ensue. Perhaps this is the reason I'm so drawn to her writing and I'm not ashamed to admit it.
"No one touches her," Ash said, his voice coated with frost. "Touch her, and I'll freeze your testicles and put them in a jar. Understand?"
I'm also not ashamed to admit that certain….creatures? don't sit well with me. In small doses the fantasy elements are fine and, again, I realize this is strictly a fantasy, but I didn't start to fall in love with the story until all the introductions of characters were complete and we could focus on the journey and not so much every mythical creature known to man. For instance-in book two, there's just as many creatures, but it is a five star book at 30% (it was a five star from page one) because of the progression of the story and we already know what is going to lay ahead and what we should be expecting. There's not a ton of info dump like in this book.
On the one hand, I can say that Kagawa is excellent at world building in both her series I have discovered, and in her other series it worked for me, for the most part. But I think I was just shocked into submission for the first 60% of introductions here and I'm just now on equal footing as the story. I take a while to fall in love with a story when I am skeptical to the premise, but I will admit that when it came time to ask myself-Okay, so do I care about what happens to these characters, and would I be upset if I stopped after book one and never found out what else there was to see?-and I came to the conclusion that, yes, I did care.
It was like a color given emotion: orange passion, vermillion lust, crimson anger, blue sorrow, a swirling, hypnotic play of sensations in my mind.
All I know to say to everyone is that this is a fun story (at least near the end) about a COMPLETELY forbidden romance where the male is a winter prince and the female is a summer princess-see the problem? Their loyalties are to their families and the kingdoms they come from and it is treason to fraternize with the enemy (romantically, that is). Ash was sent to retrieve Meghan for his mother and also the queen, and when Ash finds and attempts to capture Meghan, they make a deal to find and save her brother, and then she will go willingly with him to the queen. Deals with Faeries (sigh, I know) are unbreakable and punishable if you attempt to get around them-they will come for you one way or another.
I licked my lips and whispered, "Is this where you say you'll kill me?"
One corner of his lip curled. "If you like," he murmured, a flicker of amusement finally crossing his face. "Though it's gotten far too interesting for that."
All in all I ended up really enjoying this book and I'm loving the second. I'm all for forbidden romances and perilous, scary journies where no one is safe no matter how careful you are. I didn't 100% connect with Meghan as a character, but already in book two I love her. The only other character I feel deserves some recognition is Grim, the cat who also struck a bargain with Meghan to help her out along the way. He was funny, witty, sarcastic, and he just kept coming back-he was loyal and fun and he was a great addition to the story. So, I'm off to read and hope that the second novel keeps the pace up-I am so hooked!
Related Posts